May 2012
Mercedes-Benz SL-Class SL63 AMG
Purposeful looks helped by AMG bodykit but may be too glitzy for some tastes
May 2012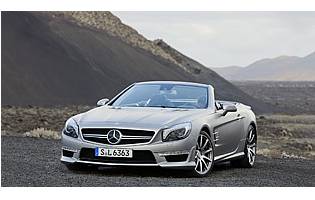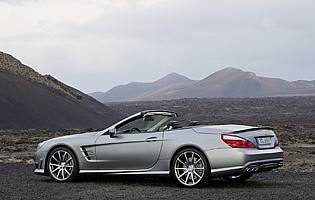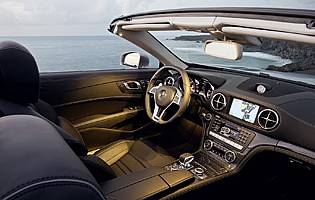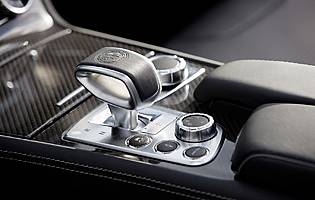 Overall rating

Likes:
Hugely flexible turbocharged engine offers aural character too
High quality cabin feels luxurious and comfortable
Surprising agility for such a big car
Image, performance and specification combine to give big 'feel-good' factor
Gripes:
Automatic gearbox less accomplished when pressing on
Exterior design can look heavy-handed in certain colours
Despite weight-saving measures this is still a big, heavy car
Expensive to buy and expensive to run
For more than 50 years the SL has been the pinnacle of Mercedes-Benz's sports car range, and until the supercar SLS Roadster appeared there was no other car that better combined roof-down luxury and performance. Sitting at the top of the SL tree is the AMG version, and the latest all-new SL promises even greater thrills in this high output form.
The SL model has always been a crucial model for Mercedes-Benz, representing the ultimate expression of the firm's sporting credentials and always sitting near the top of the range tree. It has also frequently showcased some of the latest technologies to feature on its products, and as such it has a key role in cultivating a positive brand image. It is not a car that it can afford to get wrong.
Like many modern sports cars there is an emphasis on performance with greater responsibility, and hence this latest SL AMG uses an all-aluminium bodyshell to give a claimed overall weight reduction of 125kg, which not only contributes to better economy and emissions but makes better use of the available performance. Mercedes-Benz claims that a combination of measures has improved fuel consumption by 30% compared to the outgoing car.
There are significant changes under the bonnet too. Despite wearing the '63 AMG' badge the powerplant is no longer the naturally aspirated 6208cc V8 but instead the 5.5-litre twin-turbocharged unit already seen in larger AMG models. As well as delivering an increase in power (and in fact the option of two power outputs as part of a performance package) the turbocharged unit contributes to the improved fuel efficiency, whilst also managing the seemingly-difficult task of providing a suitably raucous V8 engine noise when required.
More detailed mechanical upgrades for the SL AMG include aluminium suspension components, a revised Active Body Control suspension system, speed-sensitive power steering and a new composite braking system. There are a number of options within the performance package range that include add-ons such as a raised top speed, revised suspension settings and even a limited-slip differential.
Our verdict on the Mercedes-Benz SL-Class SL 63 AMG
Aside from the potentially-questionable styling, the latest SL AMG hits the nail square on the head. It is superbly comfortable and luxurious, easy to drive yet terrifically fast and fun when pressing on. Although predictably expensive to purchase and to run, it's arguably worth every penny.
Costs
Despite efforts made in weight saving and engine efficiency, this is still a relatively heavy sports car powered by a large capacity turbocharged engine. That said it is likely to be one of the better performers in its class in terms of running costs as a result. Insurance however can't be avoided and will be a substantial sum.
Space and practicality
With seating for just two people there is no shortage of space whatsoever. Considering the size of the SL oddment space is perhaps a little lacking, although there is plenty of storage behind the two seats but this is difficult to access on the move. The boot is a good size with the roof up although this is obviously compromised if you wish to have the roof folded down.
Controls and display
Attractive and clear instruments are complimented by a colour screen between the main dials that offers a wealth of information. The steering wheel has numerous buttons to control various aspects of the car, supplemented by the control wheel in the centre console. Despite this navigating around the systems can be a little fiddly at times, and the SL lags behind some rivals in this respect.
Comfort
Considering most models will ride on 19 or even 20-inch wheels the SL AMG is remarkably capable of delivering a soothing ride, and the solidity of the bodyshell even with the roof folded adds to this. The seats are supportive with a multitude of adjustments and the option of heating and ventilation, and noise levels are very low too. There is little wind intrusion anyway but the pop-up wind deflector improves things still further.
Car security
A car this desirable needs a high level of security, and aside from a standard immobiliser and alarm the fact that it has a folding metal roof as opposed to a fabric one is arguably just as important in security terms. An optional tracking device would also be a wise investment.
Car safety
As far as two-seater drop tops go the SL AMG is arguably the safest of them all. A commitment to safety research means the SL is absolutely packed with safety features, including the remarkable Pre-Safe system which prepares the car for an accident if it believes one is imminent.
Driver appeal
With quite a specific target audience to aim at, it is crucial that the SL AMG can deliver sizeable thrills without compromising its ability to cover big distances easily and in comfort, and this latest version is even better than before. With several driving modes that affect the gearbox operation, steering weight and suspension settings, the SL AMG can switch from a comfortable cruiser to a serious back-road eater in a matter of seconds. The vastly powerful turbocharged V8 engine delivers the kind of huge torque at low revs for easy cruising yet is happy to rev when pushed. The same goes for the suspension which does a fine job of filtering out the worst bumps yet when pressing on delivers very impressive balance and control. Only the gearbox is more biased towards comfort than speed, requiring a deft touch to shift manually at the right time.
Family car appeal
The SL AMG isn't really suited to family use at all, mainly because it can only carry one other person besides the driver.
First car appeal
The SL AMG may be easy to drive but it is not suitable for a novice driver, with too much power and an insurance bill that would be beyond almost anyone.
Quality and image
There's simply no doubting the quality on offer here. Inside and out the SL is finished to a high standard, all the controls operate with an assured solidity and the materials used are pleasing to the touch. Image-wise the regular SL may be seen as something of a plaything for a more senior wealthy gentleman, but the AMG model stands slightly apart from this with its higher performance and more youthful appeal.
Accessibility
With only a single, long door on each side and no rear seats it is no hassle at all to climb aboard the SL, only the relatively low roofline may affect the very tallest passengers. The same goes for the boot, which opens and closes electronically. Another clever feature is that with the roof folded into the boot, pressing a button raises the roof mechanism to allow easier access to the boot area.
Stereo and ICE (In car entertainment)
Being at the top of the Mercedes range means the SL is fitted with very high-end audio equipment as standard. Accepting a multitude of inputs the system can be controlled with the main push and turn wheel, although it is not as intuitive as some rivals systems. One clever feature across the SL range is the use of the footwell areas as sound resonators - this means the output volume can be extremely high inside the car while being almost virtually silent outside.
Colours and trim
Particularly in AMG form the SL is a little colour sensitive. AMG models gain numerous skirts, spoilers and additional trim for a sportier look, but in the wrong colour these additional elements can look a little fussy. More subtle shades such as silver help to avoid this, while the contrast of while paint with dark detailing also helps to slim down the shape. Inside there is a delightful mix of leather, metal and suede trim which gives a real feeling of quality, as well as plenty of colour choice to give a bright feeling to the cabin.
Parking
The SL AMG is a long and low car, which makes its extremities relatively hard to see. There are also large alloy wheels as standard, all of which means some care is required when parking, although a sophisticated parking system is fitted as standard with the option of an automated parking system for maximum ease.
Spare wheel
Tyre inflation kit fitted as standard, space saver or full size spare optional.
Range information
Petrol engine options - 3.5-litre (302bhp); 4.7-litre (429bhp); 5.5-litre (530bhp or 557bhp); 6.0-litre (621bhp). Transmission is either seven-speed paddleshift automatic or dual-clutch, depending on engine. No specific trim levels.
Alternative cars
BMW 6 Series Cabriolet Handsome and capable but doesn't have the image of the SL
Jaguar XKR-S Convertible Getting on a little but characterful and very fast
Porsche 911 Cabriolet More driver-focused and less of Grand Tourer but still usable every day
Audi R8 Spyder Supercar is sufficiently usable but only fabric hood and marginal luggage space