August 2013
Mercedes-Benz S-Class S 350 BlueTEC SE Line
Huge front grille dominates a smoother, less forceful look
August 2013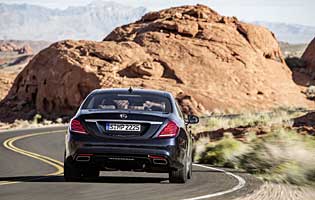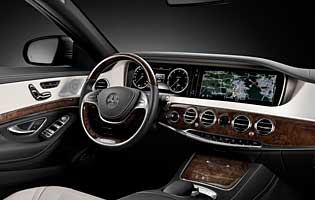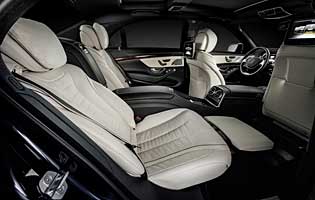 Overall rating

Likes:
Extremely hushed engine allows quiet progress in urban settings
Smooth gearbox offers step-free changes with light throttle use
Comfortable multi-way adjustable seats offer real luxury
Standard safety equipment provides peace of mind
Gripes:
Bland styling doesn't live up to the price or prestige status
Diesel engine can get rowdy if used hard
Too many gadgets are still expensive optional extras
Fully digital instrument display is too plain
The S-Class has been Mercedes' flagship for decades now, and although other models are more important for bringing in revenue, the S-Class is still where Mercedes premieres most of its new technologies. These are now more expansive than ever, but luxury and refinement are still the key fields it has to excel in to maintain Mercedes' reputation.
This car has been a chauffeur's favourite for a long time, because traditionally it has been superb both to drive and to be driven in. Mercedes pioneers all kinds of sound-deadening, ride-smoothing and entertainment-boosting ideas in this car to make life better for everyone on board. That mission has been taken to the next step with the 2013 model.
It competes against the like of the BMW 7 Series and the Audi A8, but the S-Class has been at the top of the pile for such a long time that even the name has developed a sort of halo effect that gives it an intangible edge. This, the entry-level diesel version, is likely to be a popular option.
The new S-Class doesn't, perhaps, look as classy as the models of a generation or two ago. Efficiency requirements have pressed Mercedes into smoothing the shape significantly, which means a quieter ride and less fuel used, but not perhaps the visual statement that used to be standard fare. Mercedes believes buyers' priorities have changed to reflect different times, though.
Depending on the initial spec and options chosen, the S-Class can be a number of different cars. From a normal-seeming, if exceptionally refined saloon to a full-blown executive limousine, the new S-Class is attempting to be the best car for people who value comfort and overall quality of experience, whichever seat they complete a journey in.
Our verdict on the Mercedes-Benz S-Class S 350 BlueTEC SE Line
The new S-Class starts life from a privileged position courtesy of the success of previous models. The more you look into the latest model, the more you see that advancements in the key areas of refinement, luxury, technology and latterly efficiency have raised the bar yet again. While a truly high-end S-Class might be quite different on the inside compared to this more humble diesel, the successful genetics remain constant.
Costs
This is the cheapest S-Class to buy and offers reasonable running costs, although a forthcoming diesel hybrid model can easily better this one on the efficiency front. It isn't a cheap car to run, though, with costly insurance ratings and a higher CO2 output than you can get from something smaller, lighter and correspondingly less expensive. Many chauffeurs and businessmen will choose the car and pay the higher-than-necessary Benefit-in-Kind charges simply because the car's talents are worth it.
Space and practicality
There is more than ample luggage space available in the boot. A reasonably even shape means that hard cases pose no storage problems, although there is a load lip to overcome so the heaviest baggage will need to be handled with care. In the cabin there are many small storage solutions depending on specification, but in this model there are ashtrays in the doors and short pockets in the door. Large objects and A4 paperwork can be held in the front seat-back pockets.
Controls and display
With two 12.3-inch widescreen displays to look at, the driver can in theory enjoy one of the most up-to-date dashboards in the industry. The one directly in front of the driver that can simulate analogue speed and tachometer dials is a little soft-looking though, as if the resolution and contrast are just a little below what you'd expect. Added to that, the look of both displays feels dated thanks to the aging COMAND interface that Mercedes has been using for years without updating.
Comfort
An S-Class without comfort in abundance is not an S-Class at all, which is why every measure has been taken to make sure all occupants are satisfied. Electrically adjustable seats all round cater for back angle, lumbar support and all the usual directional adjustments. With certain specifications the main rear passenger can even put their feet up courtesy of an Ottoman-style seat. The only failing is that the rear wheels seem to strike expansion joints and the like unusually hard.
Car security
As a high-value Mercedes the S-Class is very desirable in the eyes of thieves. To help prevent theft the company has installed an alarm with internal and exterior sensors, plus an immobiliser that's so effective it makes the car impossible to start without the correct key. Locking wheel nuts and a locking fuel filler cap help prevent parts and fuel theft, too.
Car safety
There is arguably no one who does more or better for safety innovation than Mercedes, and the S-Class is where most of that technology makes its debut. Myriad systems fill the car from front to back, from Pre-Safe-enabled seat belts that make a huge difference, to passive safety ratings to a wide array of monitoring sensors and warnings that aim to prevent an accident in the first place. There may not be a safer car on the market.
Driver appeal
The appeal of the S-Class comes in its smoothness and refinement, and even this entry-level diesel model delivers. Under gentle power it's as smooth and restrained as can be, with the gearbox slickly shifting between ratios without sending so much as a shudder through the cabin. The V6 diesel grumble is muted, and although it's not as refined as its petrol equivalents, its distant growl is pleasant. The wealth of technology is another reason why drivers will like the S-Class.
Family car appeal
While the sheer space and comfort on offer are extremely likely to appeal to families, there are several important factors why it might not. The first is its purchase price, because few parents with any sense would want to subject such an expensive car to the rigours of carrying children. The leather surfaces are thick, but definitely vulnerable to sharp objects, food and sticky fingers. Equally, the large carpet and window areas would become tiresome if they frequently needed cleaning.
First car appeal
Although the S-Class is luxurious, prestigious and has a solid gold reputation, there is little or no reason that it would appeal to new drivers as a potential first car. It's simply too big, for a start, and too intimidating for those more used to a supermini. It's beyond the purchasing budget of all but the most extremely wealthy learners, too, and is hardly the cheapest car to run. Obtaining proper insurance would also be an insurmountable obstacle without several years' no-claims discount.
Quality and image
Ignoring the hugely expensive elite Bentleys and Rolls Royces, if ever there was a car that has encapsulated an idea of build quality and a related reputation, the S-Class would be it. The Mercedes brand image is riding high at the moment after a series of excellent and solid-feeling new models, and it's entirely backed up by the tactile sensations from within the S-Class. Very high-quality materials and lots of soundproofing help to reinforce the quality message.
Accessibility
This is the standard wheelbase car and its rear doors are shorter than on the long-wheelbase model. The aperture is still a good size though, and only a slight duck of the head is required when sliding onto the back seat. It also means that the rear doors are easier to open wide enough to get in or out when parked in a bay between two cars or other obstacles.
Stereo and ICE (In car entertainment)
In-car entertainment is a big deal for S-Class customers, so as standard the new car uses a huge 12.3-inch central display for the media interface. Music can be stored on the in-built 10GB 'music register' hard drive, an SD card fitted to the single slot, or an external device like an iPod or other MP3 player, via special USB cables that are included with the car. DAB radio and Bluetooth are also standard, while the default speaker layout uses a 'Frontbass' system for greater punch.
Colours and trim
Naturally metallic body paint is standard, with a range of dignified and sober hues to choose from including black, silver and dark blue. The body styling makes less of a visual impact than before, though, and paler colours make the problem more obvious. Black is the kindest colour option and adds the impression of greater muscle. On the inside, eucalyptus wood and sumptuous leather upholstery are standard on this SE Line model.
Parking
Among the many sensors on board the S-Class are several for the Parktronic Package, which is a comprehensive parking assist array including front and rear parking sensors, a rear-view camera and Active Park Assist, which within certain limits can park the car semi-automatically. The latter function isn't quite perfect yet but makes a good fist of most situations, while the more traditional parking sensors and camera do an excellent job of making this large car easier to slot into a space.
Spare wheel
Space saver spare wheel fitted as standard.
Range information
Petrol engine options - 3.5-litre (302bhp); 4.7-litre (449bhp); 5.5-litre (577bhp). Diesel engine options - 3.5-litre (254bhp). Transmission options: Seven-speed automatic gearbox only, plus seven-speed AMG Speedshift automatic (5.5-litre petrol only). Trim levels: SE Line, AMG Line, AMG.
Alternative cars
Audi A8 Undoubtedly sure-footed and well built, but uninspiring for occupants
BMW 7 Series Plush, luxurious seats are a highlight but the 7 Series lacks a degree of class
Jaguar XJ Stylish and dynamically acute, the XJ is the driver's choice
Lexus LS Claims to be the quietest car in the class with a wonderful hybrid drivetrain