February 2015
Mercedes-Benz Maybach S600
The Mercedes-Maybach shares a platform with the ordinary S-Class
February 2015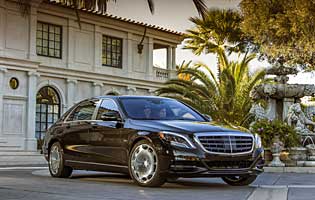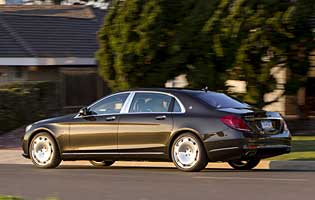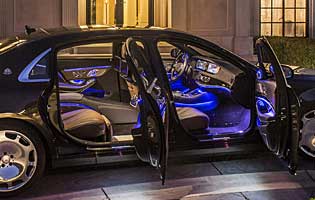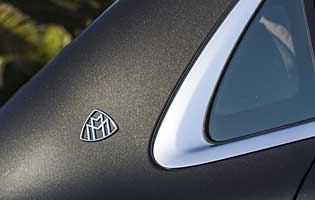 Overall rating

Likes:
Supremely quiet cabin environment
Multi-adjustable, massaging, variably heated rear seats
Main computer can be controlled remotely
Extremely comfortable ride quality
Gripes:
Four-seat layout should be standard
Rear door pockets are awkward to access
Magic Body Control suspension system doesn't always work as desired
Comand computer system graphics beginning to look dated
To build what will be known initially as the Mercedes-Maybach, the German firm had to address the issue of how to make their best product - the long-wheelbase S-Class - even better. Extra sound insulation, an even longer wheelbase and opulent standard features like thick lambswool floor mats are among the new headlines.
Although several variants of the Mercedes-Maybach will be built and sold for different markets, including with smaller engines and the option of four-wheel drive, Mercedes in the UK is expecting such small sales figures that only the very highest model will make it to market: the V12 petrol-engined S600 in rear-wheel drive guise.
More length was essential to the project, according to its chief engineer. An extra 20cm was added to the wheelbase along with additional structural bracing to eliminate any new flex. The rest of the changes are refinements rather than wholesale mechanical changes, so the Mercedes-Maybach gets touches like twin silver-plated champagne flutes - along with a champagne fridge.
New Goodyear tyres shared by top-spec Audi A8 models contain special resonance-absorbing foam that almost completely eliminates tyre roar. They are part of a truly business-class specification where the only options left to choose are custom paint colours or a switch from a three-seat bench to a two-seat 'First Class' layout, which adds the silver flutes.
Based heavily on the current S-Class platform, the Mercedes-Maybach S600 shares all the latest safety and infotainment technologies. Unlike its namesake predecessor, the Maybach of 1997-2012, Mercedes' new pinnacle of luxury has access to any and all of the company's engineering prowess. Advanced suspension systems, rear seats that recline to 43.5 degrees and up-to-date Comand interfaces are all examples.
Our verdict on the Mercedes-Benz Maybach S600
While it lacks the ostentatiousness of the likes of the Rolls-Royce Ghost or the svelte dignity of the Bentley Flying Spur, the Mercedes-Maybach S600 is a technological and luxury tour-de-force. It is sublime in every way, from the materials to the ride quality and from the comfort options to the remote-controlled computers. Owners and passengers can travel in the peak of four-wheeled luxury without causing a stir in the street.
Costs
The UK version of the car will be equipped with almost every option possible, leaving the only variables as a choice of three or two rear seats and custom paint shades. The Mercedes-Maybach S600 is far from cheap as a result, but when compared to the cars it aims to steal sales from it becomes a credible and very good value alternative for high-level executives who don't want to draw attention to themselves. Fuel economy is low and insurance is predictably expensive.
Space and practicality
Behind the rear seats the boot is, in the extremes of its dimensions, huge, but a large measure of practicality is removed by the intrusion of the champagne fridge that rear passengers can access between their two seats. The door pockets are smaller than expected, too, since some of their space is taken up by foam holders for the remote control that each rear seat features as standard. However, even the main computer can be controlled using these remotes, making it easy to enter new navigation destinations for the driver.
Controls and display
From the driver's seat the main controls are very familiar to any owner of a recent Mercedes. However, one 12.3-inch widescreen display accounts for digitised speedometer and rev counter graphics, while the other takes care of split-screen sat-nav, media readouts and myriad other functions. From the rear seats the tablet devices mounted to the front seat backs offer full access to the car's menus via special remote controls that slot into holders in the door pockets. The graphics look dated but the functionality is perfect.
Comfort
Mercedes expects most S600s to be upgraded to two individual rear seats as opposed to the standard three-seat bench. Once comfortable in one of these spacious 'First Class' seats, passengers can choose which area of the seat they would like to be heated or cooled, on top of six massage programmes and the ability to recline the seat back to 43.5 degrees. A leg rest can be also raised to provide even tall passengers with lounge-like comfort, while the cabin is eerily quiet.
Car security
Understandably, Mercedes refuses to go into explicit detail about its security systems. As a valuable asset it is highly likely that the Maybach S600 will be kept in secure locations by its owners or operators anyway. Tracking devices can be added for peace of mind, and most owners will probably choose privacy glass around the rear passenger area to ensure that they will not attract unwanted attention. The understated looks compared to Rolls-Royce and Bentley rivals mean it will attract less of the wrong sort of attention by default.
Car safety
The S600 has a peerless array of safety systems including adaptive cruise control and automated emergency braking, but the latter also comes with pedestrian detection. There is fully-autonomous driving in low-speed traffic, cross-traffic assist for when reversing onto roads, adaptive main headlight beams and night vision. Automatic seat belt buckle extenders reduce any slack around the pelvis and thorax. Anti-submarining airbags under the rear seats prevent rear passengers slipping below their seatbelts in a crash when their backrests are reclined. The car's structure is among the world's safest.
Driver appeal
The Mercedes-Maybach will almost always be bought by individuals who will then sit in the back seats and be driven. But they will miss out on a surprisingly capable car thanks to additional bracing behind the rear seats that copes with the extra stress of a longer wheelbase. With a smooth, progressive driving style the powerful V12 engine and advanced suspension keep the car travelling extremely quickly and under impressive control. There is rarely a sense of the S600's significant overall weight becoming dominant.
Family car appeal
If the standard three-person rear seat layout was left in place a family of five would find the Mercedes-Maybach a superlatively spacious journeyman. However, the sheer opulence of the materials would be highly unsuitable for the messy realities of family life. The wide rear doors do at least allow useful elbowroom when attempting to install an infant's car seat. A car costing as much as this, though, is not designed for family life.
First car appeal
Unless a young and extremely successful entrepreneur picked the Mercedes-Maybach as his or her first car, there is no conceivable reason why any first-time car buyer would put this model on their shortlist. Mercedes doesn't make any models at all that would be considered generally affordable as first cars, but as the pinnacle of luxury according to Mercedes-Benz, the S600 is too large, too unwieldy, too vulnerable to damage and far too expensive.
Quality and image
Mercedes' drivetrain technology could not be improved at all for the Maybach edition of the S-Class, but wherever possible refinement has been increased. The use of special foam-filled tyres that eliminate the awareness of tyre roar and the inclusion of ultra-fine lambswool floor mats heighten the sense of luxury. The Mercedes-Maybach does not make as instant a visual impression as British-made rivals, so its image sits differently, but its tangible quality is superb.
Accessibility
A longer wheelbase and a roof that maintains its height for longer means that this is technically the easiest S-Class to enter and exit, although such margins of judgement are purely incidental when the standard car is so good in this regard. The seats are set at a comfortable height for easy access, although the fussiest owner might want them slightly higher. The boot will open and close automatically, and even rear passengers can make this happen with buttons on their door panel.
Stereo and ICE (In car entertainment)
A 24-speaker Burmester audio system is among the most advanced in the world. Its tweeters rotate out of their resting positions and the system is fully adjustable within menus accessible from the rear seat. Wireless headphones are included for rear passengers, while in total occupants can install up to seven CDs, four USB-linked devices and two more via Bluetooth. Each of the four main seating positions can have its own music playing at the same time, all managed by the main computer.
Colours and trim
While the nature of the Mercedes-Maybach means that most buyers will not look beyond black, there are some dark shades that make more interesting, but still dignified, alternatives. The silver option underplays the car's visual impact somewhat. There is also the facility to choose a completely new and individual paint colour for a significant extra charge. The interior trim, which is almost entirely leather, wood or high-grade plastic, looks exceptionally premium and is soft to the touch.
Parking
With an extra 20cm in its wheelbase compared to even the long-wheelbase S-Class, the Mercedes-Maybach is not easy to manoeuvre in tight car parks It is simply too long to even fit into normal spaces, instead being designed to pull up to kerbs or hotel lobbies to let passengers out before moving away to be parked in special car parks or waiting areas. Parking sensors and a reversing camera are standard, though, and these will undoubtedly be useful to the driver in relevant situations.
Spare wheel
Run-flat tyres fitted as standard.
Range information
Petrol engine options - 6.0-litre (523bhp). Transmission options: Seven-speed automatic gearbox only. Trim levels: S600.
Alternative cars
Rolls-Royce Ghost Overshadowed by the Phantom, but still a masterpiece of luxury motoring
BMW 7 Series Dynamically astute, with high levels of comfort and technology
Bentley Flying Spur Suave styling and excellent ride quality backs up heavyweight luxury
Jaguar XJ L Styling and luxury quota can't match rivals, but is spacious and much cheaper