September 2005
Mercedes-Benz M-Class ML500 Sport
Familiar Mercedes grille gives the M-Class strong presence on the road
September 2005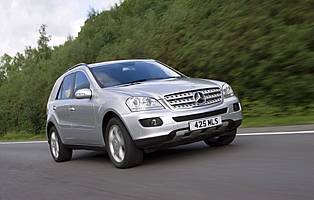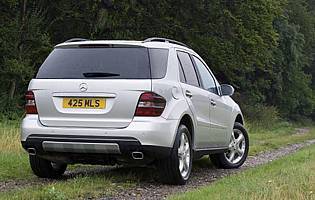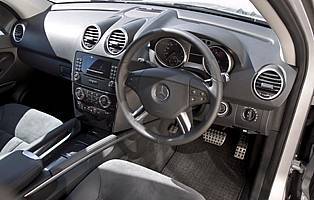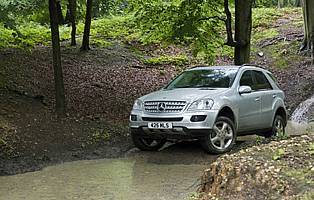 Overall rating

Likes:
Design is an attractive mix of rugged and stylish
Good ride and handling without compromising off-road performance
Interior is comfortable, stylish and well constructed
Works well as family car, off-roader or for long journeys
Gripes:
V8 engine is thirsty although very powerful
High running costs, especially insurance
Parking sensors not fitted as standard
No manual gearbox option
The original Mercedes M-Class was one of the first premium SUVs on sale in Europe, and as such built up a loyal following thanks to its mix of prestige and ability. Now the category is one of the most fiercely competitive, and Mercedes has responded to its rivals with the introduction of an all-new M-Class.
As you approach the new M-Class it is clear to see that Mercedes has deliberately retained some of the key styling features to make it instantly recognisable. The wraparound rear window and wide front grille are similar to the original car, but subtle details like the chunky wheel arches and sculpted bonnet give it a modern look. It also incorporates the traditional Mercedes grille with ease, which will make it an attractive car for many buyers.
One of the most important changes on the new M-Class is the adoption of a monocoque construction instead of the original ladder-frame chassis design. This gave the first M-Class excellent off-road ability, but compromised its on-road performance. The new car therefore is designed to be as comfortable as any vehicle in normal driving conditions without compromising its ability to cope with difficult conditions.
The model also offers a wide range of electronic devices to improve off-road ability, all fitted as standard. Downhill Speed Regulation uses the ABS to allow the driver to alter the speed when descending a steep incline, and Start Off Assist holds brake pressure on for two seconds when starting on an incline to prevent rolling backwards. For owners who want to push the M-Class further, an Off-Road pack adds a low ratio gearbox, differential locks and increased ground clearance from the air suspension.
As well as its driving ability, the M-Class is also designed to be a highly capable family car. Mercedes have improved the amount of passenger room, particularly leg and elbow room for rear passengers. Its cavernous boot also makes it well suited for holidays and continental trips, giving it the breadth of ability that is often demanded by buyers looking for an SUV.
Our verdict on the Mercedes-Benz M-Class ML500 Sport
The competition has improved significantly since the original M-Class appeared, but this latest version has enough to take on the best alternatives. It has an almost unbeatable combination of road manners and go-anywhere versatility, as well as the comfort and equipment to function as an executive car. What's more, its styling and status make it highly desirable, and this could be the deciding factor for many buyers in this segment.
Costs
Gains in aerodynamics have improved the M-Class's fuel consumption, although in 5.0-litre V8 form it still manages a lowly 21.1mpg on the combined cycle. That, in addition to its high insurance rating, makes it a relatively expensive vehicle to maintain, although it could perform the duties of more than one vehicle thanks to its excellent on and off-road performance.
Space and practicality
A big plus point for the M-Class is its interior space. There is a large amount of head and legroom front and back, comparable with large saloons. Boot space is also generous with 551 litres with the rear seats in place, right up to 2012 litres with the seats folded. The Easypack system in the boot area also helps to stow loads safely, with the option of an electric tailgate for ease of use.
Controls and display
Clarity is the key feature of the M-Class layout, with bold markings and displays giving as much information as required. One unusual feature is the column shift for the automatic gearbox; while this is unusual in Europe and is likely to be unfamiliar to many drivers, it does not take long to become accustomed to it, upon which it becomes simple and natural to use. The integrated COMAND system which operates the trip computer, audio system, satellite navigation and telephone (if fitted) may seem complex initially, but again it takes a short period of time to become used to it. The extra controls for this system on the steering wheel make it easier and safer to navigate also.
Comfort
Standard on the Sport models are electric sports seats, which have wide side bolsters offering excellent support and comfort as well as a wide range of adjustment. Other aspects like the steering wheel and mirrors are easily adjustable, making it easy to get into a comfortable driving position. Back seat passengers are far from neglected, with a well-sculpted rear bench for good comfort. The relaxed ride transmits few road imperfections into the cabin, while high levels of insulation prevent road and wind noise from disturbing the environment.
Car security
SUVs are a common target for thieves, but the Mercedes M-Class has a number of features that should prevent all but the most determined from taking it from its owners. The use of an electronic rather than metal key for the ignition lock makes bypassing the system virtually impossible, even if they have managed to gain entry. The tailgate is also well protected, while the luggage cover hides valuables from prying eyes.
Car safety
As well as the safety systems you would expect on a modern vehicle such as ABS and airbags, the M-Class is fitted with a number of innovative systems to improve its overall safety. Neck-Pro head restraints are designed to react in the event of a rear end collision, and move the head rests into the correct position to reduce the risk of whiplash. PreSafe gathers information from various sensors throughout the car and prepares the vehicle if it detects the possibility of an accident or rollover. It reacts by tightening the seatbelts, adjusting the front seats into a better position and even closing the sunroof if necessary.
Driver appeal
Crucially, the new M-Class is composed and refined when used in normal driving conditions, which makes it perfectly viable for everyday use. It even manages the difficult task of being good fun to drive, as despite its size and weight the steering is accurate and body roll is admirably absent. It can be driven at speed on difficult roads without feeling cumbersome. It also proves to be relaxing, as it can be steered with ease and the flexible engines can move it along smartly with little fuss.
Family car appeal
For a family the M-Class is an ideal tool, and is likely to be a hit with all members of the family. With plenty of room for all shapes and sizes as well as sufficient luggage space for all manner of leisure pursuits, it should fulfil most requirements. The bonus of four-wheel drive also makes it ideal for towing or reaching remote areas. The ML 500 also gets four-zone climate control, so even those in the rear can decide on their own ventilation settings.
First car appeal
Even new drivers will find the M-Class benign to drive despite its size, thanks to the manageable controls and good visibility. It is also a highly desirable car, but its purchase price, running costs and high insurance groupings will put it beyond the reach of most first time buyers.
Quality and image
The previous generation M-Class was often seen as one of the few vehicles that did not match Mercedes high standards of fit and finish, but this version clearly redresses that situation. All the contact points that passengers have with the car feel good, even door handles and electric window switches operate in a smooth fashion. The M-Class feels like it could survive years of hard use, whether from a large family or crossing tricky terrain on a regular basis. The M-Class image also reflects this mix of class and ruggedness, with many buyers choosing the car as a status symbol. It manages to elevate itself above some SUVs that give off an impression of crudity.
Accessibility
The only issue with accessibility is with shorter or infirm passengers, who may find the vehicle's height a problem. Otherwise it is easy to slide into the front or rear seats, which feel at a natural height for an average person. The same goes for the boot floor, which is high in relative terms but convenient for a car of this stature.
Stereo and ICE (In car entertainment)
A standard fit radio/CD system with eight speakers is included on all versions of the M-Class, and it has sufficient power and clarity to satisfy the majority of buyers. Much of the system can also be controlled by the buttons on the steering wheel, and station or CD information can also be displayed between the instruments, make it easy to operate on the move.
Colours and trim
Standard interior trim on the Sport model is a mix of Alcantara and man-made leather, plus black aluminium trim and metal pedals. Combined with the elegant design of the dashboard, the interior has a high quality feel, with smart looks and robust and classy materials. Although the majority of the trim is black, the metal accents and generous glass area prevent it from becoming too dark.
Parking
With automatic transmission and light power steering, the M-Class is easy to drive at very low speeds. Parking sensors are not fitted as standard, but the large glass area makes parking a vehicle this size straightforward. Only the raked rear pillar causes a blind spot, but the vehicles high ride height means a kerb can be mounted without causing any damage.
Spare wheel
Space-saver spare wheel fitted underneath boot floor
Range information
Five engine options - two diesel and three petrol, all mated to a seven speed automatic transmission with manual mode. 3.0-litre diesel engine available in two outputs (190bhp, 224bhp), 3.5-litre V6 (272bhp), 5.0-litre V8 (306bhp) and 6.3-litre V8 (501bhp) petrol options. Trim levels are standard, SE, Sport and AMG. 5.0-litre V8 only available in SE or Sport trim, AMG trim only available with 6.3-litre V8 option.
Alternative cars
BMW X5 Ageing looks yet still excellent on-road
Range Rover Sport Dynamic looks and strong mix of abilities
Jeep Grand Cherokee Revised model competent on all surfaces and good value
Volvo XC90 Practical and stylish, better on road than off