February 2015
Mercedes-Benz GLA 45 AMG
Subtle AMG bodykit sets this GLA apart from the others
February 2015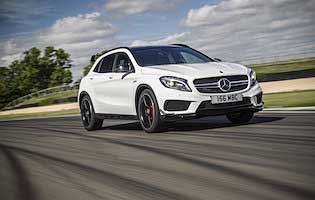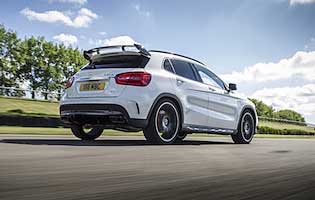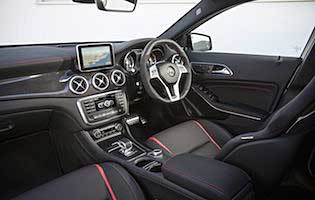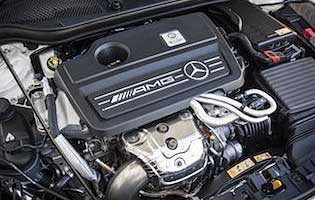 Overall rating

Likes:
Chunky-looking exterior helps car stand out from the crowd
Premium car levels of refinement
AMG performance is genuine as car is rapid
All-wheel drive is a bonus for low grip situations
Gripes:
The concept of a performance crossover will be niche too far for some
The overall package can prove expensive once options are added
Semi auto gearbox can prove slow to respond at times
With the addition aero package the car can stand out for the wrong reasons
Compact crossovers have for some, in recent years, become the default alternative to the family hatchback. And, if you're keen on climbing the automotive social, opting for a premium example will be a smart choice. Anyone looking to combine high performance with practicality will struggle, although Mercedes' AMG-tuned GLA is an interesting mix of crossover and hot hatchback.
In conventional non-performance guise the GLA offers buyers a higher driving position and ride height over the standard A-Class family hatch. The GLA's chunky-looking exterior implies that it's an adept off-roader, but the truth is that the car is most definitely road biased despite the option of all-wheel drive.
Taking this a step further, the AMG-tuned GLA offers buyers seeking enhanced on-road performance alongside the attributes associated with a compact family-friendly activity vehicle. Granted, this is a particularly small niche, but recently Mercedes has earned a reputation for successfully developing such left-field cars.
And the GLA 45 AMG is certainly an unusual proposition. At its heart is an intelligent all-wheel drive system mated to a high output 2.0-litre turbo petrol engine. Easily trumping regular hot hatches with its 306 horsepower, this particular GLA offers sports saloon performance in a format more akin to that of a high-rise family hatch.
Thankfully the combination of raised ride height and AMG performance is a better experience in practice than it implies on paper. Despite the GLA's elevated stance, cornering at speed isn't marred by excessive pitch and roll. In fact, the inclusion of figure-hugging sports seats makes a positive contribution to the driving experience, while the car's all-wheel drive system allows you to take considerable liberties.
Our verdict on the Mercedes-Benz GLA 45 AMG
As a concept, the GLA 45 AMG shouldn't work. It's a compact crossover with the heart of a hot hatch on steroids. Even by Mercedes' standards it's a niche proposition, but for buyers seeking a practical, visually arresting shape with more performance than your average GTI hatch there's little else on the market. For what appears like an odd combination of attributes on paper, keen drivers would be wise to try it before dismissing the GLA 45 AMG. It proves to be rapid, tuneful, composed and surprisingly engaging - what you'd mostly expect from an AMG-badged car. That it also doubles as a practical compact crossover for active families is a bonus.
Costs
If driven enthusiastically the GLA 45 AMG is a thirsty beast, although that's hardly a surprise. The asking price is considerable premium over a regular hot hatch though, and you'll be wanting to add a few choice extras to the car, further bumping up the price. In short, this is an expensive car.
Space and practicality
Irrespective of its performance potential, this GLA is like all the others in the range and mirrors that of the similar A-Class. Those in the front seats have good head and legroom while those in the rear are adequately provided for, although taller passengers may find legroom in slightly short supply. Oddment space in the cabin is good however and the boot is also a sensible shape and generous in size.
Controls and display
The layout of the GLA should be familiar to existing Mercedes drivers and uses tried and tested controls and instruments. The dashboard is clear and easy to read, and once you become accustomed to the multi-function stalk that looks after the indicators and wipers it's an easy car to operate. The navigation and audio systems can be controlled by steering controls as well as the dashboard controls, although both can be a little fiddly to use at first.
Comfort
Unlike its regular stablemates, this GLA 45 AMG boasts a noticeably firmer suspension set-up. This is fine when pressing on but can prove a little uncomfortable on poorly surfaced urban roads. Thankfully the car's sporty exhaust note is pleasingly subdued when you're on the daily commute. The sports seats are, however, on the firm side - great for enthusiastic driving but large front seat passengers might not be so impressed.
Car security
All GLA models are fitted with an alarm and immobiliser as standard, while the hatchback rear means that anything left in the boot is well out of sight. Given the AMG version's less than subtle appearance you might want to supplement the standard measures with a tracker - assuming your insurance company doesn't make it a condition of the policy.
Car safety
High safety standards are a long-standing feature of Mercedes-Benz cars and the GLA range is no exception, offering impressive features such as an active bonnet to mitigate pedestrian impacts, tyre pressure monitoring and multiple airbags all as standard. Factor in the GLA 45 AG's all-wheel drive system and advanced stability control features and all the important angles are covered.
Driver appeal
In GLA 45 AMG guise the car offers drivers a considerable performance advantage over your average premium crossover. The turbo four-cylinder petrol engine puts the car at the top of the hot hatch pecking order, while the all-wheel drive system ensures high levels of grip. In the dry the car retains a front-drive bias, which can prove entertaining, although the raised driving position can feel odd at times. Still, the car makes all the right noises but the standard fit dual clutch gearbox could be more responsive - especially at low speeds.
Family car appeal
In principal the GLA 45 AMG would make a decent family car. The compact crossover template is a popular one, and the car fits the bill in terms of space and practicality. Very young families might baulk at the car's less than family-friendly plush interior, but if you're a keen driver seeking an all-rounder this GLA 45 AMG makes more sense than at first glance.
First car appeal
While the standard could easily pass as a sound candidate for a novice driver, the AMG version isn't exactly a smart choice. It's expensive to buy and run, plus you can't avoid its considerable performance potential - a demanding combination when in the wrong hands.
Quality and image
Mercedes might have built its reputation on the back of large, premium saloons but these days the brand is branching out to cover as many sectors as possible. The GLA 45 AMG is a good example of this; the performance crossover is a decidedly niche product but with few rivals making an effort Mercedes has the upper hand. Only time will tell if it proves to be a smart business decision.
Accessibility
With the raised ride height and the same five-door configuration as an A-Class, the GLA presents few problems in terms of access. Passengers front and rear can climb aboard with ease, while at the rear the tailgate opens easily and the loading lip is relatively low. Only the car's chunky sports seats might prove an issue if you're a little wider than chairs, especially when it comes to climbing over the heavily bolstered seat cushions.
Stereo and ICE (In car entertainment)
The GLA range comes as standard with the now familiar Mercedes-Benz layout - a large display screen mounted on the top of the dashboard for good visibility, plus the rotary dial and dashboard buttons to control it. The system itself works well although the user interface and graphics are starting to show their age. Thankfully the system is fully featured and the audio performance is good.
Colours and trim
In a slight departure from the regular GLA, the AMG version displays a more performance-orientated look. The chunky crossover theme remains, but it's supplemented by a subtle bodykit that contrasts well with your chosen body colour. And aside from the few AMG-themed items of cabin trim, the environment boasts the usual dark German ambience.
Parking
With decent visibility all round thanks in part to the slightly raised driving position, the GLA is a relatively easy car to park. Its overall size is relatively compact and all models are fitted with a reversing camera, which is a very useful addition alongside the option of parking sensors.
Spare wheel
Tyre repair kit fitted as standard.
Range information
Petrol engine options - 2.0-litre (208bhp, 360bhp). Diesel engine options - 2.1-litre (134bhp, 168bhp). Transmission options: six-speed manual or seven-speed dual-clutch gearbox fitted depending on engine option. Trim levels: AMG Line, AMG Line Executive, AMG Line Premium, AMG Line Premium Plus, Sport, Sport Executive, Sport Premium, AMG.
Alternative cars
Audi Q3 Performance Q3 variant is quick but ride is firm
Nissan Juke Nismo-branded Juke is rapid but lacks the GLA's sophistication
Mercedes-Benz A-Class Hot hatch AMG version is a better choice for keen drivers
Range Rover Evoque No obvious performance variant but pitched as a road-biased premium crossover