November 2010
Mercedes-Benz E-Class E 63 AMG Estate
Estate cuts a sophisticated dash from any angle
November 2010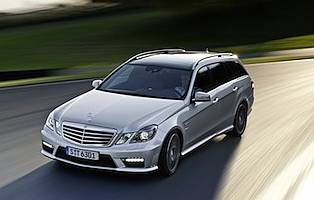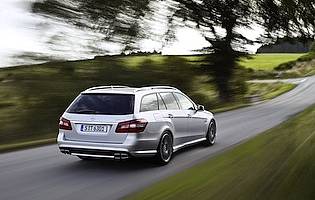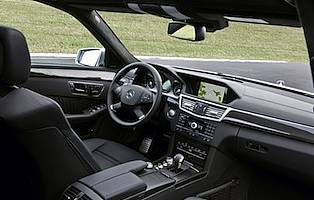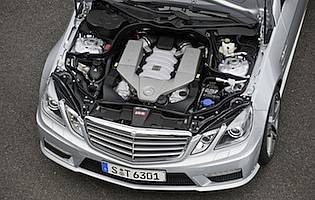 Overall rating

Likes:
Build quality and cabin ambience impressive
Subtle bodykit masks car's considerable performance potential
Powerful V8 full of character and surprisingly flexible
Estate variant offers a generous amount of space and flexibility
Gripes:
Exterior design is sensitive to colour choice
Supercar daily running costs means E 63 is for dedicated enthusiasts only
Vocal engine makes it hard to drive around unnoticed
Despite hefty price tag a number of key items remain as cost options
Some critics of Mercedes are always keen to claim the brand spreads itself too thin. With a product in almost every category and niche, surely quality and performance must suffer? It would be easy to think that of a 525 horsepower premium estate car but, like the rest of Mercedes' cars, the maker's E 63 AMG estate is anything but a mish-mash of poorly executed ideas.
With a few exceptions, a new Mercedes is nearly always followed by a fire-breathing AMG variant. Like its predecessor the E 55 AMG, Mercedes dutifully produced an E 63 AMG variant to compliment its latest E-Class line-up. And that included an estate version.
Some might think that a 525 horsepower premium estate car is a step too far when it comes to building niche models. Mercedes does acknowledge that the 6.2-litre V8 load-lugger will only ever appeal to a small number of buyers, but these people will be wealthy and keen on seeking out the best - compromise doesn't enter their heads.
For buyers of performance cars who are not fans of littering their driveways with a selection of different models for different uses, opting for a one-size-fits-all solution has recently meant coming home with Porsche's Cayenne. If you need that rare combination of space, usability and high-end performance, it's either the polarizing Cayenne or an estate car.
The choice between load-luggers is a small one, but Mercedes' consistency shines through here as AMG variants are treated as series production models and not limited-run special editions. The result is a fully sorted and rounded product; it's capable of towing the family line and behaving sensibly, but it's also capable of delivering a supercar-rivaling experience where conditions permit. Despite its size, the E 63 AMG estate is a rapid, agile and entertaining all-rounder.
Our verdict on the Mercedes-Benz E-Class E 63 AMG Estate
While this E-Class has divided opinion with its rakish, bold exterior, there can be no doubt over the E 63 AMG's performance. Packing a charismatic and highly vocal 6.2-litre V8 petrol motor, the combination of rear wheel drive and 525 horsepower is a heady and addictive one. An impressive alternative to the high performance SUV for the owner seeking one, rounded vehicle, the E 63 estate offers plenty of space, flexibility and thrills in one package.
Costs
No car with a 6.2-litre petrol V8 is going to be cheap to run, and with real world economy in the high teens, you'll need deep pockets for the E 63. Insurance, servicing and tyres will also come at a premium, but all this won't be surprise for seasoned performance car owners.
Space and practicality
In estate form the E-Class is a spacious and versatile load-lugger. Behind the large tailgate is an equally large load space. Folding the rear seats is easy, and reveals a flat, wide and practical boot floor. Optional dividers are capable of securing your load. Up front, the cabin has a number of useful storage areas but the glovebox is quite limited in its space if the handbook is present.
Controls and display
With a little familiarisation the E 63's cabin will soon feel like home. The instrument layout is a particular plus point, offering a lot of information and control but in a simple and accessible manner, while the car's colour infotainment screen is a good size. The car's stubby auto gearlever and push button Park function takes a little getting used too, though.
Comfort
Even with its sporting bent, the E 63 can be a relaxing and comfortable car. The car's sports seats are more supportive than they look, while ride quality is surprisingly supple for something with so much potential.
Car security
Thankfully the E 63 doesn't shout about its abilities when standing still, which should mean that few unsavoury characters will spot it in a line of parked cars. The standard alarm and immobiliser package should prove sufficient, although adding a tracking device might be advisable for added peace of mind.
Car safety
Mercedes has done a lot of work in recent years to further boost its already comprehensive suite of safety equipment, and the E 63 comes with innovative features such as Attention Assist, fitted as standard to all models, plus there's blind spot and lane departure warning systems to consider. With plenty of airbags around you and a progressively active stability control package, you can feel safe and have fun.
Driver appeal
Behind the E 63's subtle exterior lies genuine supercar-baiting performance. With its AMG-tuned suspension, transmission and engine, the E 63 is capable of delivering serious thrills without a hint of sensible estate car compromise. The switchable damper settings allow for varying degrees of stiffness for cornering, while the same is true of the seven-speed auto gearbox - sports and manual modes ensure gearshifts can be fine tuned for speed. Weighty steering, excellent traction and a deep, growling exhaust note complete the addictive picture. What's also impressive is the way the E 63 can be driven sensibly; it's as easy to potter around town, as it is to spend lap after lap at your favourite trackday circuit.
Family car appeal
Leave aside its Porsche-baiting performance for a moment, as the E-Class estate is something of an anti-MPV. Its spacious cabin and boot conspire to accommodate most things you throw at it. However, be warned that the E 63's cabin is a plush one, and is best suited to a grown up family and not one with a history of sticky, chocolate covered fingers.
First car appeal
As a regular car the E-Class would just make the cut, although it is a big car. The E 63 is a different beast, and would be too powerful for most novice drivers. It's also an expensive car to run, which is fine if you're experienced and have a generous no claims bonus.
Quality and image
Despite taking a small know in recent years, Mercedes has redoubled its efforts and the German firm is now on fine form. The cars are well built inside and out, and the bias is slowly shifting towards an engaging driving experience and away from the soft, uninvolving one of old. And with less 'visually challenging' designs than BMW, customers are warming to a new, bolder 21st century Mercedes.
Accessibility
Being a big estate car, cabin access is not a major problem. Front seat occupants fare the best, but those in the back do all right too. It's the same story at the back, with the car's big tailgate - power operated depending on model - offering shelter when open and revealing a usefully low load lip.
Stereo and ICE (In car entertainment)
Boasting an enhanced audio system, the E 63 offers occupants a rounded and impressive performance. The main colour display is functional and the main rotary controller is surprisingly intuitive after a bit of practice. Predictable there is a long list of upgrades, from improved navigation features to iPod connectivity and rear seat entertainment it's al here - at a price.
Colours and trim
This generation of E-Class is surprisingly colour sensitive - blame that on its complex curves and sharp exterior lines. Go for the default silver hue and you'll be fine, though. Inside, figure-hugging leather covered sports seats and glossy trim abound.
Parking
It might be a big car but the E-Class estate is no monster. Light but accurate steering at low speed plus the safety net of fore and aft parking sensors make life easy. You do need to watch those attractive but vulnerable-looking AMG alloy wheels when approaching kerbs, though.
Spare wheel
Space saver spare wheel fitted as standard.
Range information
Petrol engine options - 200 CGI (184bhp); 250 CGI (204bhp); 500 (387bhp); 63 AMG (525bhp). Diesel engine options - 220 CDI (170bhp); 250 CDI (204bhp); 350 CDI Bluetech (211bhp); 350 CDI (265bhp). Transmission: mix of five and six-speed manual plus five and seven-speed auto depending on model - E63 AMG gains seven-speed auto as standard.
Alternative cars
BMW 5 Series High power diesel variants a close match for everyday use but lack E 63's drama
Skoda Superb Don't laugh - in V6 guise Superb is quick, just not quick enough for hardcore enthusiasts
Porsche Cayenne Powerful SUV easily a match for the E 63 on the road but not when load-lugging
Audi A6 In RS6 guise A6 is rapid and practical but not as polished or entertaining as the E-Class