June 2013
Mercedes-Benz E-Class E400 Coupe
Revised and sharper front end features new single-unit headlights
June 2013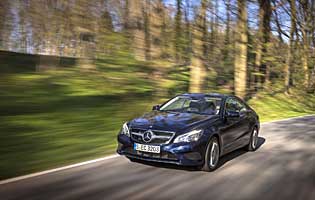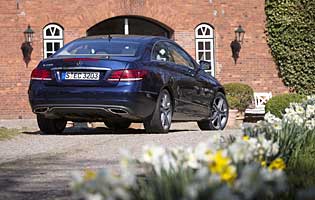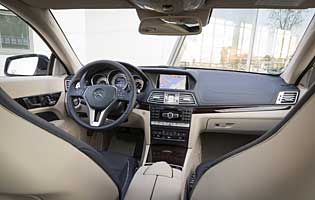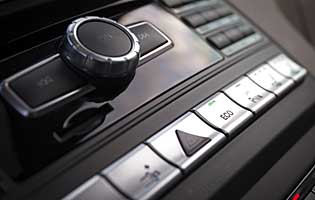 Overall rating

Likes:
Bolder, sharper looks give the Coupe more visual appeal
Quiet cabin ensures a relaxed journey
Excellent in-car technology is intuitive and practical
Materials and finish quality are high for the price point
Gripes:
Intrusive traction control system impedes sporty driving
Large, expensive optional wheels are needed to complete the exterior look
Wind noise around the door mirrors is evident on motorways
Long doors can be difficult to open in car park bays
In many respects the new features of the Mercedes E-Class Coupe come as no surprise, since the four-door saloon, which was launched months before this two-door version, has already given the game away. But the Coupe does have more aggressive styling details and arguably fulfils a different role to the four-door, potentially even attracting quite different buyers.
The E-Class Coupe has become a constant in Mercedes' streamlined model range, taking the same floor pan as the saloon and treating it a little differently. As a rival to Audi's A5 and BMW's 3 Series Coupe, the E-Class Coupe has stiff competition to inspire it to great things. It certainly has a uniquely different identity to the saloon.
Alongside the new style of badge, which sits flush against the bonnet rather than lifting the three-pointed star vertically off the grille, the Coupe has an unusually aggressive front bumper skirt that almost looks like a blade and gives the car an arresting front aspect. The two-door profile helps the car to look longer and sleeker than the four-door.
The old E500 V8 engine has been replaced with a turbocharged V6 in this E400, making this the most potent engine choice. In this trim the E-Class Coupe begins to look excellent value against much more expensive GT-type cars, with its outstandingly good looks and high interior quality making it a match for most alternatives several price brackets higher.
The driving experience does not mirror the styling, with a rather understated manner in everything from the muted engine note to the noticeably but inoffensively detached steering. The E-Class Coupe feels highly polished; like it's built for those individuals who prize refinement and luxury above all else. That said, there's no doubt that this E400 is still fast.
Our verdict on the Mercedes-Benz E-Class E400 Coupe
This two-door E-Class cuts quite a dash. It looks so good and the materials quality is so high that it can challenge much more expensive executive cruisers. As a practical four-seat car to sit alongside Porsches at a golf club the E-Class excels, but it doesn't cost anywhere near as much as a 911. In coupe guise the E-Class is simply transformed into a much classier car than the saloon.
Costs
Of all the engine choices in the range this is not financially the most sensible, with a higher purchase price than the four-cylinder options and higher fuel consumption to match. It is likely to lose a little more raw value than the cheaper options in terms of depreciation, too. But even so, the Coupe is more desirable than ever and demand on the used market should be reflected in good residuals. Those searching for low company car tax bills would be better served by the diesel options.
Space and practicality
This Coupe shares boot dimensions with the four-door saloon, which means plenty of raw space for holiday luggage or golf clubs. The aperture through which bags must be placed is a good shape and allows for fairly large bags to be pushed into the boot initially, but thanks to the load lip it's better to use soft bags when packing out the rest of the available space. In the cabin there is restricted storage space owing to an obvious bias towards style.
Controls and display
The display is a familiar one to any owner of a recent Mercedes. The instruments are clear and on the stylish side of functional, while the ancillary stalks are chunky and robust. Unfortunately, though, the stalks do try to cram too many functions into too small a space, and it can sometimes be confusing even after a while with the car. Mercedes also prefers mounting the cruise control on a stalk, but steering wheel buttons are clearer.
Comfort
Mercedes has fitted seats that larger people will find more or less perfect, but slighter occupants might find themselves with a little too much space around them under cornering. With an optional upgrade to the seats, the side bolsters can be squeezed inwards to better support slimmer people. The cabin is pleasantly hushed, though, which creates a relaxing and comfortable environment. The only caveat is wind noise around the door mirrors.
Car security
Mercedes has installed the latest anti-theft software into the E-Class and as such the car is at the forefront of the current wave of cars that are making it almost impossible to steal them without the correct key. Mercedes has never suffered from the same problem as BMW once did, where new keys could be cloned using information from the car itself. But for simpler peace of mind there is an alarm, an extremely effective immobiliser and remote central locking with deadlocks.
Car safety
Mercedes has thrown everything it can at the new E-Class's safety, even to the point where it receives some safety systems before the flagship S-Class, which is the traditional vehicle in which new Mercedes technology makes its debut. Much of the most advanced technology available here is optional, but even the standard complement of safety gadgets is among the most impressive in the market.
Driver appeal
The level of noise insulation in this car defines its driving experience and its suitability more for cruising at speed than for roaring up and down the gears on a winding back road. That's what buyers of this sort of car want, so the E-Class is well tailored to its target audience. The turbocharged V6 engine does require revs to extract the best from it, and its weight compared to the cheaper 1.8-litre four-cylinder units means that it's not the lightest or nimblest E-Class Coupe.
Family car appeal
Mercedes makes several variants of the E-Class and the Coupe is the least family-friendly of them all. It maintains Isofix child seat mounts and a switchable front passenger seat airbag, but it proves to be something of a stretch to try to fit a child seat into the rear with no additional door to reach through. Another point against it is the quality of the interior materials, which would be vulnerable to scratches and damage from inconsiderate young hands.
First car appeal
Although the two-door E-Class has sleek, classy looks that new drivers might find desirable, there are many reasons why the car is simply unsuitable. This particular model is one of the most expensive in a range that starts way above the reach of a typical first-time car buyer anyway. Then there are questions around its power output, which first of all could be too much in inexperienced hands and secondly is likely to render insurance impossible to source.
Quality and image
Mercedes' relationship with build quality has fluctuated over the decades, from peerlessly high to disappointingly low, but at the moment things are definitely at the high end of the scale. Its reputation is good among its target audience, and it usually performs better than its immediate German rivals in reliability surveys. The tangible quality of this car, however, is undeniably high. The paint finish, the trim fit and the materials choices are all extremely convincing.
Accessibility
Any real coupe should by definition have qualities that reduce its accessibility, like only two doors and a low roof line. The E-Class coupe has both of these things, plus very long doors that need to open significantly before you can stride forwards into the footwell and drop into one of the front seats. For back-seat passengers it could be worse, but it might still sometimes seem like a tight squeeze until they have sat down. The electric seats also move out of the way far too slowly.
Stereo and ICE (In car entertainment)
Mercedes' COMAND Online system is familiar to many owners by now, with its clear if a little dated-looking interface and colour scheme. Its functionality, however, can't be denied with a simple set of buttons joining a main control dial that allows access to the media and stereo functions. USB and auxiliary ports are standard along with Bluetooth and SD card compatibility, so users have maximum choice in how to play their music.
Colours and trim
The E-Class Coupe comes in a traditionally Mercedes range of colours, so there are plenty of darker, restrained hues to choose from. But there are also brighter, livelier shades that actually do the sharp lines more favours, and white is a good option as well. On the inside, the trim looks as finely crafted as it feels and immediately makes the car feel good value.
Parking
As part of a comprehensive range of upgrades to the safety and technological systems of this E-Class, Mercedes has installed an advanced parking assist system that can actively take control of the car and park it into a bay or parallel space for you. The system isn't perfect, especially in very tight spaces or when it's important to hug the kerb reasonably tightly in narrow on-street bays, but for occasional use it does an impressive job.
Spare wheel
Emergency tyre repair kit as standard.
Range information
Petrol engine options - 1.8-litre (181bhp, 201bhp); 3.5-litre (329bhp). Diesel engine options - 2.1-litre (167bhp, 201bhp); 3.0-litre (248bhp). Transmission options: six-speed manual gearbox or seven-speed automatic according to model. Trim levels: SE, AMG Sport.
Alternative cars
BMW 3 Series Coupe Dynamically very good, but a slightly dull interior and uninspiring looks
Audi A5 Looks depend heavily on specification, but excellent engines available
Jaguar XK Aging and much costlier, but more beautiful than ever and filled with character
Lexus IS Aggressively-styled Japanese option ticks the right boxes for aesthetics and efficiency