Mercedes-Benz E-Class Coupe
Elegant looks and quality interior
May 2017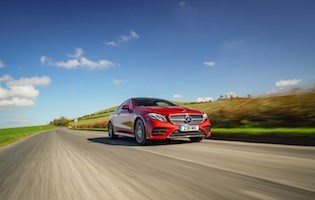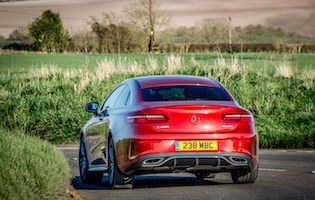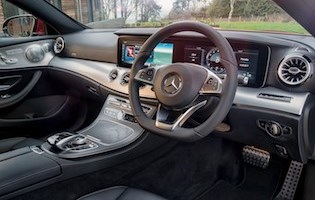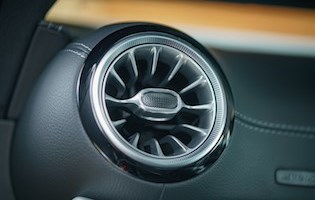 Overall rating

Likes:
Elegant looks
Trio of solid engines to choose from
High interior build quality
Economical when fitted with diesel
Gripes:
Rear seat headroom isn't the best
Gearbox can be sluggish when pulling away
Infotainment system can be difficult to navigate
Doesn't drive as keenly as the saloon
Mercedes-Benz has a long standing history of creating elegant coupes. This is its latest one – the E-Class Coupe. Benefitting from all of the technology fitted to the just-released E-Class saloon, the Coupe also features a strikingly raked-back look. Featuring a range of engines, it's a good-looking alternative to the traditional saloon for those who want to stand out from the crowd.
The exterior of the E-Class Coupe takes many design cues from the smaller C-Class Coupe. It's also 123mm longer and 74mm wider than the previous-generation E-Class Coupe, which means that it looks even more raked than before. The B-pillar has also been removed, giving the Coupe a seamless, unbroken window line. This, as well as improving visibility, gives the interior of the car a distinct 'airy' feel.
Inside, the E-Class Coupe uses many of the features that are fitted to the saloon. It's an upmarket and well-built place to be, with plenty of high-quality materials used throughout. A nice addition is the 'turbine' vents, which differentiate the coupe's cabin from the saloon's. A widescreen infotainment system is also fitted, which only adds to the E-Class Coupe's premium interior feel.
In terms of engines, there's a just three to choose from. There's a 2-0-litre diesel, a 2.0-litre petrol in two separate states of tune along with a larger 3.0-litre six-cylinder unit. Choose the diesel if you want the best economy, as it offers the highest economy figures. That said, if it's power you're after then the petrol units are a smarter choice. All three drive their power to the rear wheels via an automatic gearbox – though the more powerful petrol is four-wheel-drive only.
Prices for the E-Class Coupe start at £40,135. All cars come with 19-inch alloy wheels as standard, along with AMG bodystyling and suspension with selective damping. Cruise control, a DAB digital radio and keyless entry also comes part of the base price. It's an impressive range of standard equipment, and reflects the premium nature of the E-Class Coupe.
Our verdict on the Mercedes-Benz E-Class Coupe E220d
For those who want a sleek and well-specified coupe that's good to drive, then the E-Class Coupe is hard to beat. It looks the part, has a well-made interior and is available with a trio of strong engines. When fitted with the 2.0-litre diesel it's refined and quiet – just how you'd like a luxury coupe to be. It's also far more comfortable than other rivals such as the Audi A5. In short, it's a great choice.
---
Costs
Running costs for the E-Class Coupe shouldn't be too high, especially if you pick a diesel. Of course, consumables such as brakes and tyres will cost more to replace than with other cars, but this is to be expected from a premium coupe. If you do choose one of the larger petrol units, then expect to pay more for fuel and insurance, as well as for servicing.
Space and practicality
The E-Class Coupe's boot is a reasonable size at 425 litres, which is more than enough for a few weekend bags. This can also be extended by lowering the rear seats, which gives more load-lugging ability should you need it. In truth, you'll never buy a coupe for high levels of practicality, but the E-Class, with its relatively good boot space and surprisingly spacious cabin, does go some way towards offering the best of both worlds.
Controls and display
All of the controls in the Mercedes have a good weight to them, and feel as though they'll stand the test of time. The main instrument binnacle is clear and easy to read, while the large optional infotainment screen is a pleasure to both use and look at. The gearshifter is still mounted to the side of the steering column as it is in other Mercedes cars but once you're over the initial alien feeling of using it, it quickly becomes second nature.
Comfort
Despite being fitted with large 19-inch alloy wheels, the E-Class Coupe's ride is smooth. There are very few bumps translated from road to cabin, while road noise intrusion is at a minimum. There's optional air suspension available too and, having driven cars fitted with both this and standard springs, the air does make the car far more refined at lower speeds. However, the standard setup is more than good enough for everyday driving.
Car security
The E-Class Coupe comes fitted with all of the security systems that you'd expect from a car in this price range. Though its badge and premium nature may make it a target for car thieves, there's little reason for you to have to worry about leaving it parked on the street at night.
Car safety
The E-Class Coupe scored very well when it undertook the Euro NCAP crash tests. It scored 95 per cent for adult occupant safety, as well as 90 per cent of child occupant safety. Pedestrian safety levels are nearly as good at 70 per cent, while the E-Class' use of technology saw it return a respectable 62 per cent safety assistance score. All in all, it was awarded five stars – so it's one of the safest cars on sale today.
Driver appeal
As with any two-door, there's a distinct level of sportiness that comes with the E-Class. Even when fitted with lower-powered diesel engine, the Coupe still drives relatively keenly, though feels distinctly heavier than the saloon upon which it is based. The seating position is, however, very good and means that you feel confident when gathering speed. It's a special car to drive, which makes it all the more appealing, too.
Family car appeal
The E-Class Coupe is actually better suited to family life than you'd think. When fitted with the 2.0-litre diesel engine it's economical, which means it won't cost too much to run. Its boot size is also relatively large for its class, which will suit a family that takes a lot of kit with them. Furthermore, its rear seats will be perfect for children – and the large amount of glass used means that they'll have a good view of the outside world, too.
First car appeal
Though there is a smaller diesel on offer, running an E-Class Coupe as a newly passed driver won't be easy. It's also a rather large car to park, drive and position, which will make it a slightly intimidating car for new motorists to drive. Though many new drivers would love to get behind the wheel of this car, the reality is that it'll be quite expensive both in the short and long term.
Quality and image
There's no denying the E-Class's quality, going from the high-quality materials used inside to the chrome accents dotted along the exterior. Mercedes' image is also quite high at the moment, with the German manufacturer creating a series of good looking and good to drive cars. This is instilled in the E-Class, which is both luxurious yet sporty feeling.
Accessibility
Despite being a two-door, accessibility in the E-Class is actually pretty good. Though low-slung, the seats are easy to slide into. There's actually a decent amount of legroom in the rear, too, and this is mainly down to the car's extra overall length. However, the front seats do tend to take a long time to move to their original position after being slid forward, which makes getting in and out of the car quickly a bit of a chore.
Stereo and ICE (In car entertainment)
The E-Class Coupe comes fitted with a wealth of technology as standard. Satellite navigation is included in its base price, as is an 8.4-inch multimedia display. DAB digital radio is fitted as standard, as well as three-spoke multifunction steering wheel that gives easy control of audio functions. The standard stereo system has a high-quality sound, though, of course, there is an optional higher output version. Another option well worth specifying is the 12.3-inch media display, as this gives an even sleeker look to the E's cabin.
Colours and trim
As with any car in the luxury market, there are lots of personalisation options available with the E-Class Coupe. There's also a good range of interior trims and finishes to choose from. All cars are AMG Line trim, meaning that they benefit from a wide array of standard equipment along with a sportier exterior look. If you're after good value for money, then the E-Class Coupe is a good choice.
Parking
Thanks to plenty of glass and the lack of a B-pillar, rearward visibility in the E-Class Coupe isn't that bad at all. A reversing camera is fitted as standard, which does wonders for ease of parking. There's no getting away from the E-Class' length, and it can be quite an intimidating car to manoeuvre, especially in tighter parking spaces. Couple that with large 19-inch alloy wheels that are almost waiting to be kerbed, and you have a car that isn't best suited to small spaces.
Spare wheel
Emergency tyre repair kit supplied as standard.
Range information
Petrol engine: 3.0-litre. Diesel engine: 3.0-litre turbocharged diesel ; 2.0-litre turbocharged diesel. Transmission option: 9-speed automatic. Trim level: AMG Line.
---
Alternative cars
Audi A5 Good looking, but not as economical as the E-Class.
BMW 6 Series Coupe Elegant styling, but starting to show its age now.
BMW 4 Series Slightly smaller than the Merc, but offers a keener drive.
Ford Mustang A wild choice here, but a substantially sportier experience.