August 2011
Mercedes-Benz CLS-CLass CLS 250 CDI BlueEfficiency
Upright grille is most obvious change to striking second-generation CLS
August 2011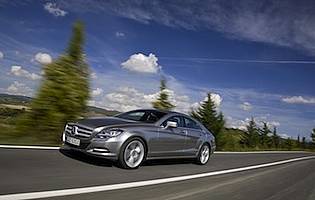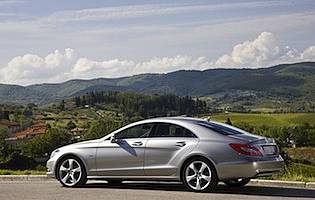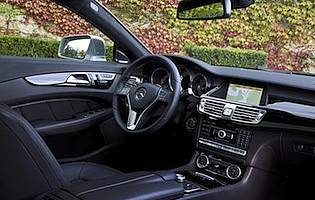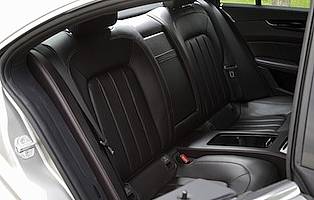 Overall rating

Likes:
Bold styling a departure from the the softer looks of its predeccessor
A more engaging driving experience than its E-Class cousin
250 CDI variant is frugal yet packs sufficient power to make driving enjoyable
Bespoke feel to the cabin ambience is a welcome addition to the CLS experience
Gripes:
One piece flowing fascia of old model is gone
Strictly a four-seater car which could impact on its versatility
Choose wheels and options carefully to avoid experiencing an overly hard ride
Long options list could prove dangerously tempting for your bank balance
This second generation CLS is a departure from the rounded and soft-curved original, as it attempts to compliment Mercedes' bolder design language. It's also the first to come with a four-cylinder diesel engine, further boosting its affordability. As Mercedes broadens the car' appeal, it's managed to maintain the premium edge it has over the volume-selling E-Class.
The style and interior ambience of the CLS couldn't be further from the accepted norm. For some the conventional 'three-box saloon' will be their default choice, but for others cars like the CLS have become a refreshing alternative.Since the launch of the original car Mercedes has proved the critics wrong. Second time around the German firm has delivered a more upright and aggressively-styled model that's more in tune with the rest of its range.
It may have four doors but what the CLS does have in common with a coupe is its distinctive sloping roof. It's this feature, along with an characterful interior that gives hints at a coachbuilt feel and sets it apart from other luxo barges.The attention to detail and overall quality of the cabin is what sets it apart from its conventional rivals.
In an unabashed attempt at attracting more fleet customers, Mercedes has taken the bold move of including a four-cylnder diesel. Ordinarily such a move would be percieved as a downmarket approach, but with the strenght of the maker's engine line-up this is no longer the case. In fact, for many the tax-friendly 250 CDI will be all they ever need. Delivering a competent cruising performance and frugal urban abilities, it's something of a surprise all-rounder.
Thanks to a combination of generous amounts of convincing trim materials, leather upholstery and the CLS' trademark flowing fascia, you really do feel special when inside the car's sung cabin.The car's sloping roof might be its signature attribute but there's no need to worry about space in the rear of the cabin. Although a strict four-seater, the CLS is surprisingly accomodating.
Our verdict on the Mercedes-Benz CLS-CLass CLS 250 CDI BlueEfficiency
Unlike a comparable E-Class, the CLS boasts a higher-class cabin that easily exceeds anything from other makers' cars. It won't be for everyone, but the inclusion of a wallet and tax-friendly four-cylinder diesel will likley swing it for anyone that's still undecided. Fleet managers seeking to satisfy the demands of high-ranking executives now have an attractive alternative to the rank and file three box sallons, too.
Costs
It's true that the CLS isn't a cheap car, but anyone seeking exclusivity will find this a fair price for something so unusual. The petrol models are predictably thirsty - especially the AMG variant - making the diesel models the sensible choice for many. The 250 CDI variant in particular is something of a surprise, and will deliver family hatch levels of economy and tax-freindly CO2 emissions. It's easy to rack up the pounds when looking through the options list though, as you'll have to pay extra for some of the attractive convenience items.
Space and practicality
As with any car in this class, the CLS' four-door form can be limiting, and proves why people carriers and SUVs remain so popular. Even the space available up front is more snug than spacious, confirming the car's status as a true four seater. The upside is a full-length centre console complete with useful storage areas, plus a decent size boot.
Controls and display
Mercedes hasn't lost its touch when it comes to quality switchgear and sensible ergonomics. The car's main dials are clear and concise, while the minor switchgear feels substantial and built to last. The COMAND infotainment system is initially not the easiest to navigate thanks to the number of buttons and menus you're presented with but practice eventually makes perfect.
Comfort
Front seat occupants fare the best due to the car's sloping roof, while the ride is slightly firmer than what you'd experience in a softer damped E-Class - more so in a Sport variant. As you would expect at this level, road and engine noise have been kept to pleasing minimum. The car's plush seats and premium cabin ambience also help matters.
Car security
For a car this distinctive it will pay to keep belongings in the cabin out of sight, as the CLS is something of a head turner. From a convenience angle you can opt for Mercedes' key-less entry package, which allows you to get in and start the car without having to reach for the key. As for the rest of the experience there are no great surprises, just the usual remote locking and anti-theft package.
Car safety
The CLS boasts all the latest kit; airbags, traction control, stability control are all onboard. The inclusion of new technology such as driver attention alert and advanced blind spot warning systems should easily please prospective buyers.
Driver appeal
It's immediately obvious that there's a greater focus on refinement than with the first-gen car. The seven-speed auto gearbox shifts gears smoothly, ride quality is impressive - especially with air suspension - and the big CLS feels nimble even on winding B-roads. There's good news for your wallet, too. Realistically the 250 CDI diesel delivers more than enough performance and should please tax-obsessed fleet drivers. The unit is quiet and refined when cruising on the motorway - likely to be its natural habitiat.
Family car appeal
The car's plush cabin is no place for small children with a tendency to rub chocolate into the upholstery. Strictly a four seater, the CLS would be better suited to transporting a more mature family. For everyone else, there's always the E-Class or an SUV like the ML.
First car appeal
Hardly an ideal choice, its performance potential and the inevitable premium car-sized running costs, make the CLS a particularly unsuitable car for first timers.
Quality and image
There's no question that the car's cabin materials feel and look expensive and the switchgear operates with a well-oiled efficiency. Image-wise the CLS stands out thanks to a lack of any genuine rival at its price point, its rakish profile and exclusive status.
Accessibility
Front seat occupants will have no problems with access - it's very much like an E-Class. It's a little different at the back thanks to the car's sloping roof. The doors don't open as wide for starters, and headroom is less generous than in a regular saloon. There's no disguising the fact that tall occupants will feel compromised accessing and exciting the rear of the CLS. At the rear, the car's boot aperture is a good size.
Stereo and ICE (In car entertainment)
The audio system offered in the CLS delivers a good sound in the snug cabin. Familiar remote controls on the steering wheel are a welcome addition, although the main display and array of buttons take a little getting used to. It's the same with the sat-nav, although responsive when on the move, it takes a while to learn thanks to its various options and menus.
Colours and trim
There's no doubt that the traditional dark 'executive' exterior colours work the best. Inside, the CLS boasts a facia similar to that of the E-Class. Its various gloss and matte finishes plus the various wood and chrome trim options add a welcome high quality feel to the cabin. Make no mistake, this isn't a warmed over E-Class
Parking
At first it can be difficult to confidently reverse it into a parking space as you sit low down in the cabin. As a result, visibility aft might not be that impressive, but there are no problems with the view forward. The car's auto gearbox is easy to use, the steering is pleasingly light at low speeds and the parking sensors will make a huge difference if you're not feeling confident.
Spare wheel
Space saver fitted as standard.
Range information
Petrol engine options - CLS 350 (306bhp); CLS 500 (408bhp); CLS 63 AMG (557bhp). Diesel engine option - CLS 250 CDI (204bhp); CLS 350 CDI (265bhp). All cars come with seven-speed auto gearbox. Trim level is dependent on engine size.
Alternative cars
BMW 5 Series Conventional saloon is good to drive but styling not universally liked
Jaguar XF Radical styling inside and out has lifted Jaguar's profile
Maserati Quattroporte Genuine rival to AMG variant. Fast, rare and pricey, though
Audi A6 Sensibly-styled A6 delivers plenty of kerb appeal. Still a conventional saloon, though