January 2013
Mercedes-Benz CLS 63 AMG Shooting Brake
Dramatic styling is highlighted by AMG additions
January 2013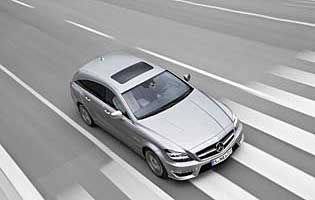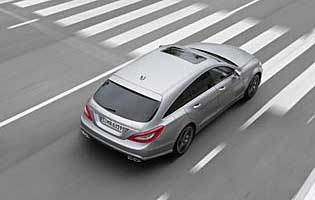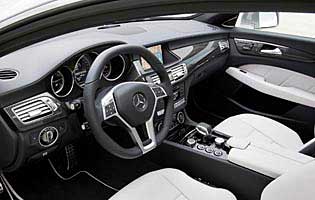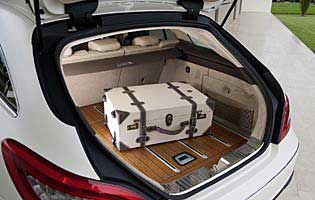 Overall rating

Likes:
Bold looks are likely to appeal
Engine displays an extrovert character and is a joy to use
High quality cabin lives up to car's price tag
Dual personality makes for surprisingly relaxing everyday transport
Gripes:
Some standard equipment is omitted despite car's high price
Running costs will be high
Rearward vision could be better
Shooting Brake is no substitute for a conventional estate car
The Mercedes-Benz CLS is boldly claimed by its maker to be a four-door coupe, giving it a possible advantage over its two-door rivals. With the first-gen car having earned many friends, it was no surprise to see a second-generation car boast a sharper-suited appearance in keeping with Mercedes' more youthful design language. The Shooting Brake is an equally bold offering for buyers seeking to combine style with practicality. And the AMG version? Well, that's for drivers who want it all: space, style and speed.
With its long, low-slung stance and equally long and streamlined roofline, the CLS Shooting Brake is an arresting sight in the metal. It's a big car, but the benefits are obvious: a practical load bay to match the car's surprisingly spacious cabin.
Over and above the regular CLS with its worthy but hardly exciting diesel engines, the AMG model benefits from Mercedes' new generation 5.5-litre turbo V8 petrol engine. In rear-wheel drive guise complete with the firm's high-tech seven-speed auto gearbox, the 525 horsepower car is no slouch: the sprint to 62mph takes 4.4 seconds before eventually reaching the 155mph electronically limited top speed.
Even when you can't hear the mighty V8 engine's bark and rumble, the car's bodykit helps differentiate it from a regular Shooting Brake. It's sufficient to add a sporty edge but does nothing to hurt the attractive shape. The standard alloy wheels are suitably menacing and the flanks wear badges proudly displaying the engine configuration.
Elsewhere, the car also boasts a high performance braking system, ESP designed with enthusiastic driving in mind and retuned air suspension with the choice of two sports settings for keen drivers. An extra cost 'AMG Performance Package' adds a little more power, shaves a tenth off the car's sprint time and, more usefully, significantly boosts the engine's torque output.
Our verdict on the Mercedes-Benz CLS 63 AMG Shooting Brake
While the CLS 63 AMG Shooting Brake might be short on direct competition, in isolation it's an enjoyable car to drive. It's capable of covering large distances with a high level of comfort and style, yet in the right conditions it's exciting and capable. Running costs are predictably high, but this is really the only downside to a highly desirable and, don't forget, surprisingly practical car.
Costs
In AMG form running costs will inevitably be high. Fuel economy will be low even when driven frugally while be prepared for singe digit mpg figures when you're pressing on. The purchase price and insurance costs will also be high, and it's worth noting that the car's optional equipment list contains plenty of tempting items.
Space and practicality
In general terms front and rear passengers have sufficient space, although headroom is reduced slightly in the rear thanks to the car's sloping roofline. And while not a conventional family car, oddment space in the cabin is good. However, where the Shooting Brake beats the regular CLS is at the rear; the car's load deck is wide and flat, while the ability to fold the rear seats usefully boosts its versatility. It can't match a conventional estate but, for many, it'll prove more attractive than a regular saloon.
Controls and display
The dashboard layout of the CLS is attractive and practical, with clear ergonomics and a sensible layout. Some of the buttons on the centre console are a little small, but this is understandable given the number of features included. The main instrument display is particularly attractive, with the speedometer including a central information display for the likes of the trip computer, navigation, audio features and extended AMG performance data.
Comfort
Despite its performance potential the CLS Shooting Brake remains capable of delivering superb comfort. The optional multi-contour seats allow a huge range of adjustment as well as a massage function, while noise levels are kept firmly in check so long as you're not pushing the engine too hard.
Car security
The CLS is fitted with an alarm system featuring engine immobiliser and interior protection as standard, which should ensure that this desirable machine remains in the custody of its owners.
Car safety
As you would expect for a car of this standing, the CLS Shooting Brake is packed with safety equipment as standard, while the AMG version benefits from greater grip thanks to the larger tyres and increased braking performance.
Driver appeal
The driving experience is dominated by the engine. In normal driving the large torque band and good throttle response mate well with the automatic transmission, and although the gearbox occasionally pauses between shifts, progress is smooth. In the right conditions only a few button presses are required to access the car's sportier nature: the sports suspension setting and manual gearbox mode allow the driver to fully exploit the engine's performance, accompanied by a thrilling engine note. The handling also impresses, with responsive steering that never becomes too sensitive, strong brakes and a distinct absence of pitch and roll when pressing on.
Family car appeal
While the CLS Shooting Brake will house four adults, don't expect tall rear seat occupants to be overly impressed over long journeys. The upside to Shooting Brake motoring is the car's load space, which should easily accommodate shopping, sporting equipment and even childrens' buggies - more successfully than the four-door CLS coupe.
First car appeal
While the CLS range is sufficiently easy to drive that an inexperienced user could cope, the performance on offer from the AMG variants and the associated running costs make it hard to recommend for novice drivers.
Quality and image
The CLS Shooting Brake is right at the peak of quality for Mercedes-Benz products, with a impressive sense of build quality and materials throughout. It also demonstrates many clever design details, which adds greatly to the ownership experience. The CLS range has an image which is subtly different from the rest of the Mercedes-Benz line-up, thanks to its dynamic looks and high performance and is likely to appeal to buyers seeking individuality.
Accessibility
Although the CLS Shooting Brake boasts a hatchback rear door, the low roofline does make it slightly more difficult to gain entry to than a conventional estate. However, access to the rear cabin is relatively straightforward for back seat passengers to get in compared to a traditional two-door coupe.
Stereo and ICE (In car entertainment)
The standard stereo system in the car is a relatively straightforward unit complete with a hard disc-based sat-nav function, Bluetooth and connections for popular media players. The user interface is straightforward, although Mercedes has eschewed a touchscreen for more traditional buttons and a rotary controller.
Colours and trim
AMG models are fitted with high quality leather trim as standard, along a choice of different materials for the fascia, centre console, door trims and the like. In a bid to elevate the performance models from the regular cars. Exterior colours are a combination of traditional sober metallic hues and some brighter shades to offer a more radical look.
Parking
Thanks to the car's length, steeply-sloped bonnet and modest rear visibility, parking can sometimes be a little tricky. However, parking sensors help and the optional reversing camera soon proves to be another useful addition.
Spare wheel
Space saver fitted as standard.
Range information
Petrol engine options - 63 AMG (525bhp). Diesel engine options - 250 CDI (204bhp); 350 CDI (265bhp). Transmission options: Seven-speed auto gearbox. Trim levels: dependent on engine size.
Alternative cars
BMW 5 Series Touring Petrol V8 option is brisk but no match for AMG-tuned CLS
Jaguar XFR XFR features attractive styling and impressive performance but there's no high power estate option
Audi A7 Elegant high performance S7 is another looker but it's four-door only
Porsche Cayenne SUV Porsche comes closest in Turbo guise regarding practicality but CLS retains the upper hand in the looks department