Mar 2005
Mercedes-Benz C-Class Estate 320 CDI Sport Edition
Grille and headlight arrangement is typical Mercedes-Benz
01/02/2005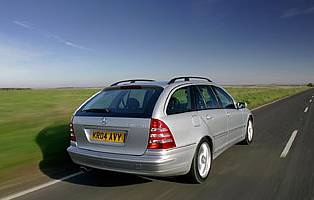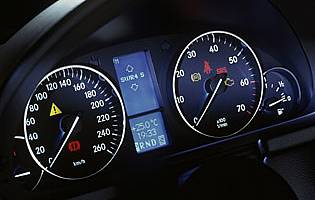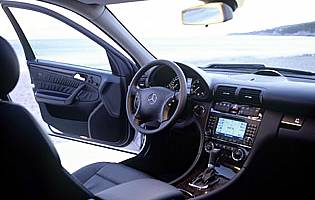 Overall rating

Likes:
Good, old-fashioned big boot
Newer V6 engines offer economy and performance
Sport Edition models have good value extras
Makes long-distance motoring effortless
Gripes:
Cabin can feel too cluttered
Traction control kicks in very early
Lacks interior flexibility of some rivals
Styling too conservative for some tastes
Though their supercars and super-saloons adorn magazine covers and steal the headlines, it's the likes of the C-Class that are Mercedes' real bread and butter models. Perhaps 'bread and butter' isn't quite posh enough for this classy car, however, which is more crouton and olive oil in style.
Despite being on sale for several years now, the C-Class is still among the best cars in its market sector and has new life breathed into it all along the way thanks to Mercedes' regular introduction of new engine variants. Among the latest are superb V6 petrol and diesel units badged 320 CDI and 350 which offer better performance and equal fuel economy than the less powerful units they replaced. They are clean too, meeting the stringent Euro IV standards even without the need for a particulate filter.
Exterior design is less eye-catching than the more aggressive styling of some rivals such as the Audi A4 Avant and BMW 3 Series Touring, but many buyers will prefer the Merc's understated lines. Though the company is trying to create more differentiation between its various models, the C-Class remains a 'default' Mercedes design and in estate guise it takes a couple of seconds to decide whether it is the larger E-Class estate or not. Large, wraparound rear lights and various clever scoops and bulges in the bodywork stop the bulky rear end of the estate looking ungainly.
Indeed, in size and looks the C-Class is so similar to the E-Class that it could even be regarded as a bit of a bargain, giving big-car levels of space, highly advanced engines and a desirable badge for much less money than cars in what's supposedly the next class up. With plenty of chrome and that three-pointed star on the bonnet, onlookers don't need to have a degree in industrial design to realize this is a high-grade vehicle.
Mercedes has tackled recent worries about declining standards of fit and finish, largely successfully. Interior layout can seem cluttered around the dashboard and other driver interfaces, particularly in models that come with features such as an electric sunroof, as if the company has tried to cram too much equipment inside. Audi, BMW and Volvo all provide ergonomically superior layouts but at least the C-Class avoids gimmickry. Unusually, the cheaper C-Class models have a more convincing interior ambiance simply because there are fewer switches and buttons to get in the way.
Our verdict on the Mercedes-Benz C-Class Estate 320 CDI Sport Edition
The C-Class is exactly what one would expect of a Mercedes-Benz estate car. It is refined and elegant with just enough showiness to avoid being ostentatious. The boot is large, it's super-smooth on the road and will hold its value well, justifying the extra outlay required to make a purchase.
Costs
No Mercedes-Benz is ever going to be a cheap buy. There's a definite premium to pay for the three-pointed star on the bonnet, but by way of compensation, Mercedes' vehicles do hold onto their value better than most. Running costs shouldn't be too bad as fuel economy and carbon dioxide emissions levels are very respectable. Cars carrying the Sport badge include lots of extra kit, styling improvements and chassis tweaks and are well worth the additional expense.
Space and practicality
The all-important boot is comfortably larger than its Audi and BMW rivals, a fact that perhaps unexpectedly casts the Mercedes as the most practical choice in its class. There aren't as many smaller storage bins and hidden nooks as is the norm these days but when it comes down to it, you just can't beat a nice, big boot for practicality.
Controls and display
The cabin can seem cluttered, with too many switches and buttons vying for the driver's attention. One notable exception is the single stalk behind the wheel, which is very welcome. But some plastics are disappointing, particularly those around the air vents and mirror mounts. Even the steering wheel could be better - when gripping it firmly, it's possible to feel the difference between the soft outer padding and the solid core of the rim, which is likely to become more pronounced over the years.
Comfort
Mercedes can still 'do' comfort with the best of them. Seats are superbly comfortable and easily adjusted via switches mounted in the front door panels. Leg and headroom is adequate. The C-Class is at its best making swift, silent progress along the motorway. If you happen to pass through a tunnel, open the window and you'll be surprised to hear a lovely engine note from both V6 engines. Sadly for enthusiastic drivers, it is damped into next to nothing inside the cabin.
Car security
One of the few drawbacks of owning a Mercedes is that it is likely to attract criminal attention. Not only are C-Class models eminently saleable both in the UK and abroad (left-hand drive notwithstanding), thieves may assume that the capacious boot hides plenty of plunder. Thick glass stands up well to a brief assault while an alarm and immobiliser are standard issue.
Car safety
Luxury carmakers sometimes forget to mention that they are about more than posh interiors and alloy wheels. Mercedes should make more noise about the excellent safety package it provides in this five-star Euro NCAP car. There are plenty of airbags, ABS with ESP and Brake Assist all as standard with high-tech options like adaptive headlamps and run-flat tyres as options.
Driver appeal
It doesn't deliver the supple immediacy of a BMW's handling and is slightly less grippy than quattro-equipped Audis, but the C-Class can still offer a fine drive. There's plenty of feedback through the steering wheel and the huge amount of torque on offer makes it a brilliant overtaking tool. Different settings are provided by the 7-speed G-Tronic automatic gearbox so you can relax with Comfort mode or sharpen things up with Sport mode at the touch of a button.
Family car appeal
Though the current fashion is for SUVs, in many ways estate cars are much more practical for family use. More manageable in urban environments and simpler to maintain, cars like the C-Class can make excellent family vehicles - provided you can stop the kids ruining the expensive upholstery.
First car appeal
Novice drivers are likely to be as intimidated by the C-Class's size and complexity as they are by its asking price. The smaller, younger A-Class would be a much better bet.
Quality and image
It's probably fair to say that for the last few years, Mercedes has sometimes tended to rest on its laurels, believing its own hype about making the best cars on the planet when declining standards of finish and reliability issues were causing many to question that pre-eminence. To its credit, the company has woken up and is paying attention to detail again. However, rivals such as Audi, BMW and Lexus have undoubtedly gained ground, even if most people would probably opt for a Merc is given the choice.
Accessibility
Despite being thick, doors aren't as heavy as might be feared and yet still close with a satisfying 'thunk'. Proper use of the driver's seat memory facility helps when getting in and out of the car. The boot is very broad, which makes loading far easier than in some competitor cars.
Stereo and ICE (In car entertainment)
As well as superior interior and exterior styling, Sport Edition models gain an improved Audio 20 CD radio. Mercedes' in-car entertainment options list is legendarily lengthy, so buyers will need to pore over it for a while to decide whether or not they can live without a DVD player, widescreen satellite navigation, email and 'Linguatronic' voice activation.
Colours and trim
Sport Edition models are only available in two colours - iridium silver or diamond black, both of which give the C-Class a meaner, sportier look than other variants. Interiors get a similar treatment, with black seats, doormats and some nice silver detailing improving the atmosphere considerably.
Parking
For what's technically a compact estate, the C-Class is quite a lot of car. Parking isn't particularly difficult though. Steering lightens nicely at low speeds and rearward visibility is better than those thickish pillars might suggest. Take care not to kerb those nice alloys.
Spare wheel
All models feature a space saver steel spare wheel.
Range information
Eight engine options; five petrol and three diesel. C 180 K (143bhp) petrol; C 200 K (163bhp); C 230 K (192bhp); C 350 (268bhp) petrol; C 55 AMG (367bhp) petrol; C 200 CDI (122bhp) diesel; C 220 CDI (150bhp) diesel; C 320 CDI (221bhp) diesel. Standard fit on all cars (except C 55 AMG) is six-speed manual gearbox, with five and seven-speed auto a cost option. C 55 gets five-speed auto as standard. Trim levels: Classic, Classic SE, Elegance SE, Avantgarde SE, Sport Edition and Sport Edition Plus.
Alternative cars
BMW 3 Series Touring Probably best-driving car in its class
Audi A4 Avant Immaculate interior and all wheel drive
Volvo V50 Clean design offset by lack of bootspace
Jaguar X-Type Estate Nice rear, shame about the front