July 2016
Mercedes-Benz C-Class Cabriolet 250d
From the front the C-Class Cabriolet is hard to distinguish from other Mercedes cars
July 2016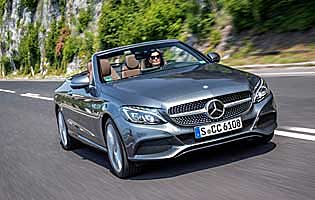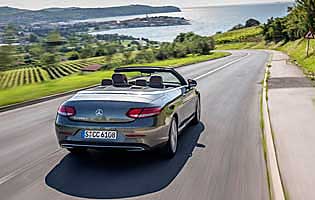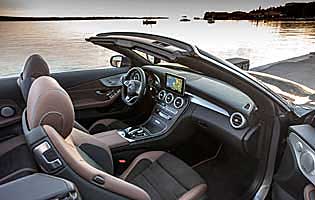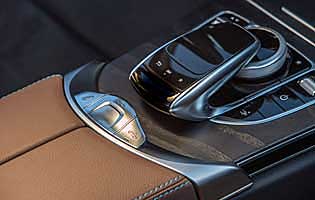 Overall rating

Likes:
High-quality cabin materials
Relaxed driving manners encourage smooth progress
Comfortable ride and seats
Premium look and feel in high-spec models
Gripes:
Standard wheels universally too small
Noisy diesel engine inherited from previous model and not entirely cured
Nine-speed gearbox can change ratio too often
High purchase price - even higher when options are considered
Mercedes has completed the C-Class range with the addition of the Cabriolet model, the second soft-top model built on the second-smallest of the company's platforms. It differs from the SLC by adding more length and a pair of rear seats, and the overall impression is that of a larger, bulkier car built less for speed and more for comfort.
In the context of the latest Mercedes range of cars, the C-Class Cabriolet seems to offer the most Mercedes for the money. On paper it combines the maximum quota of those things that define the modern Mercedes brand for a much lower price than the E-Class and S-Class model variants do.
It benefits from the company's renewed focus on comfort and materials quality, albeit at a price since many of the most desirable finishes and trim accessories are optional. Most of the car's qualities are geared towards refinement, including the relatively heavy but very well sound-insulated canvas roof that can be folded up or down in 20 seconds.
Unlike most compact convertible cars with four seats, the C-Class provides a decent amount of space in the two rear chairs. That's possible only because the car isn't actually very compact at all, making 19-inch wheels look modest at best. While petrol and diesel models will be made available in the UK, it will be the diesels that take by far the most orders.
Despite its size the C-Class has a remarkably low drag coefficient, demonstrating the lengths to which the company has gone in order to reduce fuel consumption. High-quality, heavy materials work in the opposite direction, reducing efficiency, but the overall result outlines a commendable achievement.
Our verdict on the Mercedes-Benz C-Class Cabriolet 250d
The soft-top C-Class is an impressive car in terms of comfort and refinement, embodying the key Mercedes values without losing focus by trying to compromise towards sportiness. The diesel engine is still too noisy but is much improved versus the old car, and if enough money is spent on visual appeal then it looks far more expensive than it is. It's a costly car but an effective one.
Costs
The purchase price is high and there is little guarantee that residual values will be as high as buyers might hope. The depth of the options list is such that many thousands can easily be added to the car without much effort, too. In its favour, though, the fuel consumption should be low on a gentle cruise, and road tax is impressively low as well.
Space and practicality
With the roof up there is slightly more room for luggage than you'll find in a compact family hatchback like a Volkswagen Golf. Fold the electric, folding top panel down and practical luggage space is drastically reduced, not least because the height of the aperture is significantly decreased, making it difficult or impossible to fit suitcases through the gap beneath the folded roof.
Controls and display
Mercedes' digital displays are sharp, clear and responsive, and while many drivers might not like the idea of going wholly digital for their road and engine speed readouts, the fact is that they're so good it's impossible to dislike them for long. They aren't standard on all models, though. The left side of the steering column is too crowded, with three ancillary stalks in a small space - although one of these is a stubbier unit for controlling the electrically-adjustable steering column adjustment.
Comfort
The two front seats are broad and chunky, feeling like seats from a higher-priced Mercedes. There is also a lot of legroom for the front two, with impressive driving position adjustment as standard. Smooth gear shifts increase refinement and comfort, and while the suspension is on the soft side the car doesn't seem to roll uncomfortably in corners. Rear seat passengers have it better here than in most other compact convertibles, with a more comfortable back angle and slightly more legroom.
Car security
An Anti-Theft Protection Package consists of break-in and drive-away alarms, interior sensors and tow-away protection. Central locking is, of course, standard, with an interior activation switch and a crash sensor that automatically opens the locked doors in the event of an accident. However, a soft-top roof is more vulnerable than a metal one.
Car safety
From a pedestrian-friendly pop-up bonnet and an automatic brake-drying function for wet weather, to Collision Prevention Assist Plus and a reversing camera, Mercedes has added all the safety features it could. Cruise control and a speed limiter are standard, and all models also get a full stability control suite.
Driver appeal
If a driver can simply sit back and relax behind the wheel, the C-Class Cabriolet is very rewarding. It has a supple and soft suspension setup that, while firming up a little in its Sport modes, always stays composed and comfortable. Therein lies the car's driving appeal. Its diesel engine is clattery and its heavy body weight and numb steering dull any real driver involvement, but for comfort and refinement it's top of the class.
Family car appeal
Since it has more rear seat space than many of its rivals and forebears, the Cabriolet could realistically appeal to families with no more than four members as a second car. There simply isn't enough boot space or passenger practicality for everyday use as a family car, and this is not what it's designed for anyway.
First car appeal
As Mercedes starts to turn its attention to attracting younger buyers, the knock-on effect is a rise in desirability in the eyes of learners. The C-Class Cabriolet is expensive, though, and feels unnervingly large on the road at times, so would be a terrible choice for a new driver.
Quality and image
While this car is far from cheap, in the right specification it looks even more expensive than it is. The interior quality is convincing from first contact, and the ride only backs that feeling up. Mercedes is enjoying a strong image of late, too, thanks to styling and marketing that are appealing to younger buyers.
Accessibility
The seats are low, but not as low as might be expected for such a car. Buyers will just need to be careful about how much weight they regularly put on the seat side bolsters, because these will inevitably wear down and/or squash. The boot lid is nice and light, but as with most convertibles, when the roof is folded down there are accessibility issues with the boot.
Stereo and ICE (In car entertainment)
DAB radio and Bluetooth are standard, joined by a CD player and a port that can connect to an Apple iPhone or iPod. Navigation is also standard, based on SD card mapping and a seven-inch screen. Upgrading to a Premium or Premium Plus equipment line adds a hard drive for music, live traffic information, voice control and internet access - but only when the car is stationary and connected to an internet-connected mobile phone. There are two USB ports and one further SD card slot.
Colours and trim
On paper the range of available colours looks quite dull and boring, but in the metal there is more of a difference between the options than it might seem. There is a lot of bodywork, though, and pale colours are less flattering than darker ones. There are two levels of additional expense that can be incurred over and above the two free paint options. Inside, a wide range of leather colours and options for contrasting stitching are impressive. There are four options for the roof colour.
Parking
Active Parking Assist is the specification highlight in this regard, and is standard on all models. It can automatically steer the car into spaces with minimal input from the driver, and works with both parallel and bay spaces. Having such a system standard does mark the C-Class out in a corner of the market where such items are usually optional extras.
Spare wheel
Emergency tyre repair kit supplied as standard.
Range information
Petrol engine options - 1.6-litre (154bhp); 2.0-litre (181bhp, 208bhp, 241bhp); 3.0-litre (362bhp); 4.0-litre (503bhp). Diesel engine options - 2.1-litre (168bhp, 201bhp). Transmission options: six-speed manual gearbox (1.6 petrol and 2.0 181bhp diesel only), plus nine-speed automatic. Trim levels: Sport, AMG Line, Edition 1.
Alternative cars
BMW 4 Series Convertible Cramped in the back but handles better than the Mercedes
Audi A5 Cabriolet Sharp looks but poor value overall from the ageing A5
Vauxhall Cascada Excellent value and an adequate drive, but somewhat uninspiring
Range Rover Evoque Convertible Style-focused soft-top SUV is an interesting left-field alternative