April 2007
Mercedes-Benz C-Class C320 CDI Sport saloon
Sport models feature bold grilles and oversized badge
April 2007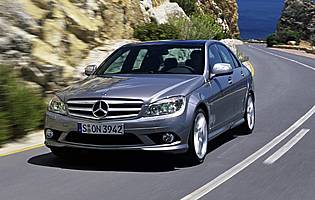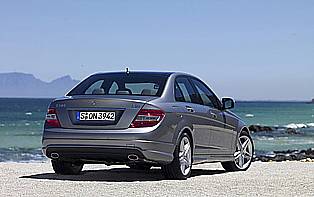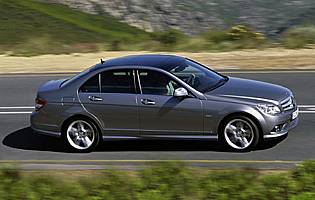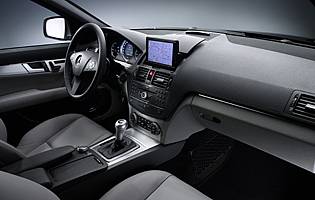 Overall rating

Likes:
Easy to use seat adjustment system
Voice recognition system that actually works
More strongly resembles benchmark E-Class
Reassuring standard safety package
Gripes:
Flimsy-feeling boot lid
Awkward hinged opening of sat nav screen
Cheaper cars have noticeable exterior blank plates
Can feel slightly remote at times
After years as the undoubted master of the compact executive sector, Mercedes' C-Class has been matched, if not bettered, in recent years by the BMW 3 Series and Audi A4. The latest C-Class aims to re-establish the Merc's pre-eminence and largely succeeds.
Mercedes has finally understood that everyone wants an E-Class. However, not everyone can afford an E-Class, so they've made the C-Class into essentially a smaller, cheaper E-Class. It looks like an E-Class, it drives like an E-Class and from the driving seat it even feels like an E-Class. Indeed the car itself has grown in size and the wheelbase is less than 10cm shorter than the larger saloon.
It has the orderly, quality feel that any Mercedes buyer has a right to expect and the layout nicely straddles the line between technology and tradition. There's neither the proliferation of buttons and menus that you encounter in some Audis, nor the pared-down minimalism of a modern BMW. Previous owners will feel at home, and new owners will feel that the car is contemporary enough to suit modern tastes. Equipment levels are more generous than reputation would suggest, and the safety package is particularly convincing with seven air bags as standard.
The C-Class is available with a very wide range of engines. Each will have its supporters. The fuel economy and low emissions of the diesels should make them the smart choice among business users and with few real chances to exploit the available power on UK roads, the low-down torque adds spice to the daily drive. On the other hand, Mercedes' petrol units are renowned for their smoothness and still have plenty of adherents.
On the road the C-Class lacks the keen edge of an Audi or BMW, even in Sport guise, but it does outdo both of them for leggy cruising comfort. The door-mounted seat controls remain a piece of brilliantly effective design, far easier to adjust than under-seat controls. Once you've found your comfort zone, the miles slide by effortlessly and once again it feels as if you're in an E-Class.
Our verdict on the Mercedes-Benz C-Class C320 CDI Sport saloon
For the thousands of motorway miles and unexpected tailbacks that will be the C-Class's stock in trade, it is pretty much the perfect car. A Lexus will get you more for your money, but that three-pointed star on the bonnet still seems to be worth paying a premium for. The almost uniform quality displayed throughout the vehicle shows that there is still a purpose in building cars like the C-Class.
Costs
You can add thousands to the list price by cutting loose on the options list, but careful model selection should ensure that most of what you want comes as standard. C-Classes will always sell on the used market thanks to their reputation for mechanical longevity, but residual values are perhaps not quite as firm as many people might suspect, particularly given the considerable potential for electronic glitches in such a technologically complex car.
Space and practicality
Passenger space is great in front and is even pretty good in the rear seats thanks to the expansion in rear legroom compared to the previous C-Class. Bootspace is even better and easily capable of swallowing even the most oversized golf bags. Young executives needn't worry about offending the bosses if they offer them a lift home from the nineteenth hole.
Controls and display
Choosing - probably wisely - to stick with what it knows, dials and instruments retain a largely conventional layout. Instead of the intricacies of BMW's notorious iDrive system, Mercedes provides some simple, clearly marked shortcut buttons for radio, sat nav and so on. The only weakness is an awkward opening mechanism for the sat nav screen.
Comfort
Few vehicles are better suited to ticking off the miles of a long journey in a completely painless manner. Noise is well suppressed and vibration completely absent. Multicontour seats that inflate and deflate like a fighter pilot's pressure suit are a novel but costly and unnecessary option that should be avoided.
Car security
Looking rather more expensive than it actually is, the C-Class could attract unwanted attention from thieves and - more likely - the simply jealous. An alarm is part of the package but an extra tracking system or at least safe garaging is highly recommended.
Car safety
Aware that buyers of premium class cars expect exceptional levels of safety, Mercedes has made a concerted effort to provide a comprehensive package. The presence of crash-responsive head restraints and numerous airbags is welcome, but many other key features can only be had at extra cost, most notably the Pre-Safe crash anticipation system.
Driver appeal
Steering is a little too light for some tastes, and certainly seems less direct than in the BMW 3 Series and Audi A4. Investing in the optional Advanced Agility sports pack that tweaks the suspension and steering settings does improve this, but the driver is always aware that responses are being electronically mediated. This feels like a very digital car when the most satisfying drives all have a more traditional 'analogue' feel to them.
Family car appeal
The saloon body style used to be put to family use - but no more. The B-Class is intended to supply the needs of that particular market, though it isn't nearly as nice to look at as a shiny C-Class. The estate variant makes a viable family vehicle, however.
First car appeal
No Mercedes has much appeal as a first car - not even the entry-level A-Class, which seems rather too middle aged. While youngsters may appreciate the aspirational qualities of the brand, their interest is unlikely to stretch into a genuine buying decision.
Quality and image
Mercedes may still think of itself as the classiest carmaker by far, but few others do - after all, this is a company that now slaps the same badge on everything from the bulbous B-Class to vans and supercars. In some ways, plumping for a Merc can be a lazy, predictable choice. The C-Class can just about justify the stiff asking price, but it won't necessarily make you stand out from the crowd.
Accessibility
Doors open very wide, and this is probably one of the more accessible saloons, certainly more so than BMW's 3 Series. However, the very tinny lid of the boot is something of an unpleasant surprise, shutting with more of a clang than a clunk because of a lack of damping which suggests cost-saving measures.
Stereo and ICE (In car entertainment)
Much of the in-car entertainment package is carried over from the excellent S-Class, and must be judged some of the most technically advanced currently available, provided you are willing to pay extra for the most sophisticated systems. Of particular note is the superb Linguatronic voice recognition system, which is by some distance the best yet devised.
Colours and trim
In line with a current vogue among manufacturers, Mercedes has split its offerings into two streams: traditional Elegance and modern Sport, with SE acting as a kind of lower cost default setting. Identifying the precise nature of a C-class used to be tricky but now is straightforward as each gets a different grille. Sport models have widely-spaced slats and a huge grille badge, like the SLK, while Elegance has an old-fashioned chrome grille and protruding bonnet badge.
Parking
Saloons are never the easiest cars to park, owing to the difference between the position of the rear screen and the rear bumper. In the C-Class's case, the difference is fairly short, but the rear window's lower edge is quite high, so care still needs to be taken. Reversing sensors are optional.
Spare wheel
Mousse repair system comes as standard.
Range information
Petrol engine options - C180 1.8-litre (156bhp), C200 1.8-litre (184bhp), C230 2.5-litre (204bhp), C250 3.0-litre (231bhp), C350 3.5-litre (272bhp). Diesel engine options - C200 CDI 2.2-litre (136bhp), C220 CDI 2.2-litre (170bhp), C320 CDI 3.0-litre (224bhp). Standard six-speed manual transmission, seven-speed G-TRONIC auto standard on C350, optional on other models. Trim levels: SE, Elegance and Sport.
Alternative cars
BMW 3 Series Clear driver's choice, hugely satisfying
Audi A4 Offers best interior execution in the class
Lexus IS Lots of extra kit as standard plus impeccable reliability
Jaguar X-Type Mondeo-based model feels rather dated these days