August 2005
Mercedes-Benz B-Class B200 CDI SE
Attempt at an aggressive nose isn't entirely convincing
August 2005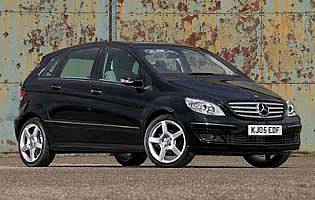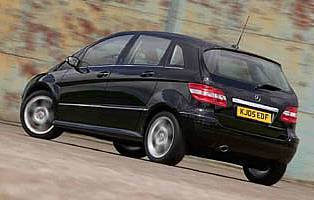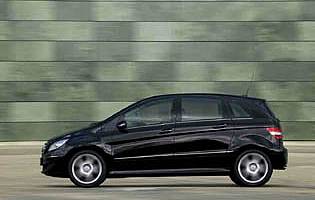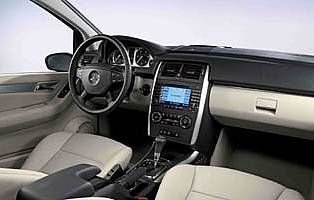 Overall rating

Likes:
Interior controls are nicely arranged
Younger buyers will welcome iPod integration
Likely to retain its value better than all rivals
Makes more sense than an urban 4x4
Gripes:
Possesses less character than the smaller A-Class
Adding options will quickly swell an already hefty price tag
95bhp petrol model is woefully underpowered
Long-term, it may dilute the exclusivity of the Mercedes badge
Not content with being a major force in its traditional market sectors, Mercedes-Benz embarked on a new adventure with its B-Class. The vehicle offers a high level of practicality and plenty of interior space for five - but at a decidedly premium price.
At first, the reason for Mercedes-Benz to build the B-Class is elusive. The marque is most readily associated with limousines, sporty convertibles and elegant coupes, so the arrival of a family-sized five-seater with an MPV's roofline seems puzzling. But the German firm's avowed aim is to offer a premium product in each and every market sector - even the compact people carrier market, which is generally associated more with practicality and value for money than luxury and premium price tags.
The B-Class is not a car that immediately impresses. Not even the oversized three-pointed star at the front can distract you from the fact that this is not a particularly handsome vehicle. Indeed, to many eyes it will appear lumpy and overweight, particularly when parked next to some of Mercedes other offerings.
Inside, fit and finish is indeed superior to all rivals. However, many of the most innovative and useful features, such as the foldable and removable front passenger seat are costly optional extras. Diesel-powered variants are the most sensible choice by a mile, with the Turbo-badged petrol model looking like a classic exercise in self-delusion. If you really want a performance-oriented motor, you're unlikely to go for a B-Class. It doesn't even have the endearingly barmy edge of a Vauxhall Zafira VXR.
In its publicity for the B-Class, Mercedes is at pains to stress the car's ""youthful, sporty character"" but in reality it seems neither particularly youthful nor particularly sporty. We don't associate such characteristics with other cars that have the same functional attributes such as the Renault Scenic and Citroen Picasso, so doing so in the B-Class's case seems very contrived. Let's face facts - this is nothing more than a compact MPV with a posh accent.
Our verdict on the Mercedes-Benz B-Class B200 CDI SE
It remains to be seen whether the Mercedes brand can be stretched over such a wide sector of the market and still retain its premium associations. Buyers will be aware that they can get the same or even better practicality elsewhere for less cash. It all boils down to how badly you want to own a Mercedes.
Costs
There's no disguising the fact that the B-Class is expensive, and that's before you start to add the numerous optional extras. Some will not begrudge paying extra for the added cachet of Mercedes ownership, others will reason that their money will go a lot further elsewhere. But the B-Class does have some cost advantages, too. It should retain value better than anything else in its sector and the engines are greener and more frugal than might be imagined. 30 year MobiloLife cover offers protection against breakdown or corrosion from the inside out for three decades and though no B-Classes are likely to stay on the road that long, it further reinforces residual values.
Space and practicality
One of the few distinguishing features of the B-Class is the incorporation of the sandwich concept developed that first appeared in the A-Class. Thanks to the space-saving arrangement of the engine and transmission partly in front of and partly beneath the passenger cell, the interior can remain relatively uncluttered, despite the presence of a puzzlingly large transmission tunnel. With rear seats folded, the B-Class's true nature as a compact estate becomes apparent and it is able to swallow surprisingly large loads. The removable front passenger seat is a particularly neat touch. You guessed it, it costs extra.
Controls and display
The main controls for the heating, air conditioning and communication facilities such as the radio and navigation system are positioned directly below the centre vents. Layout and execution is fine, and far less cluttered than in some other Mercedes offerings. Rotary switches and high-quality buttons all operate with a solid and satisfying click. The centre console is extended with a high tunnel covering featuring a centre armrest with an integral stowage drawer that can be adjusted fore-and-aft.
Comfort
Seats are extremely comfortable and amongst the best in their class even without the ubiquitous upgrades. Optionally available features include Luxury Climate Control, electrically adjustable front seats, and leather upholstery. One of the more novel options is a panoramic louvred sunroof that does an effective job of brightening the cabin in all conditions and providing open-topped enjoyment in summer sunshine.
Car security
Mercedes' B-Class has remote central locking as standard, with a factory-fit alarm and immobiliser, a visible VIN, automatic door locking when driving off - and several places to hide valuables away from prying eyes. Security is one area in which the Mercedes badge might be more of a bane than a boon. Given the choice of a Scenic or a B-Class for a smash and grab, the natural assumption will be that the B-Class is likely to contain richer pickings.
Car safety
The B-Class feels solid and its fairly wide stance promotes a sense of security. The chassis' sandwich concept has advantages in the event of a lateral collision because the occupants are seated around 20cm higher than they would otherwise be, and therefore above the impact zone. ESP comes with a feature called Steer Control, which provides servo assistance in emergency situations. Adaptive, two-stage front airbags, belt tensioners in the front and on the outer rear seats, adaptive belt force limiters, active head restraints, Isofix child seat attachments and newly developed head/thorax sidebags round off the standard occupant protection system. Window bags are optional. Failsafe lighting is worth a mention, too. If a bulb blows, another bulb temporarily takes its place.
Driver appeal
A key part of Mercedes' marketing strategy is to promote the B-Class as a driver's car in a sector traditionally lacking flair, largely on the back of the B 200 Turbo variant. While that model's performance figures look good on paper, it provides little or no sense of involvement behind the wheel, and other models fare even worse. The 1.5-litre petrol unit in particular feels seriously underpowered. High sides, a big boot and small wheels - unless you're prepared to upgrade again - do not lend themselves to spirited driving, and nor should they if you have the family in the back.
Family car appeal
Though slightly less practical than a Renault Scenic or Mazda 5, the B-Class would still make an efficient family vehicle in the same way that a compact estate car would. There's a good amount of luggage and seating space, but the higher-grade interiors would quickly suffer at the hands of determinedly disruptive back seat passengers. That's one good reason not to upgrade, then.
First car appeal
While new motorists have always lusted after glamorous Mercedes models, they've rarely been able to realise their dreams. They are unlikely to feel any emotion as strong as lust when looking at a B-Class, though. Yes, it's a Merc, but its also that most unglamorous of vehicles, a people carrier. Well, sort of.
Quality and image
Mercedes is either mining a rich new seam or hacking away at fool's gold with the B-Class, and only time will tell which it is. While trumpeting its high-class pedigree, it is telling that the first UK TV ads were aired during Coronation Street, not The South Bank Show. The C-Class is definitely a classic premium offering, and the A-Class has won its spurs by proving its unusual practicality, not flaunting its badge. Sitting between the two of them, the B-Class looks like it doesn't really know where it belongs. It's difficult to avoid the suspicion that it is a car for hardcore Mercedes fans and those with more money than sense.
Accessibility
The sandwich floor concept pioneered in the A-Class means that seats are positioned fairly high, which in turn means that getting in and out of the B-Class is easier than in some rivals. All doors are of the conventional variety with no surprises. They do not quite open to ninety degrees but are lighter than they look.
Stereo and ICE (In car entertainment)
A multifunction steering wheel is one of the few unexpected items included as standard, allowing the driver to operate the car radio, telephone, navigation system and other units from the steering wheel. The entry-level model for the audio world of the new B-Class offers VHF, MW, LW and SW as well as a CD player. Buyers can upgrade to an optional sound system with surround sound, but likely to be of most interest is the B-Class's high level of iPod integration. Provided the iPod remains popular for the next few years, it should prove a very strong selling point and is reasonably priced.
Colours and trim
Standard trim is no better than serviceable. Bringing it up to genuine Mercedes luxury specification is likely to prove expensive. Numerous options packs are available which are more cost effective than selecting items separately, but they still don't come cheap. There's an exterior lighting and visibility package, interior lighting package, sports package, exterior chrome package and seating comfort package for starters, and you'll need to have bought an SE upgrade first, in many cases. Refuse to choose the SE upgrade and you'll find yourself without even a leather steering wheel and powered rear windows.
Parking
The effort to make the B-Class look more dynamic than it really is has resulted in a high waistline that does no favours for rear or side visibility. The power steering effectively lightens steering when parking or manoeuvring slowly and the B-Class's compact nature makes it easier to place accurately than an urban 4x4 or full-sized people carrier. With a size and shape somewhere between an estate and an MPV, the B-Class's shape requires some getting used to.
Spare wheel
Tyre repair kit is standard, with the spare wheel recess serving as a hidden stowage space. Run flat tyres are optional.
Range information
A choice of six engines is available. Two direct-injection diesel units: B 180 CDI (2.0 litres, 109bhp) and B 200 CDI (2.0 litres, 140bhp). Four petrol units: B 150 (1.5 litres, 95bhp), B 170 (1.7 litres, 116bhp), B 200 (2.0 litres, 136bhp) and B 200 Turbo (2.0 litres,193bhp). Five-speed manual transmission is standard on B 150, B 170 and B 200 models, with six-speeds on the B 180 CDI, B 200 CDI and B 200 Turbo. Autotronic continuously variable automatic transmission is an option across the range. Trim is largely determined by engine choice, though an SE upgrade is available on models that do not have it as standard.
Alternative cars
Volkswagen Golf Plus Closest to B-Class in its thinking and badge clout. Also lacks excitement
Renault Scenic Fully loaded luxury Scenic can be had for entry-level B-Class money
Vauxhall Zafira If you must have a performance MPV, the VXR Zafira is the one to go for
Mercedes-Benz A-Class Smaller, cheaper home-grown option is a more convincing product