September 2015
Mercedes-AMG GT GT-S
Eye-catching AMG GT design has echoes of SLS
September 2015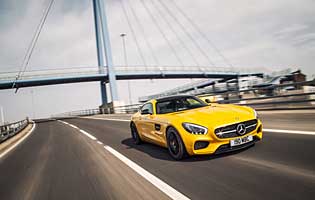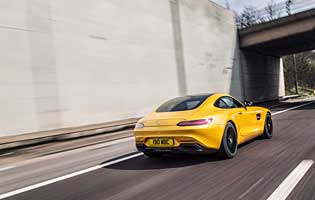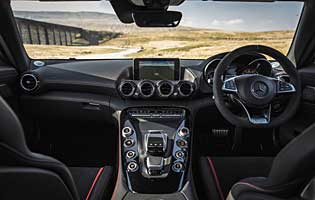 Overall rating

Likes:
Eye-catching exterior design
Fantastic engine and gearbox combination
Fine blend of performance and usability
Impressive level of quality throughout
Gripes:
Remains a car that is not the easiest to get into and out of
Gearlever is placed too far back and can be fiddly at low speeds
Busy centre console can be confusing at first
Running costs will be at the higher end of the scale
The Mercedes-Benz SLS was a supercar legend in its own lifetime thanks to its looks, performance and those amazing gullwing doors. Now the SLS is no more, the recently-formed Mercedes-AMG division has launched the AMG GT. Not intended as a direct replacement, the AMG GT nonetheless is a two-seater high performance coupe with a high output V8 engine.
Mercedes-AMG is quick to point out from the beginning that the AMG GT is the successor, but not a direct replacement for the SLS. Where the SLS was a bona-fide supercar, the AMG GT is cheaper by a significant margin although it still costs six figures even in its most basic form. It's also smaller than the SLS, and although it retains a two-seater configuration it is designed to be more usable and manageable on an everyday basis.
The fundamentals of the AMG GT are akin to those of the SLS and many of its rivals in the sports car sector. The engine is a front-mounted V8, although this is now the latest turbocharged unit already seen in the C63 model, with drive sent to the rear wheels through an automatic transmission only. A transaxle is used to ensure optimum weight distribution too.
The exterior has echoes of the SLS in its shape but it is a leaner and less brutal-looking car than that car. The smaller dimensions are beneficial for many reasons; helping to reduce overall weight, making the car much easier to manoeuvre and more efficient too. The curvier body is more likely to appeal to a broader audience too, while the switch to conventional doors adds simplicity compared to the SLS.
The AMG GT is available in two versions - the GT and GT-S. Both use the same turbocharged V8 engine but the latter has a higher output version, as well as an electronic limited slip differential as opposed to a purely mechanical type in the basic GT model. The GT-S model also benefits from larger discs brakes, while both models can be optionally upgraded to carbon ceramic items.
Our verdict on the Mercedes-AMG GT GT-S
It may have been a difficult act to follow but the AMG GT manages to evoke all the right elements of the SLS but at the same time being more manageable and easier to live with. Thrillingly fast thanks to the engaging V8 engine, the GT provides plenty of driving thrills without being intimidating. A few compromises notwithstanding the AMG GT is a serious contender for sports car class honours.
Costs
Even though the turbocharged V8 engine is more efficient than its naturally aspirated predecessor it will still use a considerable amount of fuel, even when driven with restraint. However there are rivals in this area that are considerably worse. Insurance and servicing costs are likely to be at the higher end of the scale.
Space and practicality
The AMG GT is a strict two-seater, and even then the amount of space for occupants is sufficient rather than generous. The wide transmission tunnel and low roof line means both driver and passenger are relatively hemmed in though not uncomfortably so. Storage space is reasonable for a car of this nature while the boot, although shallow, is a useful shape and offers a very generous 350 litres.
Controls and display
The layout of the AMG GT is very driver-centric with the twin instrument dials and the key controls laid out on top of the transmission tunnel. All the switches and buttons are attractively designed and pleasing to touch, although as they are all circular it can take a moment or two to find the right button. The gearlever is also sited too far back in the transmission tunnel, and the paddles do not allow you to shift from reverse into first gear.
Comfort
With the exhaust turned down and the suspension in its most comfortable setting the AMG GT is reasonably comfortable although the chief issue is noise from the large tyres. However it is perfectly capable of covering longer distances in comfort, particularly thanks to the excellent sports seats.
Car security
As standard the AMG GT is fitted with an approved alarm and immobiliser system, while optionally it can be upgraded to include a tracking system which would be a worthwhile investment. Helpfully the rear luggage area comes with a roller cover to keep items out of sight too.
Car safety
Mercedes-AMG spends significant sums to ensure its cars are amongst the safest on the road and the AMG GT is likely to be just that. A comprehensive traction control and stability system, big brakes and wide tyres all play their part, and should the worst happen the strong spaceframe structure will help to keep you safe.
Driver appeal
The GT's engine dominates the driving experience and rightly so, as it is a powerful, characterful and highly responsive unit. Turbocharged engines can suffer from a less appealing exhaust note but the AMG GT's 4.0-litre is spectacular, sounding incredible even from start up. It delivers very impressive performance too - not outright supercar fast but more than enough for most buyers. The handling is equally impressive, with very sharp steering and a number of driver modes to suit a variety of conditions and abilities.
Family car appeal
With just two seats on offer the AMG GT only has the carrying capacity for one child, and although the boot could swallow a reasonably-sized pushchair too it is not a suitable car for a typical family.
First car appeal
The AMG GT could easily feature on a lottery win wishlist but the purchase price and exorbitant insurance costs for a newly-qualified driver means this will remain a pipe dream for anyone with a fresh licence.
Quality and image
High quality is an expectation for a Mercedes customer and the AMG GT is unlikely to disappoint. Inside and out it is finished to a high standard with plenty of high quality materials used. On the image front the AMG badge continues to be very highly regarded as a producer of very capable sporting cars.
Accessibility
Although the AMG GT ditches the sometimes awkward gullwing doors for more conventional items it still required a little care to climb aboard. It sits very low to the ground and the seat is something of a drop down, although access to the boot is straightforward through a rear lid.
Stereo and ICE (In car entertainment)
The AMG GT benefits from one of the higher specification Mercedes infotainment systems, including satellite navigation, Bluetooth, DAB radio plus USB and a hard drive for storing audio files. An optional Burmester system adds a more powerful amplifier and additional speakers for a truly impressive audio experience.
Colours and trim
With its curvaceous body and significant presence the AMG GT can pull off all manner of shades, even those on the borderline of good taste. It's also worth nothing that the optional carbon ceramic brakes come with coloured callipers which add an extra flash of colour. On the inside there is a mix of appealing chrome, piano black and leather trim with further options for coloured elements.
Parking
It is a relief to discover that all AMG GT models come with front and rear parking sensors, as viewing its extremities is relatively difficult thanks to the low seating position and small windows. However the steering is quick and light at low speeds and its overall dimensions are relatively compact, especially compared to the SLS.
Spare wheel
Emergency tyre repair kit supplied as standard.
Range
Petrol engine options - 4.0-litre (456bhp, 503bhp). No diesel option. Seven-speed automatic gearbox only. Trim levels are GT and GT-S.
Alternative cars
Porsche 911 GTS Effortlessly fast, easy to live with and even small rear seats
Jaguar F-Type R Recently updated with AWD option, beautiful and exciting to drive
Aston Martin Vantage V12 S Another older offering but rejuvenated and exciting in V12 S form
Audi R8 Key rival uses naturally aspirated V10, high quality driving experience