Mercedes-AMG E-Class 63 S
Incredible performance with a luxury interior
June 2017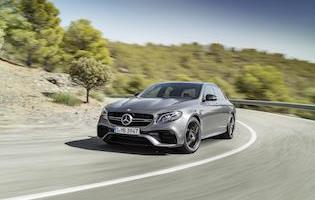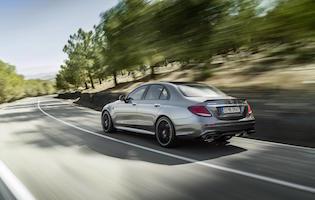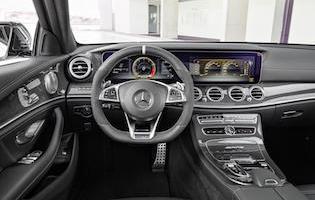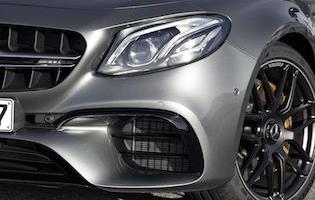 Overall rating

Likes:
Incredible performance
Subtle sporty revisions work wonders for styling
Luxurious interior
The 4.0-litre engine is a joy to use
Gripes:
E-Class feels odd with stiff suspension
High running costs
Some optional extras should really be standard
AMG performance seats are incredibly firm
Mercedes has given its high-performance AMG department access to the E-Class, its large, luxury cruiser. It has placed a 4.0-litre V8 engine under the bonnet, which makes a quite astonishing 604bhp, while all-wheel-drive makes the most of the performance gains.
That engine really dominates the driving experience as it offers quite incredible performance. Plant your foot in any gear and the torque will pick you up and catapult you towards the horizon in a cacophony of snarling V8 thunder.
One area that perhaps could be improved is the suspension in the sportier settings. It's incredibly firm and can result in the car being pitched from side to side when travelling on a poor road at high speed.
Fortunately, AMG has resisted the urge to give the E-Class an ostentatious makeover. Instead, it has given it just a few subtle aerodynamic aids, such as front bumper winglets and a small rear bootlid spoiler. This gives it an aggressive but understated look.
As is the norm with expensive premium cars, the price can become extortionate with just a few options. For example, the driver assistance package costs £1,695 and the sports exhaust is £1,000 – tough to stomach on a near-£90,000 car.
Our verdict on the Mercedes-AMG E 63 S
It might be expensive but it's hard to argue that the Mercedes-AMG E 63 S is anything but value for money. It offers incredible straight line performance and a truly exhilarating noise in a luxurious package. The new BMW M5 – its main rival – has a big fight on its hands.
---
Costs
The 'standard' E 63 starts at £78,935, while the E 63 S we tested starts at £88,295. That's a hell of a lot of money, but you get a lot of performance and a rare, luxury performance cruiser for your cash.
Where it starts to feel less like good value is the options, which are extortionate – there's a carbon-fibre package for £3,370 and a 'premium package' for £2,995, for example.
Space and practicality
Because the E-Class is such a big car, that aids space and practicality massively. The cabin itself can easily seat four adult passengers, while there are plenty of cubby holes inside to hold whatever bits and bobs you're carrying.
The boot is also pretty cavernous, though there is an estate version available if it's really not enough.
Controls and display
Mercedes is up there with the best of them when it comes to screens and controls. There are two large screens across the dashboard, which work seamlessly to offer all the usual information clearly. The TFT screen behind the instrument binnacle works brilliantly too, and can be adapted to show different information.
Comfort
Again, because of the slightly stiffer ride, comfort is affected a touch. However, fortunately the light and airy cabin makes long distances less stressful than they might be.
The optional bucket seats in our test car were incredibly firm, though, so those who want to use their E 63 over long distances regularly might be better avoiding these.
Car security
The Mercedes badge on the bonnet will make the E 63 an appealing prospect to criminals, though fortunately the relatively subtle AMG upgrades mean that it won't stand out any more than it should. To protect from ill-intentioned folk, there's the usual alarm setups and auto-locking.
Car safety
Unsurprisingly for a large luxury car, the E-Class comes with a five-star safety rating from EuroNCAP. It scored incredibly well for adult and child occupant safety, with scores of 95 per cent and 90 per cent respectively.
Only the standard E-Class was tested, and its 62 per cent rating for safety assistance systems would be slightly improved by the higher specification systems fitted to the E63.
Driver appeal
On the face of it, the E-Class might not look like the best platform for a performance car, but from the second you plant your foot in sport mode you forget all about that. The way it just launches from a standstill with zero hesitation and pins you to the seat right through the gears is addictive. The noise alone will have you coming back for more.
However, the one caveat is this performance focus does result in a slightly stiffer ride even when in comfort mode, so the E-Class's cruising credentials are affected somewhat.
Family car appeal
Ignoring running costs, the E 63 could be an excellent family car. The cabin is spacious and the boot is huge, meaning that it could hold everything you need for a weekend away with the kids.
However, with the thirsty engine, high insurance and expensive tax, it would probably not appeal to many families.
First car appeal
As far as first cars go, the E 63 is a pretty bad bet. Not only will it come with extortionate running costs, the high-performance engine and expensive cost of repairs for AMG models would also result in high insurance premiums. In fact, for young drivers it would likely require specialist insurance to even get a quote.
Quality and image
Those looking for the very best in build quality and badge appeal will be well suited to the E 63. It is absolutely sublime inside and out, with high quality materials that have been put together brilliantly.
The exquisite paint gives an immediate feeling of quality from the outside, while the leather used extensively throughout the cabin continues that feeling inside.
Accessibility
As the E 63 is based on the E-Class, that means there's plenty of space inside, with large doors that make getting in and out easy. Despite its high-performance statistics, the fact it's based on a luxury cruiser also means that it's not slung low to the ground, which can make some performance cars a nightmare for those with poor mobility.
Stereo and ICE (In car entertainment)
Mercedes-AMG models with the Burmester sound system are among the best in the business. No matter how much bass is involved, you can turn the stereo up high and receive crystal clear audio.
Colours and trim
The E 63 is available in a range of relatively subdued colours, with metallic variations of black, white, silver, blue and bronze. Kallaite Green Metallic and Designo Hyacinth Red Metallic are the stand out colours for those who don't want to fly under the radar.
As for trims, there's the standard E63, which gets 563bhp, and the full-fat S, which gets 604bhp.
Parking
There's no denying that the E 63 S is a tricky beast to park, mostly down to the sheer size of the thing. However, this is helped by the fact that there's a bird's eye view of the parking location on the main screen, which helps you position the car perfectly.
The one down size though is that parking in a tight spaces can be a pain as the doors are rather large, making it tricky to get out.
Spare wheel
Emergency tyre repair kit supplied as standard.
Range information
Petrol engine options: Petrol: 4.0-litre (563bhp, 604bhp). Transmission options: Nine-speed automatic. Trim levels: E 63, E 63 S.
---
Alternative cars