June 2013
Mercedes-Benz A-Class A 45 AMG 4MATIC
Aggressive stance all part of the AG experience
June 2013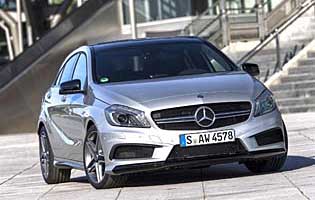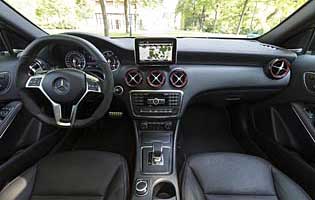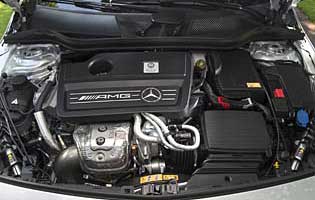 Overall rating

Likes:
Compact size makes it useful around town
Driving position offers great view of the road
Surprisingly good ride quality despite AMG focus
Rapid pace tempered by all-wheel drive
Gripes:
High price tag for this high performance hatchback
Lightweight controls are a little lacking in feedback
Boot space could be more generous
Key technologies are optional extras even at flagship level
After years of taking a conservative approach, this A-Class adopts a more radical approach to its looks and driving dynamics. No longer just-another-small-Mercedes, this car is pitched at a more youthful buyer demographic. The AMG version - the firm's four-cylinder offering - is part of that shift in approach.
No longer styled after compact MPVs, this A-Class boasts a lower, more streamlined profile. Naturally this helps convince prospective buyers of the AMG version's potential. The fist four-cylinder engine AMG derivative, this A 45 promises hot hatch thrills and then some, along with the added protection of all-wheel drive.
Packing 355 horsepower the A 45 is a considerable step up from the regular collection of 200-odd horsepower hot hatches. Predictably the car's price tag also reflects this, and elevates it to premium status alongside similar cars from BMW and Audi. Factor in all-wheel drive, a dual-clutch semi auto gearbox and it's clear that Mercedes is serious regarding this car's abilities.
In reality the A 45 is more of a powerful front-drive hatch. Rear-wheel drive kicks in when it's sensed that grip is lacking. The result is the ability to make rapid, secure progress in all weathers. However, if you're suitably experienced, the A 45 can be provoked into some interesting angles and slides, making it an unlikely track day choice.
That said, in general use the A 45 is a pleasingly refined car, and copes well with daily driving duties. It's never going to a frugal machine, but refinement and comfort levels are easily a notch above the average, firmly sprung hot hatch despite the presence of some highly tuned suspension and steering set-ups. Factor in a cabin complete with sports seats and subtle AMG references and the A 45 shapes up to be something of a rapid all-rounder.
Our verdict on the Mercedes-Benz A-Class A 45 AMG 4MATIC
In a break with tradition and acknowledging that not everyone has the budget to run a V8 monster, Mercedes has delivered a pleasingly rounded premium hot hatch capable of both thrilling keen drivers and taking the daily commute in its stride. If you've grown up and out of the stereotypical hot hatch and need space for a growing family, the A 45 AMG should be on your shopping list.
Costs
While no A-Class is as affordable as a mainstream hatch, the A 45 does attract the usual AMG premium. From purchase price to running costs and insurance, it does require a decent budget to enjoy properly. Factor in the modest fuel economy and you will need deep pockets to run one.
Space and practicality
The interior feels roomy thanks to a large glass area and the A-Class makes good use of the space available. Realistically, the car will only seat four adults and larger rear passengers may find it a little cramped on longer journeys. Those rear seats do fold flat to carry bulkier items though, at which point the car's van-like shape becomes a bonus.
Controls and display
Fans of the A-Class will instantly recognise the A 45's various controls and displays. As per the AMG badge, the graphics and some of the functions are a little different but nothing that can't be overcome after a little practice. The one column stalk design is easy to adapt to, and the major functions are well integrated into the limited number of buttons and stalks. The dials are unfussy and convey info clearly and the centre console remains uncluttered and easy to navigate. The controls for the seat comfort package are more sensibly paced than most.
Comfort
Despite being a performance car, the A 45's cabin is a reasonably quiet environment when you're not pressing on. The sports seats are supportive and road noise is usually minimal. Cabin space is reasonable, ensuring you don't feel squashed when all the seats are taken.
Car security
With the A 45 a desirable and distinctive car, it's good to see the core A-Class anti-theft provision is a comprehensive one. An alarm, immobiliser and remote central locking are standard, while items in the boot remain out of sight and there's a decent size glovebox for hiding valuables if required.
Car safety
Safety is well catered for in the A 45, with ESP and a host of other electronic systems taking care of you. Braking is also advanced, with flashing brake lights to warn following drivers of emergency stops. Importantly for the keen driver, none of these systems prove intrusive if you wish to push the car's limits.
Driver appeal
Thanks to a well-sorted base vehicle, the A 45 AMG delivers an engaging and enjoyable driving experience. The first four-cylinder AMG car, the A 45 isn't lacking in horsepower and is head ad shoulders above the massed ranks of hot hatches in the market. Ride is firm but acceptable while turbo lag is pleasing absent. Although blessed with all-wheel drive, the A 45's system configured more keep the car in line than to entertain. The car's auto gearbox could be quicker when changing gear, too.
Family car appeal
In this regard the A 45 AMG is just like any other A-Class, and for small families or as a second car, the A-Class will perform well. It has a more grown-up, executive feel to it than some hatchbacks, premium or otherwise, and could therefore serve dual purposes as a family and business car well. Modest boot space may become an issue, but with five doors the A-Class certainly is a practical way to travel.
First car appeal
While a regular A-Class might prove an appealing option, the high performance A 45 is a little different and likely to be expensive to run and insure. And that's before you contemplate its performance potential.
Quality and image
Fit and finish is excellent and materials feel of good quality, although interior plastics are not as plush as some rival offerings. The A-Class has earned itself something of a reputation as a car for more mature drivers, something that appears to have done little to harm sales, although this AMG version is clearly targeted at more youthful owners. The AMG sub brand isn't a cheap option, which means that average ages are likely to remain high.
Accessibility
The car's five-door format means there are few issues with accessibility and even though the doors are relatively short, this means that opening them in confined spaces is easy. The seats are positioned at a very reasonable height making it easy to get in and out. The rear hatch opens to a wide angle offering with little effort.
Stereo and ICE (In car entertainment)
All models feature a large colour display, CD player, speed sensitive volume and Bluetooth as standard. Factor in the sat-nav option plus MP3 player connectivity and the system is pretty comprehensive. The highly intuitive system is simple to use and sound quality is also good.
Colours and trim
In AMG guise the A-Class is a transformed car. The bodykit might be subtle but it does wonders for the car's appearance. Factor in a modest range of bright colours and it's looks impressively extrovert. There's a distinct sports theme in the cabin, with plenty of hints as to the car's potential such as bold trim materials.
Parking
The A-Class's excellent driving position, neat turning circle and easy to judge dimensions make it simple to park in tight spaces. Plenty of assistance for the steering helps matters, as does the good size mirrors.
Spare wheel
Space saver fitted as standard.
Range information
Petrol engine options - 1.6-litre (122bhp, 156bhp); 2.0-litre (211bhp, 355bhp). Diesel engine options - 1.5-litre (109bhp); 1.8-litre (136bhp). Transmission options: six-speed manual gearbox, seven-speed dual clutch gearbox. Trim levels: SE, Sport, AMG Sport, AMG 4MATIC.
Alternative cars
Ford Focus Potent RS is front-wheel drive and can be a handful
Audi A3 High power A3 a fine rival to the A 45's talents
Volkswagen Golf Flagship R isn't cheap but is rapid in a straight line
BMW 1 Series M-badged hatch not as potent but likely to appeal more to purists