May 2014
McLaren 650S Coupe
Styling inspired by P1 hypercar is functional as well as attractive
May 2014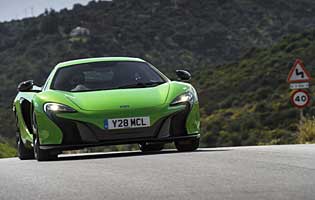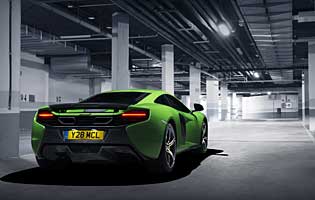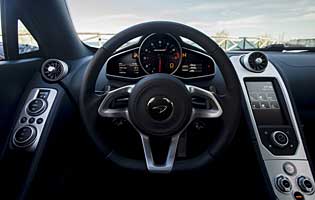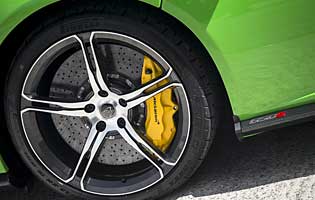 Overall rating

Likes:
Amazing engine is characterful and incredibly powerful
Ride quality is excellent despite large wheels and low-profile tyres
Superb handling balance makes the engine's power usable
Vertical orientation of central screen works better than horizontal alternatives
Gripes:
Upgraded parts have made the price even higher than the 12C's
Broad flanks can make it difficult to judge how close the rear wheels are to kerbs
Not as immediately visceral as the cream of its rivals
Class-leading under-bonnet load bay capacity still leaves much to be desired
McLaren's initial intention for the 650S was to create a car that sat above its 12C while the latter, upon which the 650S is heavily based continued to be made, but as it happened not a single new customer placed an order for a 12C after the more powerful 650S was announced. The 650S became the 12C's replacement.
The Woking-based firm's aim is to make the best sports cars and supercars on the planet, but as a young company in terms of building road cars it doesn't have the heritage of its rivals Porsche and Ferrari. As such it employs a ceaseless regimen of evolution and more evolution, with different car projects yielding and then sharing different successes.
The 650S is an unbelievably powerful sports car that McLaren boasts can be used every day. It is defined not just by its performance, which is about as epic and dramatic as it gets, but by its usability. Despite being faster, more aggressive and in some ways more extreme than the 12C, the 650S retains that car's surprisingly comfortable ride.
Its chief rivals in the marketplace are engineering-focused cars like Porsche's 911 Turbo S and GT3, with the customer more style-led or track-biased options like the Ferrari 458 Speciale not completely mirroring the 650S's customer base but certainly seeing some overlap. It will almost certainly not be the only car in an owner's garage, anyway.
Acceleration, speed and handling finesse are all things that this car has in abundance, but the usability, exoticism and novelty it offers simultaneously touch extremes that none of its competitors can. It doesn't need to be a complete transport solution for a family of four, so concessions are made in practicality, but the 650S is - remarkably - perfectly serviceable everyday transport.
Our verdict on the McLaren 650S Coupe
The 650S is a mighty success in every area that matters. Tech-savvy drivers will love its media interface as much as its engine, while dedicated drivers will wake up every day with the noise of its turbocharged V8 engine already ringing in their ears. As a feat of performance and as an icon of British automotive engineering, the 650S is much more than anyone dared hope. It's a near-perfect supercar.
Costs
McLaren's initial feedback from ultra-rich customers is that for the performance capabilities and technology on offer, the 650S is actually under-priced. For the rest of us, however, it remains a vastly expensive and financially unattainable car choice with associated sky-high insurance premiums and a thirst for premium unleaded fuel. Emissions levels are very tax-unfriendly, too, but perhaps in the future the 650S will become a valuable classic.
Space and practicality
The Coupe, unlike its convertible stablemate, only has one luggage bay, which can be found under the bonnet. For its type, the boot is actually quite large and evenly shaped, but owners can forget about fitting a set of golf clubs in it, or packing for anything longer than a weekend for two. McLaren acknowledges its limitations but expects that owners will have larger, more practical cars in their garages for family holidays and the like.
Controls and display
The centre console is dominated by a vertically oriented screen that works so well you wonder why more manufacturers don't do it like this. Menu lists are displayed more fully and with greater clarity, while in certain view modes the navigation map offers a view of more of the road you're travelling along, giving you more notice of any sharp turns or hidden junctions. The instruments are cleanly designed, comprehensive in their readouts and very attractively styled.
Comfort
Surprisingly, the 650S is a very comfortable car thanks to a combination of shapely seats and a clever suspension system that combines track-ready stiffness and around-town plushness. The firm edge that comes from very large wheels and very low-profile tyres can still be felt, but it is never crashy and rides over imperfections with amazing composure. The standard seats are noticeably more comfortable than the optional race seats, though.
Car security
A car like this will always draw attention to itself in both good and bad ways, but it will inevitably be at higher risk every time it is left in public view. An alarm is fitted as standard but it can be upgraded with a louder, more comprehensive version for a price. An immobiliser is also standard, but owners of this car will probably want to add a good tracking device to ensure a quick recovery if the car was stolen.
Car safety
Arguably the biggest risk in a car like this is that the power goes to a driver's head, but it is much better-equipped than a normal road car to avoid an accident thanks to wide, grippy tyres, huge brakes and amazing agility that can be employed to change course instantly in an emergency. The carbon fibre monocoque that surrounds the passengers is also built to protect its occupants in all but the most extreme circumstances.
Driver appeal
The carbon fibre monocoque at the heart of the 650S gives it incredible stiffness along with lightness, enabling the whole package to be as light as possible. That helps its turbocharged engine deliver otherworldly performance, as well as facilitating spectacular agility and grip levels beyond what most drivers would dare to try and achieve. But despite this it rewards a driver no matter what level of ability or commitment they offer, and in that is its genius.
Family car appeal
With two seats the 650S is never going to be a family-friendly car, but in a curious move the passenger side airbag can be switched off to allow a rear-facing child seat to be fitted. Parents will welcome the ability to carry a child seat at need, even if this car won't be the first choice baby transporter. Boot space is insufficient to store a pushchair, but soft bags of accessories will drop in without a fuss.
First car appeal
McLaren seems to have overcome the original 12C's emotional detachment in the 650S, and it makes it much more desirable as a bedroom wall poster car. Children might well grow up hankering after this car, but for reasons including its power, size, insurance grouping and running costs mean that the only people for whom this is a potential first car are the offspring of extremely wealthy oil magnates.
Quality and image
McLaren is an engineering-led firm and the quality of the mechanicals is evident from the moment you turn the key to the last beat of the engine's eight cylinders. This really helps the car to feel worth its considerably asking price, and the neat but functionally stylish interior screams quality too, even if perhaps the Alcantara option might start to look worn before the leather alternatives. As supercars go, the 650S is a very new kid on the block and has so far gained a fantastic image.
Accessibility
Wide door sills and an inevitably low seating position mean that getting into the 650S isn't exactly a piece of cake, but nor is it as difficult as getting into a track-focused car like the Vauxhall VX220. The door handle remains in reach and the panel is not too heavy to pull down, and once into the routine of doing it the process seems little harder than getting into a family hatchback. There are no rear seats to worry about getting access to, either.
Stereo and ICE (In car entertainment)
The standard stereo in the 650S is actually quite basic, with a mere four speakers dotted around the cabin and no configurable settings for the graphic equaliser or fade controls. Bluetooth linking is possible, though, to allow hands-free phone calls and wireless music playback. For a cost the system can be upgraded to a Meridian system that includes three more speakers, a more powerful amplifier, and clever adaptive technology that accounts for the different acoustic properties of the car's interior surfaces.
Colours and trim
Fans of the extreme will be glad to hear that plenty of the 650S's standard colours sit towards the conspicuous end of the scale. Three oranges, including McLaren's signature shade, join a violent green, a yellow, a red and a bold blue, before the less extrovert among the buyers can choose blacks, silvers, greys and whites. The colours best suited to the 650S sit half way between the two extremes. The interior trim can be customised with sports seats and various contrasting stitching, but never fails to look supremely purposeful.
Parking
Manoeuvring the 650S is not as frightening an act as it can be in some supercars. Good visibility, especially towards the front and front corners, is a boon for forward parking, but rear visibility is hampered by the engine bay and resulting narrow field of view. The car itself is not especially wide for a supercar, but the nature of the dihedral doors requires a healthy amount of space beside the car to open into.
Spare wheel
No spare wheel or alternative supplied.
Range information
Petrol engine options - 3.8-litre (641bhp). Transmission options: Seven-speed dual-clutch automatic gearbox only. Trim levels: 650S.
Alternative cars
Ferrari 458 Speciale More immediately exciting, but considerably less usable on the road
Porsche 911 Turbo S Similar technological approach, but much less exotic and considerably cheaper
Nissan GT-R Newly adapted for better on-road capability, the GT-R is a barely-tamed beast
Lamborghini Huracan Relatively conservative Lamborghini styling hides immense performance