November 2015
McLaren 570S Coupe
The familiar McLaren face is slightly modified for even better aerodynamics
November 2015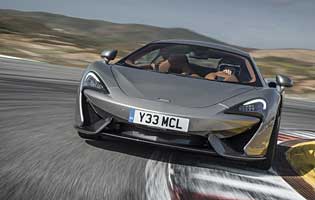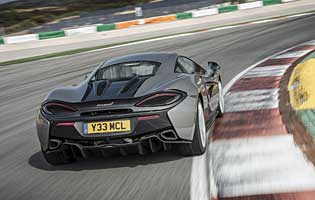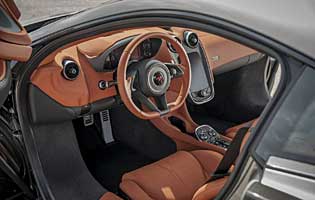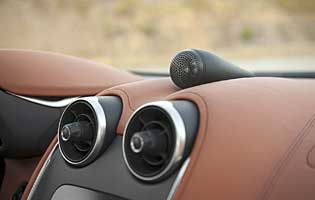 Overall rating

Likes:
Monstrous acceleration from twin-turbocharged engine
Can cater for most levels of driving experience
Superlative handling balance with driver aids off
Exotic and exciting to own
Gripes:
Loses adaptive, adjustable suspension versus Super Series cars
Conservative stability control with driver aids in standard settings
More expensive than key Porsche rivals
Not a great deal of covered luggage space
The 570S is the first car to enter production in McLaren's entry-level range, called Sports Series. It uses a variant of the same 3.8-litre twin-turbo engine used by Super Series cars like the 650S, albeit with a lower power output and a higher kerb weight. McLaren bills this car as the most practical and usable of its cars to date.
McLaren Automotive is a very young brand competing with some very old ones. Its approach bridges those of chief rivals Porsche and Ferrari, aiming to match the technical precision of the Porsche 911 GT3 with the exoticness and flair of the Ferrari 488. It has already succeeded in the 650S, but the 570S promises to be easier to manage.
Where the 650S has a fiery temperament and can bite an unwary driver, the 570S features engine, chassis and stability control settings that, in their default settings, protect the driver and stop him or her from approaching the limits of traction. On the other hand, these systems can be backed off or even deactivated, revealing true supercar driving dynamics.
Steps have been taken to make the 570S easier to use every day, so while the carbon-fibre tub chassis is largely the same as in Super Series cars, the MonoCell II used here has lower sides for easier ingress and egress. It also helps the car achieve what McLaren claims is a considerably lower kerb weight than its competitors.
More than any other McLaren, this car is designed to fulfil an extremely broad remit. At the lowest end of its capabilities it can be an everyday sports car for commuting and leisure. But on a race track, in the hands of a skilled enough driver, the 570S can live with most supercars, let alone its official sports car rivals.
Our verdict on the McLaren 570S Coupe
The 570S has an incredibly broad range of talents. While it lacks some of the most advanced features of the Super Series cars, like McLaren's remarkable adjustable suspension, it fuses incredible outright speed with mechanical brilliance and technological exotica. It is an astounding feat of engineering that can keep all types of well-heeled drivers satisfied, from everyday cruisers to track-day enthusiasts.
Costs
The 570S's German rivals are cheaper to buy by a significant margin, but they don't and can't carry quite the same element of temptation as the McLaren. This car also has a considerably higher residual value as a result. Fuel economy can be quite reasonable for the class if the engine is treated gently, but in truth running costs are not likely to trouble drivers wealthy enough to buy one in the first place.
Space and practicality
McLaren says the 570S has class-leading luggage space, but the under-bonnet luggage bay does not seem as big as the Porsche 911's. Where the McLaren strikes back is with a shelf behind the two seats that can actually hold quite a lot, and would be good for soft bags, coats and the like. The cabin of the Sports Series models is wider than that in the Super Series for extra shoulder room.
Controls and display
It's almost unthinkable to have a sports car without a single button on the steering wheel, but the 570S is that car. The message from McLaren is that this is a driver's car so distractions have been kept to a minimum. On the centre console the familiar portrait-format screen takes care of infotainment duties, while navigation is especially effective because in this screen format the driver can see more of the road layout ahead.
Comfort
There are two seat options, but the standard type is the one to go for unless all your driving is likely to be at high speed for short stints, for example on track days. The standard seats offer plenty of support but also some cushioning for comfort's sake, which the hard, optional Racing Seats do not. The carbon-fibre fixed-back upgrades do save 15kg, but at a cost in terms of usability.
Car security
Clearly all McLarens attract attention, including of the wrong sort, so it would not be wise to leave the 570S alone in public in the wrong part of any given city. The best defence for such a valuable and desirable car is to keep it hidden when it isn't either moving or on display for friends, or at a car meet or race event where people are more likely to treat it with respect.
Car safety
There is a high level of intrinsic safety in the 570S thanks to its wide, extremely grippy tyres and large carbon-ceramic brakes. The MonoCell II design is also highly strong and will not deform under most crash scenarios, leaving crumple zones and load paths to take the forces away from occupants.
Driver appeal
With all stability systems at their defaults the 570S is incredibly easy to drive quickly, and stays well short of its capabilities. With the electronics backed off, the results are spectacular. There is a superlative degree of handling balance within incredible grip levels, despite the tyres being narrower than those on the more powerful, lighter 650S. The driving position is good and a model-specific exhaust makes the 570S sound like a racing car, with a higher-pitched scream than previous models.
Family car appeal
Two-seater sports cars are among the least appealing cars for parents, for obvious reasons. There is no practical provision for carrying children in the 570S, and in truth the large seat base side bolsters are likely to prevent the safe fitment of a child seat. McLaren simply doesn't make family-focused cars, and has no plans to.
First car appeal
It's unrealistic to expect a young car enthusiast not to hold out hope that a lottery win might facilitate the purchase of a McLaren, but it's entirely out of the question to expect them to be able to stay safe in one. Even when keeping the 570S in its standard stability control settings it is still a hugely fast machine totally unsuitable for inexperienced drivers.
Quality and image
Part of McLaren's mission is to leave no doubt about the build, mechanical and materials quality of its cars. On all fronts the 570S rivals the very best in the class. It feels like it could happily withstand a life of hard use on fast roads and race tracks, and the tangible interior quality is solid. McLaren's image is remarkable: it blends exotica with technical expertise and mind-blowing performance figures.
Accessibility
Lower side sills for the MonoCell II at the heart of the Sports Series models help to make it much easier to get in and out, and it doesn't compromise safety in any way. That said, everything is relative and the 570S is still a very low car. Drivers and passengers alike need to bend their knees a lot before dropping into the seats. Thankfully the dihedral doors are lightweight and easy to close - if not always to reach.
Stereo and ICE (In car entertainment)
The firm boasts that the 570S's standard four-speaker stereo system is the lightest to ever grace a McLaren, but it performs very well despite only having two bass woofers and two tweeters. The first upgrade option adds a more powerful amplifier, two more mid/bass drive units and two more tweeters. The top-spec 12-speaker Bowers and Wilkins upgrade adds trademark Nautilus tweeters, five Kevlar mid-range drive units and two bass subwoofers, powered by a much more forceful amplifier.
Colours and trim
McLaren offers a suitably bold array of colours for the 570S even before considering that its Special Operations branch can create any colour a buyer could wish for - for a price. Silver is best avoided because it's simply too understated and doesn't suit the car, but bright green, vivid orange and deep blue are customer favourites. The interior trim is focused on the driver, so the upholstery is grippy and the beautifully-trimmed dashboard looks simple but racy.
Parking
Visibility out of the McLaren is better than in many SUVs, let alone other sports cars. The forwards view in particular is excellent. Rearwards there are clear restrictions thanks to the height of the engine bay and thick rear pillars, but electronic parking aids including sensors are available. The 570S is actually quite compact, but the width of the chassis beyond the cabin could catch people out.
Spare wheel
Emergency tyre repair kit supplied as standard.
Range information
Petrol engine options - 3.8-litre (562bhp). Transmission options: seven-speed dual-clutch automatic gearbox. Trim levels: 570S.
Alternative cars
Porsche 911 GT3 Sublime combination of driving dynamics and usability, with badge kudos
Ferrari California T Slower and more relaxed in demeanour, but owning a Ferrari is irresistible to some
Audi R8 V10 Four-wheel drive makes the fast Audi easy to exploit and flattering to drivers' skill
Mercedes-AMG GT S Technically impressive option also boasts striking looks, but is much less exotic