Mazda MX-5 Icon
Striking looks
December 2016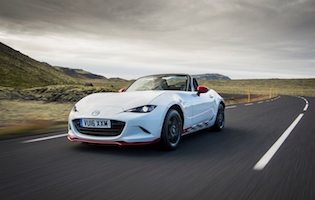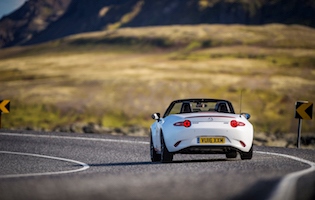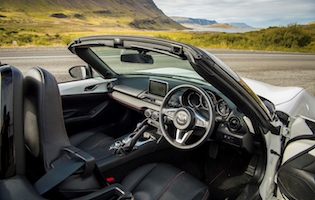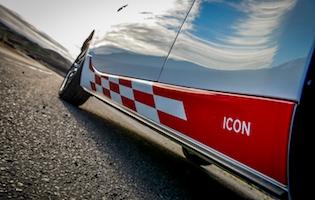 Overall rating

Likes:
Striking looks
Convertible roof
Thrilling driving experience
Generous levels of standard equipment
Gripes:
Engine is slightly lacking in power
Tiny boot
Red paint on exterior not to everyone's taste
Limited storage room in cabin
The MX-5 Icon is the first special edition version of Mazda's popular convertible sports car, which is now in its fourth generation. The Icon is based on the 1.5-litre version of the MX-5, and adds eye-catching exterior changes as well as plenty of standard equipment into the mix. Production will be limited to 600 units, with prices starting at £20,995.
Performance-wise, nothing changes with the MX-5 Icon. The 1.5-litre SKYACTIV-G petrol engine still produces 129bhp and 150Nm of torque, which means it isn't exactly the quickest car on the road. Acceleration from 0–60mph takes 8.1 seconds, while the roadster's top speed is 127mph.
However, while straight line performance may not exactly be the MX-5 Icon's forte, show this car a windy, narrow B-road and it will seriously impress. This is what the MX-5 has been designed for. The car's sharp steering and slick six-speed manual gearbox are a joy to operate. With roof down, the little MX-5 Icon is tough to beat for sheer driving pleasure.
From an aesthetic point of view, the Icon treatment adds a number of polarising design cues to the car's exterior. These include bright red paint on the wing mirrors, boot lip spoiler and front splitter. Red decals down the MX-5's flanks have also been added. Set against a choice of either white or dark grey body paint, the MX-5 Icon is undeniably a head-turning thing.
In addition to the exterior styling flourishes, the MX-5 Icon also gains a wealth of standard equipment. Customers will be treated to heated seats, satellite navigation, DAB radio and rain-sensing windscreen wipers to name but a few features fitted to the Icon.
Our verdict on the MAzda MX-5 Icon
The MX-5 Icon is a properly desirable car. If you don't have to worry about carting around various family members and are after a car that is simply fun and engaging to drive, the MX-5 Icon is hard to beat – especially with its respectable starting price and generous levels of standard specification. The only area where it lacks slightly is in the power department, owing to its smaller 1.5-litre engine.
---
Costs
The Mazda MX-5 Icon costs from £20,995. Given the capability, and generous levels of standard equipment that come fitted to the car, this represents fairly decent value for money. Combined fuel economy is also respectable, with Mazda claiming the car can achieve 47.1mpg. As this is a limited-run car – only 600 examples will be produced – residual values should also stand the test of time.
Space and practicality
Let's not beat around the bush here – you don't buy a car like the MX-5 Icon for its levels of practicality. This is a two-seater sports car, so don't expect the whole family to be able to come along with you. The boot is similarly limited in size – with enough space for two, maybe three, weekend bags – or a small shop. In the cabin, there is a handy storage bin behind the seats, which is perfect for storing smaller items such as wallets and phones.
Controls and display
The MX-5 Icon's cabin is another one of its strong points. It is well laid out, with all major controls within easy reach, and all clearly marked to indicate what they do. The seven-inch touchscreen display that houses the in-car infotainment system is clear and easy to read, and a breeze to operate. While the convertible roof is not electric, it is easy to collapse and fold away behind the seats. The whole process takes only a few seconds.
Comfort
Don't be fooled into thinking the sporty nature of the MX-5 Icon means that is an exhausting place to spend time. The seats are comfortable, supportive and heated, the driving position is spot on, and thanks to the heater you won't get cold even when the roof is down. While the suspension is set up to cater for a more enthusiastic driving style, it isn't so hard that it shatters your spine over every uneven surface you encounter. Overall, the MX-5 is a competent long-distance car.
Car security
The MX-5 Icon come equipped with all of the regular security equipment that customers will have come to expect from modern cars. This includes keyless start, remote central locking, and a Thatcham Category 1 alarm and immobiliser. Due to this car's sporty looks and overall desirability, it could possibly attract some unwanted attention if parked on the street.
Car safety
When the fourth-generation MX-5 was crash tested by Euro NCAP in 2015, it scored four out of the maximum five stars that could be awarded. In terms of adult occupant protection, the MX-5 scored 84 per cent, while child occupant protection was rated at 80 per cent. Pedestrian protection was rated at an impressive 93 per cent, although the MX-5 was let down by a safety assist rating of 64 per cent.
Driver appeal
Driving appeal is what the MX-5 has been all about since its inception more than 20 years ago. If you enjoy the thrill of driving, there are few cars that offer a more pure experience than the MX-5. Its steering is sharp and direct, its six-speed manual gearbox is excellent and the pedals are well-positioned. The only niggle is the 1.5-litre engine – which isn't exactly the last word in performance. However, if you keep it turning over at its sweet-spot in the rev range, the MX-5 is a proper thrill to drive.
Family car appeal
It would be difficult to recommend the MX-5 as a family car as well – largely due to the fact that a family would have absolutely no chance of fitting inside. It could possibly work alongside a larger, primary family vehicle, but even that might be a stretch. Better to opt for a small, fast hatchback if you're in the market for a car that is both exciting to drive and practical.
First car appeal
In theory, the MX-5 Icon oozes first car appeal. What young driver wouldn't want to get behind the wheel of their very own convertible sports car? In reality, however, this wouldn't represent a sensible first car for a young driver. While it is certainly a very easy car to drive and not hugely fast, it can get rather tail happy when driving enthusiastically – which is great if you know what you're doing, but not so good if you're just starting out.
Quality and image
Like this limited-edition sports car's name suggests, the MX-5 is something of an icon when it comes to looks. It boasts classic sports car proportions – with a long bonnet and short tail-end. To mark the MX-5 Icon out from its regular siblings, Mazda has fitted the car with bright red flag decals down its sides, while the lower front bumper, wing mirrors and boot lip spoiler have also been finished in the same colour. While they may not be to everyone's tastes, they certainly make the Icon a properly eye-catching thing.
Accessibility
The MX-5 Icon is by no means a tall car, which means getting in can require a bit of finesse if you want to avoid looking like old age is creeping up on you. The seats sit low down in the cabin, meaning you will have to lower yourself down a fair distance to get settled in. Due to the nature of this set-up, older drivers might find the MX-5 Icon presents a bit of a challenge where accessibility is concerned.
Stereo and ICE (In car entertainment)
Mazda has installed its intuitive infotainment system as standard on the MX-5 Icon, which includes convenient features such as satellite navigation, DAB radio, Bluetooth and USB connectivity. The infotainment system is easy to navigate, and can be controlled via either the dashboard-mounted touchscreen, or the rotary control knob on the centre console. All controls are within easy reach of the driver, although the touchscreen can be slightly fiddly to operate while on the move.
Colours and trim
The Mazda MX-5 Icon is available in two different colours: dark grey, or white. Don't be fooled into thinking that it's a dull looking car, however. All Icon models feature eye-catching red highlights on the front splitter, door mirrors and boot lip spoiler. A red flag decal also runs down the car's flank. Some might find this detailing rather appealing, while some might find it to be a bit of a turn-off.
Parking
Thanks to the MX-5 Icon's pint-sized proportions and convertible roof, parking is never going to be too much of an issue – at least when the roof is down. With the roof up, visibility is rather limited, and the low driving position can make seeing out of the MX-5 slightly more difficult. However, thanks to the addition of rear parking sensors as standard, you shouldn't have to worry too much about pranging your new sports car on an unseen object.
Spare wheel
Puncture repair kit supplied as standard.
Range information
Petrol engine options: 1.5-litre SKYACTIV-G (129bhp). Transmission options: Six-speed manual. Trim levels: Icon.
---
Alternative cars
Toyota GT86 Same idea as the MX-5 – affordable, rear-wheel drive sports car – but without the convertible roof.
Subaru BRZ Same car as the Toyota GT86, but with a Subaru badge.
Ford Fiesta ST Different in the fact it's a front-wheel drive hot hatch, but a huge amount of fun to drive.
Seat Ibiza Cupra Another hot hatch that provides a great driving experience.