Mazda CX-5 SKYACTIV-D 2.2 175 Sport Nav
Drives brilliantly
March 2017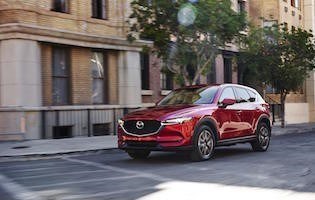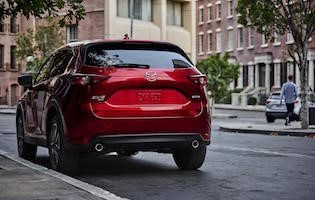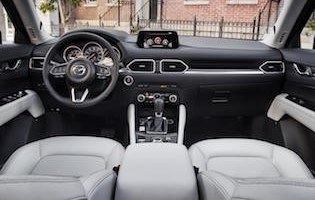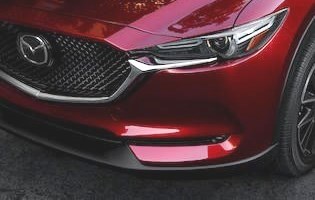 Overall rating

Likes:
Looks great
Drives brilliantly
Now even more premium inside
Diesel engines are excellent
Gripes:
Petrol engines feel breathless when stretched
Not a huge improvement on previous model
Top-spec models aren't cheap
Lots of wind noise despite improved soundproofing
The Mazda CX-5 has been something of a success story for its Japanese manufacturer, raking in the critical acclaim and snaffling more than its fair share of the market thanks to its good looks, impressive handling and strong practicality. The 2017 facelift promises more of the same, with an updated exterior and improved driving dynamics.
Mazda might claim that the new CX-5 is an all-new car, but don't let the marketing department fool you. This is merely a heavy update of what went before. The edges may be sharper, the bonnet might be a bit longer and the sides a little more sculpted, but this is, in essence, the same car.
The cabin has changed substantially, though, with a new dashboard architecture, a new steering wheel and a glossy new housing for the infotainment screen. The switchgear is much the same as before, though, and the navigation system is identical to the unit used before. There are new, more comfortable seats, though, as well as improved cabin materials.
On the road, it's just as competent as before, with fantastic balance and handling and good steering, as well as impressive ride comfort and body control. Mazda has worked hard to improve the refinement with extra sound deadening and smaller panel gaps, but though it's quiet around town there's still a lot of wind noise at speed.
The engine range, however, has been left largely untouched, with the most popular options being the two 2.2-litre diesels. Offered in 148bhp and 173bhp variants, as well as a choice of transmissions, they provide a compelling mix pf performance and economy.
Our verdict on the Mazda CX-5 SKYACTIV-D 2.2 175 Sport Nav
The CX-5 has been improved by its facelift – of that there can be no doubt – but the improvements are incremental, rather than wholesale. It's a car that didn't need massive tweaks, though, and the changes ought to be more than enough to ensure it stays among the best and most popular in this burgeoning SUV market./p>
---
Costs
Prices for the new CX-5 start at £23,695, and for that money you get two-zone climate control, satellite navigation and alloy wheels. Top-of-the-range Sport Nav models, however, add to this with a head-up display, powered tailgate and a reversing camera, among other goodies. At the very head of the range, the most luxurious, most powerful diesel model with four-wheel drive and an automatic gearbox will set you back £33,195.
Space and practicality
Because the CX-5's exterior dimensions are identical to those of its predecessor, there's very little change in terms of interior space. The rear seats are every bit as spacious as before, and because there's no noticeable change in the roofline, the rear headroom is still good. The boot is much the same size, too, meaning there's plenty of space for baggage, dogs and shopping, although perhaps not all at the same time.
Controls and display
For the most part, the CX-5 has entirely conventional controls, although the infotainment system may take a little getting used to. Unlike so many modern systems, it is controlled by a rotary dial on the centre console, although the screen does have touch functionality. Using the rotary, however, means drivers needn't be distracted from the road once they've learned their way around the system. It also prevents mucky fingerprints building up on the screen.
Comfort
Although the CX-5 is a great car to drive, it still rides well, with supple suspension providing smooth progress unless the road is really bumpy, which is sadly all too common in this country. On motorways, though, it should match any of its rivals for comfort. The seats have been updated, too, so there's more support on long journeys.
Car security
As you'd expect, the CX-5 comes with all the usual security systems, such as an immobiliser, an alarm and central locking. Top-spec cars also get keyless entry, which means you can open the door as long as the key is close by. Some might see this as a weakness, though, particularly the negative media attention foisted on the technology over the past few years.
Car safety
The new CX-5 hasn't yet been tested by Euro NCAP, but given its forebear's five-star rating and the new car's safety improvements, we'd be very surprised to see it achieve a lesser score this time around. A range of new safety features have also been added, such as the adaptive cruise control that is now capable of bringing the vehicle to a full stop without driver input.
Driver appeal
Road manners have always been the CX-5's forte, and the new model doesn't disappoint. It boasts the same poise and balance as before, but it now gets a clever torque vectoring system that reduces power on turn-in to move the weight on to the front wheels and increase grip. You can feel it in action as you corner, and though it makes the car feel a little hesitant, it does improve traction and ensure you can take bends at speeds that would be labelled 'ambitious' in most crossovers.
Family car appeal
With a big boot, a little off-road capability and plenty of interior space, the CX-5 is an inspired choice for families looking for a practical but fun-to-drive car. Everything seems fairly well screwed together, so it should be more than capable of handling the rough and tumble of family life, while the boot is a sensible shape to carry regularly shaped suitcases, school bags and sports equipment.
First car appeal
As good-looking as the CX-5 is, it's unlikely to be top of the list for many first-time drivers. The badge may be a more premium proposition than ever before, but it still doesn't carry the kudos of Mercedes or BMW. That said, SUVs are popular choices, but the Mazda's large engines and high entry-level price mean insurance premiums will probably be a bit high for most
Quality and image
By its own admission, Mazda has risen in the ranks to occupy a semi-premium sector of the market, which sits below the likes of BMW, Jaguar and Mercedes, but above the run-of-the-mill Nissans and Renaults. To match that price point and expectation, the Japanese company has improved the CX-5's cabin with more premium materials and upgraded insulation to give it extra refinement. The result is a car that feels a touch more polished than before.
Accessibility
Although it may seem counter-intuitive, SUVs and crossovers such as the CX-5 are often easier to get into and out of than ordinary cars because of their slightly raised driving position. Having the seats closer to hip height means you slide into them, rather than falling or clambering in. The raised boot will be a pain for moving heavier objects, though, but at least there's no boot lip to worry about.
Stereo and ICE (In car entertainment)
The CX-5's infotainment screen may have a new housing, but it's actually the same unit you'll find in the old model. That's no great problem, because the old unit was functional enough, but it is starting to look its age. On the plus side, though, its rotary control system makes it less distracting to use than most touchscreen systems while you're driving.
Colours and trim
Mazda's Soul Red Metallic paint job has become something of a trademark, and it's widely regarded as one of the best colours you can get on a new car. For the CX-5, it has been updated to make better use of the car's sculpted flanks and provide a more reflective surface. Next to the black and chrome trim of the updated model, it's a look that works really well, although the Blue Reflex Mica paint is also a head-turner.
Parking
Because the CX-5 doesn't have an especially large footprint, it's quite easy to park. It also has the advantage of good visibility from its high-ish, yet still car-like, driving position and parking sensors as standard. If you go for a top-spec Sport Nav model like our test car, however, you'll also get a useful reversing camera that is displayed in the seven-inch screen when you engage reverse.
Spare wheel
Emergency tyre repair kit supplied as standard.
Range information
Petrol engine options: 2.0 SKYACTIV-G 165 (163bhp). Diesel engine options: 2.2 SKYACTIV-D 150 (148bhp), 2.2 SKYACTIV-D 175 (173bhp). Transmission options: Six-speed manual; six-speed automatic. Trim levels: SE-L Nav, Sport Nav.
---
Alternative cars
Volkswagen Tiguan Now even more capable an all-rounder, the Tiguan feels classy.
Seat Ateca Identical to the Tiguan underneath, but offers sharper styling.
Audi Q3 Classier and more expensive, but not as good to drive.
Nissan Qashqai Cheap and supremely popular, but it lacks the Mazda's quality.