December 2007
Mazda BT-50 4x4 Double Cab TS
Mazda's BT-50 is as comfortable on road as off
December 2007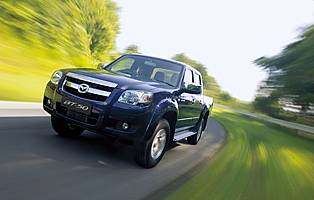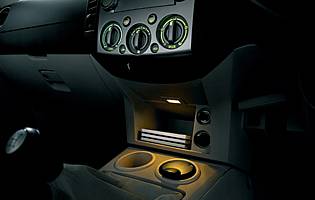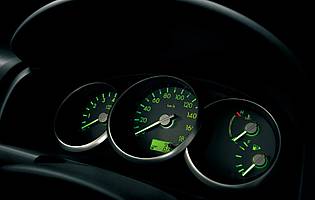 Overall rating

Likes:
Tremendously practical
Relatively refined on road
Impressive off-road ability
Comfortable and roomy cabin
Gripes:
Diesel engine noisy when cold
Four-wheel drive not compatible with road use
Rear end skips over rougher surfaces
Could use more anchorage points in the load bay
Mazda has refined its BT-50 pick-up in order to make it more adaptable, without losing any of its workmanlike qualities. Intended to compete with family SUVs as a lifestyle pick-up, the new model is designed to be easier on the eye and more refined than the model it replaces. The extra row of seats in the Double Cab TS means it can be used to transport work colleagues or family members alike.
The popularity of the SUV means that manufacturers of pick-ups no longer market their products simply as back-to-basics tools for farmers, builders and few in-between. Instead, they claim the humble pick-up can be bought and used as a SUV alternative, only potentially cheaper and more practical. The addition of an extra row of seats, or double-cab, apparently makes the pick-up a viable family lifestyle alternative.
Keen to further this idea, Mazda has refined the BT-50 to make it easier to live with day-to-day than the model it replaces. While the more utility-focussed Single-Cab versions have less appealing styling, the Double-Cab benefits from trendier exterior trim and SUV-like details such as body coloured-wheel arches and grille, and additional paint choices.
Further attention has been paid to the on-road experience with efforts made to reduce noise intrusion into the cabin and to offer a smooth ride that's stable, despite the model's elevated ride height. Equipment levels rival that of a family car, with room to seat five, four three-point seat belts, electric windows and mirrors, air con and comfortable, shapely seats. The top of the line TS2 model even benefits from heated front seats, patently more luxury than labour.
But despite angling for a piece of the SUV market, the BT-50 is still a vehicle intended to be of practical use away from the road, and as such Mazda hasn't attempted to hide the pick-up's heavy duty characteristics. The large load bay remains as robust and adaptable, but is also easier to use thanks to a lower bed. The model's four-wheel drive system with low ratio gearing for severe off-road driving is designed to make the BT-50 extremely capable in a variety of environments.
Our verdict on the Mazda BT-50 4x4 Double Cab TS
The BT-50 isn't as refined or easy to drive as a full-bodied SUV, but it isn't as rough around the edges or focussed as an old-school pick-up either. It's not hard to see how it could be used as a family car day-to-day, being no less manoeuvrable but fundamentally more practical than a large SUV. The four-wheel drive system is really only of use in extreme conditions, but its go-anywhere nature adds to the left-field appeal.
Costs
The BT-50 offers reasonable fuel economy from its large diesel engine, although it's not as frugal as some diesel soft-roaders. Initial purchase price offers a lot of vehicle for the money and insurance premiums are firmly in the middle ground. The large, rough-tread tyres may prove expensive to replace, however.
Space and practicality
Clearly, the BT-50's trump card is its practicality. It can be used as family transport or for hauling heavy loads around an unforgiving building site and is adept at both. The huge, flat load bay makes light work of domestic tasks and can swallow whatever you care to throw at it. Although a few more tie-down straps might be of use, the strong side walls and tailgate will take a fair amount of abuse. Inside, the cabin is spacious, particularly in terms of headroom, although the rear isn't so generously proportioned and adults might find it tight for legroom, a situation exacerbated by a seemingly high floor.
Controls and display
The BT-50's cabin is sensibly laid out, and the basic nature means the controls are easy to negotiate and uncomplicated. The pedals are well spaced and not too light, essential if driving in clumpy work boots, and the column stalks and gear change feel sturdy. The dials are backlit in green, which gives the cabin a more car-like ambience, and are clear and easily read.
Comfort
Mazda has got the basics right inside the BT-50, which is fortunate as the cabin isn't particularly embellished. The seats are moulded and very comfortable, while height adjustment for the driver's seat and a tilt adjustable steering wheel mean the driving position is easily fine-tuned. Electric windows are present front and rear and the back seats are made all the more comfortable through the addition of a central armrest. The BT-50's soft suspension makes the ride very smooth and agreeable.
Car security
The Double Cab TS has a Thatcham Category 2 alarm and immobiliser as standard, but the open load bay is susceptible and tools could not be left in overnight. Inside the cabin there is a large, lockable glove box and an additional slide out tray - useful for hiding paperwork. The superior spec of the Double Cab TS model also includes remote central locking.
Car safety
Although the four-wheel drive system cannot be used in a permanent state on road, the BT-50 does benefit from ABS and EBD as standard. Door impact bars are also built in. Driver and front passenger get the additional security of front and side airbags, while the BT50's sheer size should mean it stands up well in a crash.
Driver appeal
Pick-up truck driving comes with some compromises. Chief among them: the lack of weight over the rear wheels can make the back end bouncy and prone to wheel-spin, especially in the wet. While the double-cab and revised suspension help the BT-50 reduce these issues they are not ironed out completely, so the model can't compete with a large estate or full-bodied SUV in the driving stakes. It is, however, refined, reasonably agile and not unpleasant to drive once you are accustomed to its character. It's also more capable off-road than the majority of soft-roader SUVs.
Family car appeal
As a practical alternative to an estate or SUV, the BT-50 really is a contender. In Double Cab trim it has the potential to serve happily as a highly adaptable family vehicle, assuming that the occasional quirks can be overlooked. For adventurous families with an eye for a bargain it could be a left-of-field but intelligent choice.
First car appeal
The BT-50 is among the least likely choices as a first car. Big, quite powerful and with the occasional tendency towards bad road manners it's not suited to the novice driver. Perhaps the only thing on its side is price, but then only in terms of value for money.
Quality and image
Keen to push the BT-50 as an alternative to an SUV rather than just a workman's tool, Mazda has put extra effort into ensuring it looks and feels the part. This means improved refinement and reduced road and wind noise inside and sound build quality throughout. It is still a pick-up however, so is never going to be the height of chic, but it's a long way from the muddy and battered farmer's wreck often associated with such vehicles.
Accessibility
The BT-50's tall stature means that those of average height and taller will find it extremely easy to get in and out. The front doors are large and offer excellent access, however the rear doors are very narrow making the second row of seats less easy to get to. It requires a certain amount of athleticism to clamber into the load bay, but the fold down tailgate has been lowered to make loading large items easier.
Stereo and ICE (In car entertainment)
Mazda certainly hasn't gone overboard with in-car entertainment, but the single slot CD player in the BT-50 TS is offers decent quality sound, is functional and easy to use. There are speakers in the rear doors too, so if used as a family vehicle driver and front passenger can be spared blaring volume so that the rear passengers can hear.
Colours and trim
There's a limited but stylish range of six colours available for the BT-50, including lifestyle red, white and blue and more businesslike silver, grey and black. Cloth choices are limited again, this time to black or grey, but as the interior plastics are grey too it's probably a sensible choice. Inside, the materials aren't of the highest quality, but they do feel durable and hardwearing as you'd expect from a working vehicle. The body coloured bumpers and wheel arches give the TS a less basic appearance.
Parking
Parking is not the BT-50's strong point due to a combination of length and limitations imposed on the turning circle by the four-wheel drive system. When parallel parking, vehicles and objects behind can easily get lost underneath the high tailgate of the load bay. Huge mirrors prove useful in manoeuvres though.
Spare wheel
Full size spare steel wheel located under rear load bay
Range information
Diesel engine options - 2.5-litre (141bhp). Transmission options: five-speed manual gearbox, rear-wheel drive or five-speed manual gearbox, switchable rear-wheel or four-wheel drive, lockable limited slip differential on rear axle and low ratio transfer box. Trim levels: 4x2 Single Cab, 4x4 Single Cab, 4x4 Double Cab TS, 4x4 Double Cab TS2.
Alternative cars
Mitsubishi L200 Stylish and highly adaptable five seater
Ford Ranger Uses the same body as the BT-50, so as good in theory
Toyota Hilux A firm favourite with a strong reputation for reliability
Isuzu Rodeo Well built but can be hard to find