July 2012
Mazda 6 Business Line
Pretty Japanese styling hides the car's overall proportions
July 2012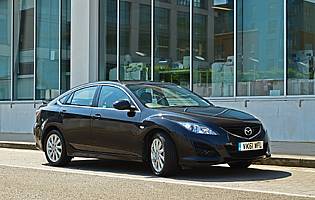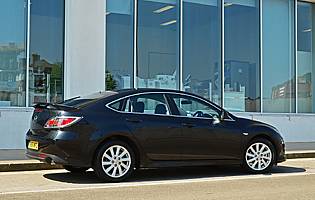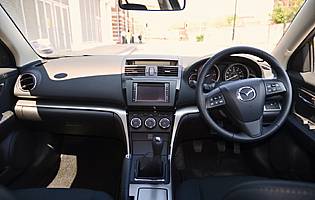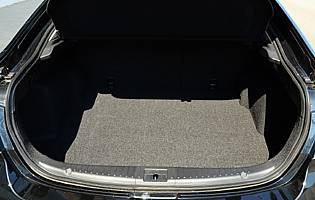 Overall rating

Likes:
Well designed cabin is practical and easy to live with
Spacious boot and rear passenger areas are very useful
Torque-rich engine and sporty gearbox provide driving fun
Very affordable to buy in comparison with its rivals
Gripes:
Small wheels take some prestige away from the car's overall look
Large dimensions can make tight car parks more difficult
Relatively old-fashioned engine sounds coarse at times
Interior storage solutions could be improved
The Mazda 6 is older than many of its rivals in the company car market, so Mazda has opted to produce a special model that will appeal to fleet buyers, with all the key technology that they want, high efficiency and a very competitive price tag. Little in the 6 Business Line is new, but the drivetrain is highly optimised.
While many cars are in truth built chiefly for fleet buyers, it's a rare thing for a manufacturer to openly label their car as a businessperson's. The 6 Business Line would make a fantastic family car, but the emphasis on business has taken a 2.2-litre diesel mid-range 6 and added several key business-friendly options to create a cost-effective corporate cruiser.
It's an addition to the range in order to sell more units before the model is ultimately replaced. It's likely to find itself competing on company car choice lists with the Toyota Avensis, Honda Accord and the Citroen C5, to name a few. The technological additions are included to give the Mazda a tempting advantage in terms of everyday practicality.
Satellite navigation is standard, along with useful day-to-day additions like rear parking sensors and Bluetooth. It all combines to create a car that has everything the working driver needs to get where he or she is going comfortably, safely and in style. The 6 is a great-looking car, apart from the 16-inch wheels that improve efficiency but look too small.
Convenience is convenience, and the Business Line would be equally well suited to parents. The 6 is a spacious car and will swallow lots of luggage, and the economical engine makes just as much sense to families as it does to business users. Motorway cruising is a strong point for the model and it would make an ideal car for holidays.
Our verdict on the Mazda 6 Business Line
For the price there is very little to criticise with the Mazda 6 Business Line. The level of equipment is impressive and the list price is remarkably low for the size and specification of car. It feels a little old-tech in certain ways, but pleasantly so, and it makes the most of what it has been given. It's an award-winning car with good reason.
Costs
Mazda's engineers have done a fantastic job of lowering the 2.2-litre diesel engine's CO2 output where other manufacturers have downsized to achieve the same results. The resulting low emissions mean that the Business Line is among the cheapest cars in its class to lease as a company car, while its large engine capacity means that it takes motorway speeds in its stride. Purchase costs are low, residuals are predicted to be strong and fuel economy is good.
Space and practicality
There is ample space in this car for people, luggage, presentations, children's paraphernalia or whatever needs to be carried. The boot is capacious and although there is a notable load lip that can make dealing with heavy cases more awkward, the wide, practical aperture partially makes up for it. The interior cabin storage could be better laid out, though. Importantly, the storage is covered, but the arrangement tends to mean that the cupholders get used for items other than cups.
Controls and display
As standard the Business Line is fitted with a Sanyo TomTom satellite navigation system, with a large colour screen. It acts as a centrepiece display unit but it doesn't give access to all the car's data readouts. A more old-fashioned red LCD display runs along the top of the dashboard with trip computer information, betraying the slightly aftermarket feel of the sat-nav system. The controls, however, are clear and extremely well placed, falling naturally to hand.
Comfort
The Business Line version of the 6 has small wheels; smaller than would be aesthetically ideal. This is to maintain as much comfort as possible, and the ride is kept very pleasant as a result. Tyre noise is still prevalent on certain coarser motorway and A-road surfaces, though, which brings cabin refinement down a notch. The seats are supportive and comfortable, though, with plenty of leg and shoulder room for all occupants.
Car security
The alarm and immobiliser in the car are of a high standard, conforming to Thatcham category one level. There is also a clever function available called 'global closing', which allows the owner to remotely close all the windows at once. Otherwise not much is detailed, but Thatcham give the car five stars for preventing theft, while in the 'theft from' category it earns four stars.
Car safety
Stability control and traction control are standard, actively working to keep the car safe. All Mazda 6 models also have electronic brake assist technology and ABS to ensure maximum stopping force is achieved in an emergency stop. An emergency stop signal flashes at the rear at the same time. There are dual front airbags, front side airbags and curtain airbags for both front and rear occupants.
Driver appeal
Despite the 6 model's size it proves genuinely fun to drive. The engine offers not just relatively low CO2 emissions and high fuel economy, but an encouraging spread of torque and a willingness to rev. Equally, for those who prioritise cruising, the large-capacity engine is very happy to maintain motorway speeds for as long as desired. The stiff gear lever needs just a little force to push through the six-speed gearbox but adds to the sense of involvement.
Family car appeal
While the car's bias is very obviously towards business users, families will appreciate the Business Line's strengths in the shape of its spaciousness and practicality. There are Isofix child seat mounts on the outer rear seats to account for two young children, and the large boot area will easily swallow pushchairs and bags of accessories. The wide-opening doors and large apertures make it easy to install child seats and get kids fastened in. The interior plastics are mostly resistant to knocks, too.
First car appeal
As a mature, business-orientated large hatchback the Mazda 6 Business Line fulfils only a few of the wishes of a typical first-time buyer and is generally inappropriate. While its fuel economy, comfort and practicality would be good for a new driver, its size is a strong negative factor for drivers without much relevant experience. The same applies for the purchase price, which is very low for what the car offers, but it's still high for a first car.
Quality and image
The Business Line competes against cars from other manufacturers that all appeal to middle ground customers. In that respect Mazda represents one of the most reliable and dependable options, but is also known for making cars that are fun to drive. That gives its brand image an edge in the marketplace, and in this case the quality of the car backs that up. The interior feels substantial and solid, even if some of the cabin materials are not of the highest grades.
Accessibility
In hatchback guise the Mazda 6 has always boasted a large and easily accessible boot, and there is certainly enough room for a week-long five-person holiday. The front doors are longer than the rear ones, as is normal practice for four- and five-door cars, which means rear occupants need to observe just a little more care when getting in and out. Thankfully the doors open wide and it's still very easy to access for all passengers.
Stereo and ICE (In car entertainment)
Using the stereo is a little fiddly, because the controls are split between touch-screen operation and screen-side buttons. Despite that, whether the buttons are digital or analogue their functions are clear, and it takes very little time to become fully accustomed to the layout. Visually the system is appealing though, and does a good job of adding an element of luxury.
Colours and trim
This model's range of exterior colours is predictably business-savvy, with a choice of muted hues including blacks, greys and silvers. There are limited options for buyers who desire more overt colours. The interior trim is solid and functional as its first priority, but it looks very stylish and inviting. The design of the heating and air management controls is particularly appealing, and the sat-nav screen brings a more upmarket look.
Parking
The 6 bodyshell offers a mixed set of positives and negatives for parking, with generally good visibility in all directions but large overall dimensions that make the car a tight squeeze in some bay spaces. While the four doors hinge in a way that makes getting out easier than it might be, the turning circle isn't as impressive as could be hoped. The one area of restricted visibility is straight backwards, but rear parking sensors are standard.
Spare wheel
Emergency tyre repair kit supplied as standard.
Range information
Petrol engine options - 1.8-litre (118bhp); 2.0-litre (153bhp); 2.5-litre (168bhp). Diesel engine options - 2.2-litre (127bhp, 161bhp, 178bhp). Transmission options: five and six-speed manual gearbox depending on model, plus auto gearbox (2.0-litre 153bhp petrol only). Trim levels: S, TS, TS2, Sport, Business Line.
Alternative cars
Ford Mondeo Once the default choice for many, the Mondeo is still a worthy option
Toyota Avensis Questionable styling hides a reliable and likeable all-rounder
Vauxhall Insignia Large, comfortable and generally good value means this a contender
Peugeot 508 Stylish option with luxurious high-spec models often discounted