December 2010
Mazda Mazda3 1.6 MZ-CD TS2
Mazda3 is now a familiar sight on the road
December 2010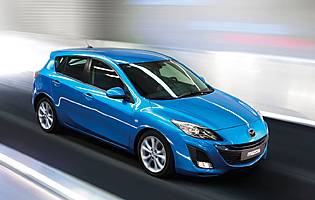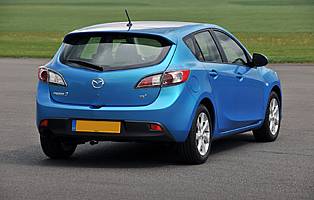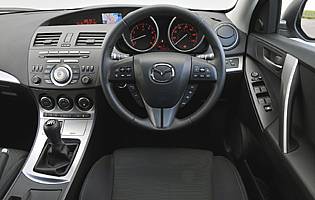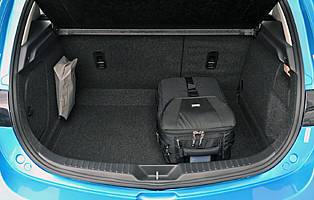 Overall rating

Likes:
Sharp exterior design
Decent interior materials and quality
Good economy
Strong torque delivery makes it easy to drive
Gripes:
Rear room less generous than some rivals
Whistle from the turbo present in the cabin
High boot lip
Narrow rear doors
Mazda launched the updated version of the popular Mazda3 compact hatchback in 2009 and it has been proving popular with a range of three petrol and three diesel engine options. The most economical of those units has now been updated with a fresh version boasting increased power and performance, but better fuel economy and emissions.
A new version of the Mazda3 hatchback was introduced in 2009 with a view to taking on the Ford Focus, Vauxhall Astra and other UK compact hatchback market stalwarts at their own game. A cutting edge chassis shared with one of its closest rivals gave it plenty to work with, as did contemporary styling and generous standard equipment provision across the range.
The Mazda3 was also equipped with an impressive range of engines; 1.6-litre and 2.0-litre petrol options, a 1.6-litre diesel and two versions of a 2.2-litre diesel unit. A 2.3-litre turbocharged petrol engine joined the range later in the high performance MPS model.
It is the 1.6-litre diesel unit that has come under scrutiny in 2010. Despite being the most economical choice in the range, Mazda felt it needed replacing with a new unit offering improved performance. The result is another engine of 1.6-litre capacity, but boasting a six bhp power hike, greater torque plus fuel consumption and CO2 emission improvements of 2.2 and 1.7 per cent respectively. A new fuel injection system, variable geometry turbocharger and a switch from twin-cam 16-valve to a less frictional single-cam eight-valve design are partially responsible.
A new six-speed manual transmission replaces the previous five-speed unit, too, allowing for a taller top gear and resulting in lower rpm. Elsewhere, the Mazda3 remains unchanged. The popular five-door hatchback body boasts now familiar, dashing exterior styling and employs the instantly recognisable family face. Interiors cut an equally fine figure, with strong equipment provision intended to increase the value for money appeal.
Our verdict on the Mazda Mazda3 1.6 MZ-CD TS2
It's an unusual and brave decision for a company to introduce an engine that could be deemed less advanced than its predecessor, but the benefits are clear in terms of increased economy and lowered CO2 emissions. The new engine also proves more tractable thanks to the changes to power delivery. An increase in refinement courtesy of the extra gear is countered by some turbo whistle from the unit, but the stylish, functional and well equipped overall package remains highly appealing.
Costs
Overhauled with economy in mind, the Mazda3 1.6 diesel offers strong returns on fuel and low CO2 emissions that lessen the tax costs. The insurance grouping for the mid-range TS2 model is low and running costs should prove acceptable thanks to a strong reliability record. Mazda has also upgraded the Diesel Particulate Filter system to a maintenance free version. As always with Mazda products, purchase prices are very competitive.
Space and practicality
Although the front is spacious and well formed, the rear is less spacious than that of some of its rivals. Regardless, only the very tall will find it short of space; the averagely proportioned will have ample room for a car of this size. The boot is a good size, if impeded by a short boot door, and door bins and cubby holes are generous.
Controls and display
The tunnel effect for the instrument binnacle means the dials and warning lights are always clear and free from glare, while the small sat-nav screen, where specified, is remarkably clear considering its size. A small trip computer is ideally positioned under the windscreen. A high gear lever and fully adjustable steering wheel make for a very comfortable driving position and the ventilation controls are extremely simple to operate. Switchgear feels sturdy and is traditionally laid out.
Comfort
There's a little jitteriness to the Mazda3's ride but not enough to disturb the quality overall. Well shaped seats and decent specification for the TS2 model, including rain sensitive wipers, an auto-dimming mirror, electric windows and mirrors and dual-zone air-con, makes the interior a pleasant place to be. Wind and road noise are effectively subdued, but there is a faint, ever-present whistle from the 1.6-litre diesel model's turbocharger. The engine itself settles down to a restrained hum once warm.
Car security
Standard equipment includes a Thatcham category one alarm and immobiliser, which ought to keep the vehicle protected. A parcel shelf obscures items in the boot from view and, of course, remote central locking is standard.
Car safety
Designed to include ""crush zones"" that deform to protect occupants in an accident, the Mazda3 features a high level of passive safety. Add to that ABS with EBD, and traction control with DSC, self-levelling bi-xenon headlamps and hazard lights that respond to emergency braking, and the model looks well catered for in the safety stakes.
Driver appeal
Despite the lowered emissions and improved fuel consumption, power and torque output have actually been improved and, more importantly, the way that they are delivered is also altered. Peak torque is now available between 1750 and 2700rpm, meaning there's little need to rev the engine to find performance. The need to change gears is also minimised by the low rpm torque delivery and, as a result, the 1.6-litre diesel equipped Mazda3 offers a stress free driving experience. Steering is direct and responsive and bodyroll well-tempered.
Family car appeal
Room for five, improved economy and a respectable safety record combine to make the Mazda3 1.6 diesel a very sensible family choice. Running costs will prove appealing and there's adequate space for a trio of pre-teens in the rear.
First car appeal
The improved economy and restrained performance combined with stylish looks mean the Mazda3 1.6 diesel may well appeal to new and young drivers. It may be priced a little out of the reach of compact hatchback budgets despite Mazda's value for money, but there's little reason why it would not make a sensible first car choice if affordable.
Quality and image
Mazda has benefitted greatly in recent years from major improvements in exterior and interior design and the Japanese manufacturer's range is now as easy on the eye as any of its immediate competitors and many of its more premium rivals. Build quality has long been a strong point for Mazda models, and material quality is improved, too. This is noticeable inside and outside the Mazda3 model.
Accessibility
The only issues with accessibility are at the rear, where a high lip and rounded entry to the boot could make lifting in heavy suitcases a less simple task. The five-door's rear doors are also slightly awkwardly shaped and offer a narrow entry to the rear of the car with a sloping roofline that may impede the tall. Access to the front remains unhindered.
Stereo and ICE (In car entertainment)
A neatly integrated sound system occupies the upper portion of the centre console and is reasonably simple to operate using a combination of three large dials and a selection of switches. Where sat-nav is present it comes with a small but useable screen located just below the window line and is operated via steering wheel controls. Further audio controls are also present on the wheel. Sound quality from the system is good, auxiliary inputs are present and the TS2 model gets a six-CD changer.
Colours and trim
The Mazda3 remains available in an enticing palette of bold colour choices that highlight the contemporary exterior design. Lighter shades work well in flat and metallic finishes. The interior is slightly less inspiring, with dark plastics in the main, but these are broken up using metal effect trim. Soft touch plastics improve the interior ambience and cloth seating is of good quality.
Parking
Rear parking sensors are not standard until you reach the top trim level, so it's fortunate that the Mazda3 proves an easy car to park without them. The small rear window still gives a good indication of where the car ends and large mirrors also aid reversing. The rear three-quarter design is a little messy with a small triangular window offering little in the way of visibility, but it fails to hamper decent all round visibility.
Spare wheel
Steel spare wheel fitted as standard.
Range information
Petrol engine options - 1.6-litre (103bhp); 2.0-litre (148bhp); 2.3-litre (256bhp). Diesel engine options - 1.6-litre (113bhp); 2.2-litre (147bhp); 2.2-litre (182bhp). Transmission options: five-speed manual gearbox, six-speed manual gearbox, five-speed automatic gearbox. Trim levels: S, TS, TS2, TS2 Nav, Sport, Sport Nav, MPS.
Alternative cars
Ford Focus Econetic model uses the same platform and is more efficient
Vauxhall Astra Stylish and economical but more expensive in EcoFLEX form
Toyota Auris 1.4-litre diesel engine is less powerful, Hybrid offers lowest emissions
Seat Leon Ecomotive is smart, affordable and economical