February 2007
Maserati Quattroporte Quattroporte Automatic
Bold Quattroporte is a striking car to look at and an exhilarating one to drive
February 2007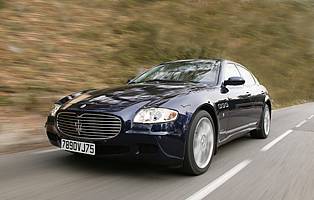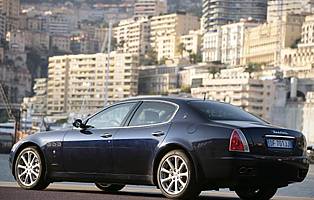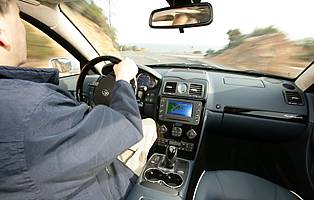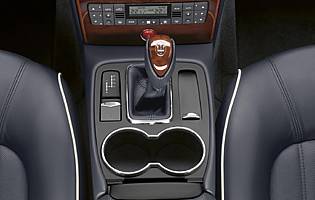 Overall rating

Likes:
Distinctive styling helps the car to stand out
Rarity value a welcome attraction in the face of mainstream rivals
Spacious cabin boasts luxurious ambience, and is well built
Performance is impressive; driving experience is rewarding
Gripes:
Unusual cabin ergonomics might not please all
Trip computer is comprehensive but sometimes a little complicated
Can prove exceptionally thirsty when driven hard
Stubby gearlever could be taller to make manual shifting easier
Never a volume seller in the same context as the more popular German premium car makers, Italian firm Maserati has always chosen a different path when it comes to design and execution. It's Quattroporte saloon is a perfect example; unlike its rivals, the big Maserati is blatantly pitched at the performance end of the market and styled not to blend in but to be distinctive.
When you think of a luxury saloon you think of a car that's biased towards comfort and refinement. If you had the desire to drive something that behaved like a sports car, you'd probably go out and buy one. This is where Maserati and its Quattroporte comes in: it's a luxury car that doubles as a sports car. And it has all the right ingredients: rear-wheel drive, a beautiful sounding V8 engine up front and a driver-focused character.
Mixing the two concepts - luxury and performance - has historically resulted in a big car with an overfirm ride, and not what the buyer of a swift luxury car wants. Fortunately Maserati has done well to combine the two elements without it resulting in one big compromise. However, in true Maserati style, the company did do its own thing in the gearbox department.
Luxury cars usually come with smooth-shifting auto gearboxes - not so the Quattroporte. Its automated manual 'box, called DuoSelect, was and still is a slightly jerky device. To get the most out of you needed to be driving pretty hard, which is something few people can do. Enter this conventional six-speed auto, which has been engineered to cope with the V8 engine's prodigious power and the reason it's taken four years since the car's launch to do so.
There's also been a lot of work done to accommodate the new gearbox, as it's now located behind the engine. In contrast, the DuoSelect 'box - which can still be purchased - sits at the rear axle. To Maserati's credit, the car's weight distribution remains almost 50-50, and goes a long way to ensuring a balanced ride when travelling at speed. The auto gearbox can be left alone, used manually in the conventional push-pull manner or, on selected variants, via a pair of steering wheel mounted paddles.
Our verdict on the Maserati Quattroporte Quattroporte Automatic
While always a desirable car, the Quattroporte was often viewed as a flawed gem. The addition of the conventional auto gearbox banishes any such thoughts. Smooth yet rapid progress is achieved much easier than before, and the car is no longer a handful around town or when parking. The Automatic's revised cabin tunnel now includes a useful electronic parking brake and, in an obvious nod to the dominant American market, two large cupholders. Flippant observations aside, the auto gearbox has not dulled but actually enhanced the Quattroporte experience, making its performance easier to exploit and, thus, more enjoyable to drive.
Costs
You don't buy a car like this and then complain about the running costs. Fuel economy is modest at best, and considerable when you're pushing on. Insurance will also be considerable although a service inclusive scheme should mean that servicing costs are manageable.
Space and practicality
In practice the Quattroporte is just a big executive saloon. As such, its cabin is spacious and practical, while the boot is a good size for carrying golf club bags or even something as mundane as the weekly shopping.
Controls and display
Some might be unusual but most of the car's controls work well. The main dials are easy to understand, although the digital trip computer separating the clocks is a little too comprehensive for its own good boasting many features in its small display. Attractive chrome-ringed buttons are placed logically around the driver and central fascia area, and soon prove intuitive. The main display could be better though, as it's blocky graphics look out of date. Thankfully the much lauded auto gearbox shift lever works well. You, correctly, pull back to change up and forward to change down in manual mode. Gear shift paddles for the steering wheel on selected models add another welcome dimension.
Comfort
For a car tuned to deliver serious sporting thrills, the Quattroporte is surprisingly supple. Yes the ride is firm, but not uncomfortably so. The car's supportive seats help shield you from most road imperfections, along with the quick-reacting suspension. Engine noise is largely muted at normal speeds, making motorway cruising relaxing.
Car security
You get the full package of security measures with the Quattroporte, which is to be expected given its performance potential and desirability. Considering the car's premium standing, a tracking device is a smart addition for added peace of mind.
Car safety
For all the car's luxury trappings, it still comes with the safety kit you'd expect to find on all modern cars. Airbags and electronic aids are all included, but given the Quattroporte's sporting leanings the latter are unobtrusive and don't spoil the experience.
Driver appeal
The Quattroporte does smooth cruising and performance motoring very well. The car's conventional auto gearbox certainly helps matters, as much smoother than the DuoSelect semi-auto 'box that remains part of the line-up. The car's V8 engine is responsive throughout its rev range, and delivers effortless amounts of power. town driving is easy, with higher speed running a rewarding experience. Brake and throttle are progress, steering is direct and body control is composed at speed. Rapid and refined in equal measure, the car's performance belies its size.
Family car appeal
It's no people carrier, but the big Maserati will happily double as a family runabout. You might want to protect the car's leather upholstery, but in principal the car will easily accommodate a growing family of the traditional 2.4 variety.
First car appeal
Leaving the sizeable price and running costs aside, the Quattroporte is far from an ideal car for the novice. It is a quick, powerful car that demands respect - even when driving it around town.
Quality and image
As Maserati doesn't compete on the same terms as its volume selling rivals, the Italian marque prefers to go down the exclusivity route. No question, the Quattroporte is as much an event as it is a car - especially if you watching from the pavement - hence its appeal among buyers seeking something a little different. Quality-wise Maserati has come on leaps and bounds in recent years. Although always desirable, the cars haven't always been reliable. The latter now fixed, the only barrier to purchase is affordablilty.
Accessibility
More low slung that some rivals, the Quattroporte's cabin gives the impression that it's difficult to access. In fact it's pretty straightforward, thanks in part to large, wide opening doors. The rear isn't quite the same as the doors are a little smaller, but few other than the very tall should find it a problem. At the rear the car's boot opens nice and wide with little effort to reveal a decent amount of space and, crucially, only a small load lip.
Stereo and ICE (In car entertainment)
The standard fit unit delivers impressive sound quality and steering wheel mounted controls help in controlling the unit's basic functions. Unusually the CD changer is located under the steering column, while the main display's menus could be more intuitive. Audio aside, the sat-nav function also takes some getting used to: the graphics could be clearer, as could the various menus.
Colours and trim
Exterior colours are suitably subtle for a car of this size and social standing. Dark hues best disguise the car's size, while the bold pearlescent white option will be for brave and bold buyers. Measured chrome accents around the various minor features look good, too. Inside, the Quattroporte's cabin presents you with a bespoke feel - not at all like its mainstream rivals. Leather upholstery is to a high standard, although the light coloured wood trim options won't appeal to everyone.
Parking
The Quattroporte is a big car with a generously proportioned rear. Reverse parking takes a bit of practice but once confident it's relatively easy to slot the car into a space. It's much the same at the front, thanks to the car's long bonnet. Thankfully, steering boasts plenty of assistance at low speeds and the automatic gearbox offers a smoother way of shunting back and forth in tight spaces than the more aggressive DueSelect gearbox.
Spare wheel
Spare wheel located under the boot floor.
Range information
Alternative cars
Mercedes-Benz S-Class High-tech S-Class is refined but no sports car
BMW 7 Series Controversially styled Seven is a plush motor that can be hustled along
Audi A8 Most entertaining car here. In S8 form the V10-powered car is equally rapid and refined
Lexus LS 480 Big, plush and full of gadgets and quick in a straight line but no performance car