July 2008
Maserati GranTurismo 4.2 V8
Extrovert styling starts with the GranTurismo's dominant nose
July 2008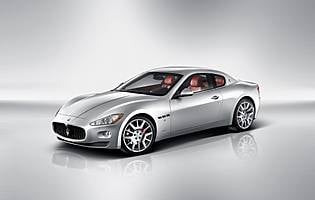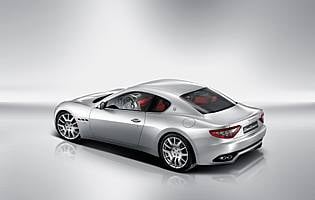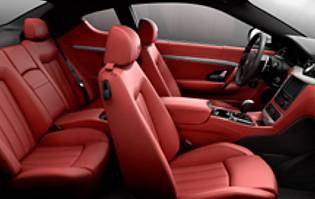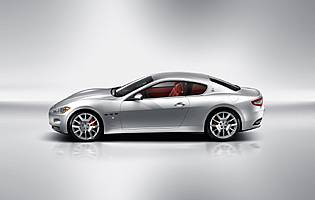 Overall rating

Likes:
Elegant exterior styling
Charismatic engine - especially when pushed hard
Smooth shifting auto gearbox on 4.2 V8 model
Well built cabin full of high quality details
Gripes:
Doesn't feel quite as fast as on-paper figures suggest
Long nose and low driving position means it can be difficult to judge when parking
More of a grand tourer than direct Porsche 911 rival
Rear seats look nice but are of limited use
With its elegant, long and sweeping exterior, there can be no mistaking Maserati's GranTurismo coupe for anything else. Sharing some basic architecture with the Italian firm's four door Quattroporte saloon, the GranTurismo promises high performance motoring plus the ability to transport occupants in a state of luxury easily exceeding that of its rivals.
With a 4.2-litre petrol V8 engine under its long bonnet, Maserati's stylish GranTurismo appears to possess all the right ingredients for a powerful, premium sports car. As is typical of something from Italy, the GranTurismo is extravagantly styled inside and out. This car isn't for shrinking violets.
Thankfully the Maserati's performance pretty much matches its extrovert personality. Drawing a lot of the engineering of the Quattroporte, the two-door car coupe feels balanced yet refined, while performance is nothing short of rapid. The car's direct steering and auto gearbox - there is no regular manual option - combine to make an enthusiastic approach to driving an enjoyable one.
It would, however, be wrong to compare the GranTurismo directly to Porsche's 911. The Maserati might boast comparable performance credentials but it's clear from when you first drive the car that the 911 is a sharper, more responsive machine. Of course, there are compromises: the 911 has a firmer ride, less cabin space, is more focused and an infinitely more common sight on the road.
Ultimately the GranTurismo offers a blistering quick pace, but without the razor-sharp and sometimes tiring characteristics of an overtly racy performance coupe. The Maserati will, like the 911, allow you to shrink distances but ensures you feel refreshed and relax after countless hours behind the wheel.
Our verdict on the Maserati GranTurismo 4.2 V8
The glamorous, extrovert GranTurismo is everything a modern Maserati should be. It turns heads, sounds fantastic, boasts an exquisite cabin and will be a teasingly rare sight thanks to the low production numbers. It's not quite the sharpest high performance luxury coupe out there, but the GranTurismo wouldn't be a Maserati if it was perfect.
Costs
Anyone buying the GranTurismo should already be wise to how much performance cars cost to run; the honest answer is a lot. Fuel, insurance and road tax will consume a fair amount of money over the course of a year. Regular servicing should be just that, but remember we are talking premium rates for a premium car.
Space and practicality
Despite the presence of two exquisitely designed rear seats, the GranTurismo is realistically a two-seater when it comes to accommodating adults. No matter, as the front seats will slide forward if you need to access the rear for any reason. For a luxury car oddment space is pretty good - door bins, glove box and centre armrest offer plenty of space for bottles, mobile phones and maps. At the rear, the car's boot is a good size, and will swallow more than just the odd squash bag, meaning golfers should also be pleased.
Controls and display
Bold main dials, easy to use switchgear and main display located high up on the fascia all make driving and navigating the car's various functions straightforward. Extra controls on the stylish steering wheel are welcome, although the small buttons and many menus associated with the main audio unit can sometimes be frustrating. At least the auto gear selector is easy to understand, and the gearshift paddles behind the steering wheel are more than just a gimmick.
Comfort
Don't think of an unyielding ride or intrusive engine when considering the GranTurismo; the sleek Maserati offers supportive and adjustable seats, a calming cabin ambience and good levels of noise insulation - even when travelling at speed.
Car security
A full of alarm and immobiliser package is fitted to the GranTurismo. A distinctive car, the Maserati is well protected from the usual threats. Remote central locking is, obviously, also included, and it would make sense to consider fitting a tracking device - assuming your insurer doesn't already demand it - for maximum peace of mind.
Car safety
Like any large, premium car the GranTurismo boasts a full complement of airbags and electronic stability control devices. Being performance orientated, the various (switchable) electronic helpers rarely cut in too early - giving the keen driver enough opportunity to enjoy the car, but safe in the knowledge that the system is still there to ultimately help and not hinder.
Driver appeal
The rear-drive, V8-powered Maserati is unquestionably a quick car. The standard fit auto gearbox delivers smooth shifts up and down the gearbox, allowing you to concentrate on the road ahead. The direct, if a little remote, steering is a pleasure to use. The ride is surprisingly compliant for something with so much potential. However, the car is not an all-out supercar like Porsche's 911. More a very rapid grand tourer - hence its name - the GranTurismo can shrink distances without sacrificing comfort.
Family car appeal
It may boast four seats but the GranTurismo is no family car. The rear chairs might be fine for small children, but adults will suffer even during the shortest of trips. And then there's the simple fact that the Maserati's cabin is too luxurious for family use - sticky fingers, pets and the rest.
First car appeal
Like every other high performance car, the Maserati is a no-go area for the novice driver. Where to start? It's too expensive to run and too powerful for the first timer. And there are easier cars to park when it comes to all-round visibility.
Quality and image
More recently trading on its glamorous character, Maserati products have become attractive and desirable again after years of suffering under claims of poor reliability and performance. The new, modern designs have gone a long way to helping the firm's cause, while reliability has been transformed.
Accessibility
Being a two-door coupe the GranTurismo's big doors open wide, although they are heavy and require a hefty push to open from the inside. You sit low down in the car, but getting in and out shouldn't be hard for an average adult. A cabin remote release for the boot proves convenient.
Stereo and ICE (In car entertainment)
The standard audio provision is a good one, as you would expect from a premium coupe. The main unit is conveniently located halfway up the centre console, and the various controls are straightforward to understand as are the steering wheel mounted items, although the buttons on the console are a little small. The colour screen also gives access to an easy to use, if a little slow, sat-nav system.
Colours and trim
You can go either way with the GranTurismo - dark hues project a prestigious ambience, while lighter hues hint at a more racy character. Both options do much to flatter the car's sweeping lines. Inside, dark upholstery is good for creating an expensive-feeling ambience, and will certainly wear better than any light coloured option.
Parking
As with so many sports cars, you sit low down in the Maserati. As such, visibility forward is limited to the seeing the tops of the car's wheelarches. There's much more of the car than that, so it takes time to judge where it ends and the kerb begins. Rear visibility is similarly modest, thanks in part to the small rear window. However, the parking sensors make life easy.
Spare wheel
Conventional spare wheel fitted as standard.
Range information
Petrol engine options - 4.2-litre V8 engine developing 405bhp (4.2 V8) and a 4.7 V8 developing 440bhp (S DuoSelect). Transmission options: six-speed auto gearbox as standard, with six-speed automated DuoSelect 'box for the S model. Trim levels are dependent on the model selected..
Alternative cars
Porsche 911 More performance orientated and less cosseting than the GranTurismo
Audi R8 Like 911 it's more sporting, and more extrovert in the looks department
Jaguar XK Sophisticated-looking XK offers fine balance of performance and refinement
BMW 6 Series Unusual styling masks considerable performance car attributes