January 2016
Lotus Exige Sport 350
Purposeful air vents and black detailing hint at performance
January 2016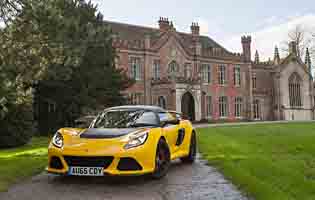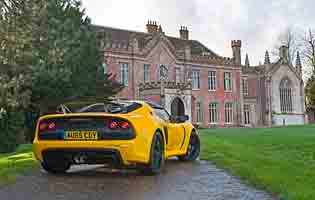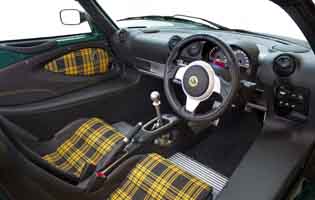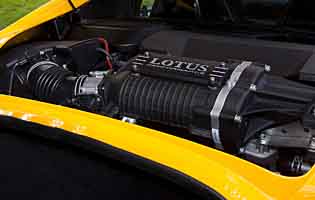 Overall rating

Likes:
Stripped-out cabin is beautiful in its sense of purpose
Aggressive V6 engine delivers instant response and huge torque
Fast steering displays an organic connection to the road
Fantastic sense of occasion behind the wheel
Gripes:
Wide sills are difficult to step over without scuffing trim or upholstery
Little luggage space and few interior storage options
Loud cabin environment is not good for long-distance cruising
Such a capable car needs more lateral support from the seats
It may not be the most powerful Lotus ever to leave the Hethel factory, but it is the fastest. The Exige Sport 350 is a lighter, leaner and more aggressive version of its predecessors. Every single component has been reviewed, analysed, simplified or even deleted if possible, and always lightened at every chance.
The Exige went through a painstaking programme of analysis and improvement in order to create the Sport 350. Apart from the obvious relevance of the number in its name, signifying 350 metric horsepower from its supercharged, mid-mounted V6 engine, the total weight saving versus the Exige S is 41kg, with a further 10kg cut by optional lighter brakes and wheels.
As such the Sport 350 is 2.5 seconds per lap faster around Lotus' own test track than the inferior S, despite the S using special track tyres. Its large spoiler contributes a net downforce of 42kg at 100mph and a distinctive louvred engine cover permits both better visibility and improved engine cooling.
The new car isn't just about speed. Tartan seat upholstery recalls the 1976 Esprit S1 and the exposed gear lever linkage is uniquely stunning. The Lotus engineers thought it was so beautiful that they insisted on cutting away the sides and top of the transmission tunnel around the lever in order to show it off - a move that also saved weight.
Slightly altered wheel alignment and a wider rear wheel alter the car's handling characteristics in favour of fast steering and instant responses, moving the car further into the extremes of driving purity and away from the increasingly long-legged, refined Evora. This is a sign that Lotus is focusing its products on specific target audiences.
Our verdict on the Lotus Exige Sport 350
The Sport 350 is a niche car, and one that oozes desirability at the expense of everyday usability. Its wide body sills are impractical and its general driving manners loud and excitable, but when driven in the way its engineers intended, there are few, if any, cars below GBP100,000 that can come close to the ceaselessly absorbing, demanding and thrilling experience it offers.
Costs
Ownership costs will be comparable to the Sport 350's rivals when it comes to day-to-day expenses, but depreciation is an unknown quantity. If desirability remains high but sales are slow, used values will be higher than those of its competitors. A small fuel tank will need filling more often, but will cost less to fill.
Space and practicality
A mere 40-litre fuel tank is drained in short order if the car's performance is used with gusto, meaning regular fuel stops on longer drives. There is no real boot to speak of, and precious little space inside the cabin. This is not a car for weekends away, but it isn't designed to be.
Controls and display
The additional controls are set on the dashboard around the edge of the steering wheel, within easy reach for the driver, but there are precious few of them. Engine start, Sport, Race and basic light functions are on the right, with air movement and heating on the left. The ancillary stalks are light but feel old and imprecise next to those of rivals. The retro-styled main dials are clear, if a little drab.
Comfort
Comfort is not a priority for Exige buyers, but nonetheless the engineers have done a superb job of damping what little suspension travel there is, with help from Bilstein and Eibach components. Supple absorption of even large bumps show off excellent body control and ride quality for the class, despite it ultimately being very firm overall. The seats are lightweight and have minimal padding, but are shaped to provide ideal back support.
Car security
Although it's unlikely that any Exige Sport 350 owners will keep the car on the street and in potential harm's way, it comes with an alarm and an immobiliser. The alarm can be activated via the key, to ward off anyone getting too close. The immobiliser has to be deactivated by pressing a button on the key before starting the engine, which isn't convenient but could slow down an opportunist thief. Remote central locking is also standard.
Car safety
Light weight and extremely strong brakes, combined with high-performance tyres, mean that the Sport 350 stops very quickly and with wonderful feel at the brake pedal. An advanced stability control system is at least the match of the only other similar one in production, developed by Ferrari. It learns the grip level and adapts to give maximum traction and safety.
Driver appeal
Anyone who appreciates driving thrills will love what the Sport 350 offers. Instant throttle response, especially in Sport and Race driving modes, leads immediately to huge acceleration through the gears and deep reserves of overtaking torque courtesy of a supercharger. Fast steering and centralised weight distribution allow the car to change direction far faster than most roads will require, while the contours of the road are constantly magnified through the wheel.
Family car appeal
Families should only consider an Exige as a second car for the die-hard driver in the family, because it makes no concessions for children. The sports seats in this model will not accept child seats, so only older children could ride along, at which point the loud engine and busy handling would either thrill them or terrify them.
First car appeal
Any young petrolhead might desperately want an Exige, especially after laying eyes on its exposed gear lever linkage, its performance figures and its huge spoiler, but this is far too aggressive and powerful a car to be given to a novice. It is a moot point, anyway, as the purchase price and insurance put it far beyond the reach of the average first-time buyer.
Quality and image
As an exclusive and niche product, the Sport 350 will turn heads wherever it goes. Car enthusiasts will love seeing it and many will make a bee-line for it with their camera phones at the ready. There is a great degree of ownership satisfaction in the Sport 350's tangibly high-performance image. Actual build and materials quality is admirable.
Accessibility
This is a weak point in the Exige's armour. Its wide sills require a big step in order to clear them, and it's very difficult to get behind the wheel without brushing your potentially dirty shoe against the sill, the seat or the steering wheel. The car is also very low and won't be suitable for anyone with particularly restricted movement in their knees or back.
Stereo and ICE (In car entertainment)
There is no radio or music player of any kind in the car as standard. If desired, it has to be added afterwards as part of the Noise, Vibration and Harshness (NVH) pack, along with carpets for the otherwise metal foot wells. When installed, the aftermarket unit's appearance is at odds with the rest of the cabin.
Colours and trim
Lotus offers two bold reds, a strong blue, a bright yellow, a dark green and an orange alongside the ever-present black, grey, silver and white options. Needless to say, the Sport 350's dark spoiler, wheels and bonnet trim mean that the brightest colours work best, with orange a favourite. It looks meanest in black. The interior trim's optional tartan pattern looks fabulous in either yellow or red, and despite an otherwise Spartan appearance the interior trim is good quality.
Parking
The steering lock is more impressive than potential buyers might fear. It's capable of tight enough turns to be used in town without fear, but the steering itself is heavy at low speed, and even more so when stationary. There are no parking aids, but the louvred engine cover does afford some rearward visibility. Drivers must remember, though, when parking next to kerbs, that the outside edges of the wheels are quite far away from where he or she is sitting.
Spare wheel
Emergency tyre repair kit supplied as standard.
Range information
Petrol engine options - 3.5-litre (345bhp, 363bhp). Transmission options: six-speed manual gearbox, or optional six-speed automated manual. Trim levels: Sport 350, S Roadster, S Club Racer, V6 Cup R.
Alternative cars
Porsche Cayman Pinnacle GT4 model blends superb engineering with precision and refinement
Alfa Romeo 4C Exotic carbon-fibre chassis and light weight but less exciting four-cylinder engine
Mercedes-AMG SLC 43 Much more expensive, more refined and comfortable with a strong turbocharged V6
Jaguar F-Type Feels big on the road but offers lots of performance and looks to die for