August 2013
Lotus Exige S Roadster
Exige might be a familiar sight but this S packs a real punch
August 2013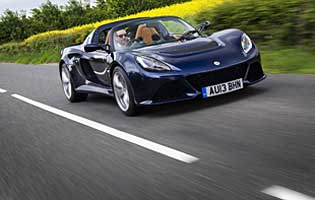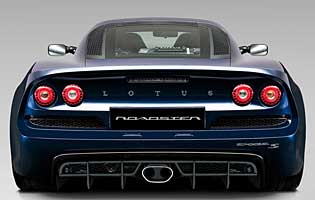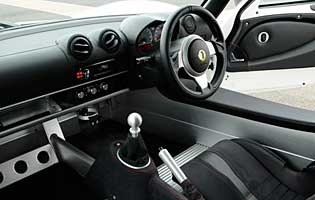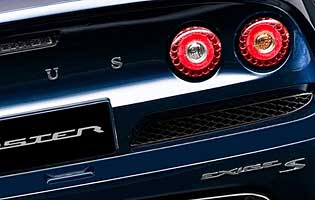 Overall rating

Likes:
Excellent handling balance is perfect for spirited driving
Communicative chassis and steering offer supreme driver feedback
Supercharger adds extra drama and acceleration
Solid-feeling interior is reassuringly atypical of track-biased cars
Gripes:
Low seat can be difficult and undignified to get into and out of
Relatively little luggage or storage space available
Not a particularly refined cruiser on main roads
Expensively priced against some more popular rivals
In recent times Lotus has developed two strains of cars. First are those that conform to the company founder's vision of 'simplify and add lightness', but there have also been new, larger models that aim for higher speed, more power and even greater driver thrills. The Exige S Roadster is one of the latter.
Any Lotus with the S moniker is a more extreme version of a pre-existing lower model: the S denotes a supercharger, in this case attached to a 3.5-litre V6 mounted behind the two seats. The chassis is tuned for fast road and track driving, so it's sharp, agile and designed to feel as light-footed as possible.
Nonetheless it's a heavier car than the Elise, with which it shares some origins, and it's also more complex. Clever engineering overcomes that in order to create a go-kart driving experience and a hard-edged soundtrack that does somewhat leave the Elise, with its smaller and less powerful engines, in its wake.
There is a coupe version for track-day enthusiasts, while the convertible Roadster tested here is apparently softened slightly by comparison, engineered with a little more pliancy in the ride, which is better for UK roads. British buyers in general choose convertibles in relatively high volumes, too, so the Roadster is arguably the better car for this market.
It has precious little truly direct competition because of its undoubted focus, but there are cars that overlap its repertoire. Lotus is a comparatively small operation next to the powerhouses that make similar cars, but the compact size of its engineering workforce means that the finished product is as cohesive and enjoyable as any rival.
Our verdict on the Lotus Exige S Roadster
The Lotus Exige S Roadster is a fiery character thanks to its potent mix of power, noise, open-air enjoyment and exotica. It's single-minded and for that reason it's tough to imagine using it every day, but this branch of Lotus cars is built purely for driving enjoyment. The S Roadster excels at that, providing a rare sense of connectedness that's obvious in its every aspect.
Costs
This is clearly not a car for the budget-conscious, with a purchase price that against some of its more established rivals can be considered expensive. It won't return very good fuel economy either, especially given its high-revving nature. The Exige is extremely unlikely to be chosen as a company car for anyone not working for Lotus, and its tax banding is in the uppermost bracket. Residual values are not likely to be the best in the business either compared to certain alternative cars.
Space and practicality
The Exige is not built for crossing continents, unlike the larger Evora, so space is at a premium. Just 115 litres of boot space is simply not enough for more than a pair of small overnight bags, and while there's potentially a little extra space for coats and handbags behind the seats if the occupants don't need to push them all the way back, storage space in the cabin is limited to the foot wells.
Controls and display
The main instruments are clear, large and straightforward in their design, forgoing all unnecessary frills to give the driver the clearest at-a-glance assessment of speed and engine revs. Other cars in the class emphasise style a lot more, and even include secondary display screens in the dashboard for their media interfaces and sat-nav systems. The Lotus forgoes all that in pursuit of the single, focused objective of facilitating speed.
Comfort
Although this might sound unlikely for such a focused car, the Exige is actually amazingly comfortable, thanks in part to the upgraded seats, which are ergonomically designed to tilt occupants' pelvis forward by one degree. It makes the spine support your body weight, leaving your muscles more relaxed than they otherwise would be and significantly reducing fatigue. A long trip results in no aches or pains at all. The suspension is naturally firm but well controlled and damped.
Car security
The lack of a hard top roof is an obvious vulnerability in terms of the Exige's security if left parked without any cover over the cabin. There is central locking, though, and a remote-operated alarm that monitors for forced entry. An immobiliser helps to slow criminals down by presenting an electronic barrier that stops the car from being started without the proper key.
Car safety
Keen drivers will appreciate the confidence that the highly communicative chassis inspires. It lets those with the ability push the boundaries while staying the right side of the outright limit. This level of feedback, in this context, can certainly be considered a safety feature, but on the more traditional front there are several brake assist systems designed to keep the car stable under emergency stop conditions, even in corners.
Driver appeal
The Exige aims to satisfy every demand on this front and certainly seems to do so within the limits of safe on-road driving. The S Roadster is hugely fast and very well balanced, with a supremely communicative chassis and steering setup through which the driver can feel exactly what is going on underneath them. The supercharger adds a delightful whine to the soundscape and only increases the sense of satisfaction during a hard drive.
Family car appeal
Thanks to a combination of difficult access, a lack of rear seats and an overtly sporting character, the S Roadster would make a particularly poor family car. There are no pre-defined child seat mounting points, although some types of rear-facing seat can technically still be secured. The final nail in the metaphorical coffin is the lack of luggage space. Pushchairs, toys and boxes of toiletries might have to be pared back to fit, especially if the driving includes a shopping trip.
First car appeal
Arguably this is the best-looking car in Lotus' range, and with the full weight of Lotus' reputation for making world-leading drivers' cars behind it, the Exige S Roadster is the genuine article for teenage boys' computer desktop wallpapers. Its appeal to young women is somewhat more limited, but in any case the sheer power output, relative parking difficulty and running costs would put the Roadster well beyond the reach of a typical new driver.
Quality and image
As a small manufacturer, Lotus does not have the budget available for quality control that some rival manufacturers like Porsche have. As such the company has been dogged by reports of small faults and build quality issues over the years. The engines, if properly maintained, are considerably more reliable, though, and the company has at least made vast strides forward in terms of interior quality, where the leathers and metals used are first-rate.
Accessibility
The Roadster returns a poor score here, because not only is the seat especially low, but the door sill is also very tall and wide. It means that as well as having to lower yourself right down when getting in, the initial step across into the car has to be both high and long. It's almost impossible to find a dignified way of getting in, and the problem is even worse when getting out.
Stereo and ICE (In car entertainment)
It's likely that the type of drivers who choose an Exige S Roadster will spend very little time listening to music, instead focusing on the engine note rising and falling on a twisty road. For those times when an alternative soundtrack is desired, there is an aftermarket CD/radio unit in the dashboard linked to speakers in the doors and on top of the dashboard. As an aftermarket unit it's rather too full of gimmicky settings and therefore too many buttons, but the breadth of functionality is in no doubt.
Colours and trim
Lotus offers a fantastically wide range of colours for the Exige S Roadster, encompassing everything from pairs of blacks, whites and greys to vivid blue and bold greens, yellows and reds. Dark grey suits the car particularly well, counteracting some of the outlandishness inherent in the large spoilers and air vents and adding a hint of maturity. If the seats are upgraded to the leather sports units, the interior exudes a minimalist, but high-quality feel.
Parking
Rear visibility is not the Exige's strong suit, and although it's better than that of some similar cars, reversing using the mirrors alone is not always easy. There are no parking sensors fitted as standard, so drivers left without them must simply adapt their spatial awareness to the precise shape and size of the car. Rear sensors can be added at an extra cost, giving a useful amount of peace of mind, especially if reverse-parking is likely to be a regular requirement.
Spare wheel
Emergency tyre repair kit supplied.
Range information
Petrol engine options - 3.5-litre (345bhp). Transmission options: six-speed manual gearbox only. Trim levels: S, S Roadster.
Alternative cars
Porsche Boxster Near-perfect handling characteristics and a fine engine make this the class benchmark
Mercedes-Benz SLK 55 AMG Brutally powerful and stunning to look at, the range-topping SLK appeals to the heart
Jaguar F-Type More expensive than the others here, but popular and British-made
BMW Z4 Range-topping model offers high performance and greater practicality for less outlay