August 2007
Lexus LS 600h LS 600h L
The LS 600h's modest exterior hides some impressive groundbreaking technology
August 2007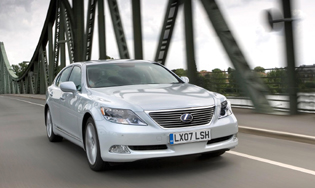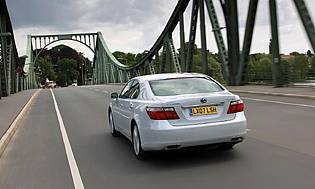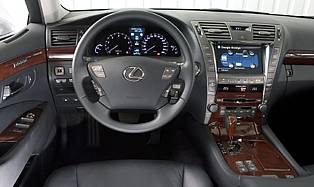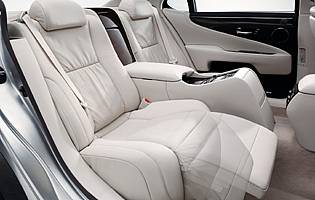 Overall rating

Likes:
Technological tour de force that actually delivers on its maker's many promises
Despite its size, the 600h can be safely hustled along at indecent speeds
Level of refinement is unmatched in this sector
Long wheelbase variant delivers an experience to rival cars costing twice as much
Gripes:
Some minor cabin switchgear looks more at home in something from Toyota
An expensive purchase, and questions remain over the future residual performance of hybrid cars
Lexus exterior design philosophy is unusual, and more generic than the efforts of some rivals
Considerable boot space is sacrificed for the hybrid hardware
For some it's a huge contradiction: how can you justify building a petrol-electric hybrid that's actually a full-blown luxury saloon? The reality is that there will always be demand for premium saloons, so why not make them cleaner, greener and more efficient - which where the Lexus LS 600h comes in.
Lexus, as the luxury arm of the mighty Japanese car maker Toyota, benefits not only from its parent's reputation but also its engineering skills. Toyota's desire to push hybrid technology has had a trickle down effect on Lexus, with the company's GS saloon and RX lifestyle SUV gaining Prius-like technology. Topping this is the LS premium saloon, packing an impressive new petrol-electric system.
The regular LS range is a petrol-only one, chiefly because it's biggest market is North America. The inclusion of a hybrid system is intended to broaden the car's appeal, especially in diesel-centric markets, and to demonstrate that luxury cars can also be responsible in terms of their energy consumption. As such, the LS 600h is being pitched at people who would buy a luxury car regardless of circumstances, but now want something 'green'. And from a fuel consumption angle the car is claimed to offer the performance of a V12 but the economy of a V8, which is all relative in the super-luxury sector.
The way it's all done is extremely complex, but in a nutshell the 600h utilises a slightly enlarged version of the LS 460's petrol V8 engine, and combines this with an electric motor, various boxes of electronic tricks and a battery pack. At low to medium speeds, the car can run on electric power alone, although at normal speeds the V8 is the primary source of power. The electric motor and associated gubbins act as an assistant - allowing above average levels of acceleration and performance when necessary.
Another clever element of the system allows for the engine to switch off during deceleration, which means fuel consumption is reduced. The car's electric motor then acts as an energy collection device, and the recovered energy is stored by the battery for future use. All the while, the car's continuously variable gearbox (CVT) ensures that gearshifts are smooth and efficient. It's good enough for you to ignore the manual override option.
Our verdict on the Lexus LS 600h LS 600h L
It would be easy to dismiss the 600h as nothing more than a token gesture for rich environmentalists. To do so is to miss the point; with this car Lexus has proven that you can significantly reduce consumption and emissions without sacrificing performance and refinement. As long as luxury saloons exist people will buy them. If their environmental game can be raised by the application of clever technology, the prospect of smaller, more affordable cars also benefiting is a real one. Some diesel cars in the 600h's class come close in terms of CO2 emissions, but diesel hasn't been embraced with any great enthusiasm in North America and the Far East - two big markets for Lexus and the luxury saloon sector in general. As such, it's understandable to expect Lexus to pursue the petrol-hybrid route - a task it's excelled at.
Costs
Despite the car's green credentials, it is an expensive purchase. Pitched against flagship limousines from the likes of Audi and Mercedes, it's in good company price-wise. However, running costs should be more agreeable thanks to the 600h's modest CO2 and fuel consumption figures. When compared to V12 petrol rivals this Lexus performs well, although diesel-engined rivals run the Lexus close.
Space and practicality
For the best of everything, the long wheelbase L specification car is the one to go for. With an extra 120mm for its wheelbase, the focus is most obviously on rear occupant comfort. The standard car hardly forces you to slum it, though. There's enough space for two large adults in the back, while in both 600h variants front seat occupants should never feel cramped. At both ends of the car, you're separated by a wide centre console, which offers a considerable amount of storage space. The car's glovebox and door pockets also prove useful. The 600h's boot is, in contrast, a little disappointing. Rated at only 330 litres, space has been sacrificed for some of the car's hybrid mechanical parts.
Controls and display
Clear, intuitive displays and conventional controls have been a Lexus trademark since the brand's inception, and the 600h is no different. The car's main dials are easy to read and the touch-screen used for sat-nav, audio and trip computer functions is immediately intuitive. Minor controls are sensibly placed, the conventional auto gearlever is straightforward and there's the inclusion of voice control for selected applications to make life easy when you're driving.
Comfort
Lexus engineers are said to have worked very hard to reduce road noise from entering the car's cabin, and the result is a hushed interior in all scenarios other than extremely hard acceleration. As you would expect, the car's seats are sumptuous and cosseting. Electric adjustment allows for a multitude of settings, while leg, hear and elbowroom fore and aft is excellent. Opt for the L-spec car and there's increased legroom plus the option of a Relaxation Pack in the back. The car's only cost option pampers in the extreme, boasting electric reclining seats, thigh and leg support for the left-hand chair plus a massage function. Separate DVD player and climate control operation is contained in a fixed centre console
Car security
The 600h might be a high value car, but thanks to its modest exterior it's unlikely to draw the same attention as, say, a BMW 7 Series. Although you'll likely be able to slip past most people unnoticed, you do get a comprehensive anti-theft and immobiliser package for when the car is left unattended. The LS is also equipped with laminated side glass, which is good for safety and should also make it harder for thieves to gain entry by force.
Car safety
The LS 600h is very much a flagship car for the Lexus brand, and as such packs a serious technological punch. This is reflected in the depth and abilities of the car's safety systems. In essence, the usual features (ABS, traction control) are supplemented by intelligent systems designed to monitor road conditions plus driver alertness and predict and help the driver avoid a collision. For instance, seat belts pre-tension, the power steering assistance increases to help with sudden direction changes and a forward looking sensor can detect obstacles and alert the driver. Factor in all-wheel drive plus twin front, side, curtain and rear airbags plus knee airbags at the front and you have every right to feel comprehensively protected.
Driver appeal
Lexus products aren't noted for their driver-focused appeal, as the bias is usually skewed more towards luxury. However, the LS range can be driven briskly - and the experience is enjoyable. This situation is much improved with the 600h, thanks in part to the car's all-wheel drive system plus the petrol V8 and electric hybrid partnership. Considerable torque is available almost from rest, making rapid acceleration both possible and impressive. Once in motion, acceleration and general responsiveness is up there with the sports car fraternity. It's an agile car too, and can be driven with considerable enthusiasm. Refinement is also top-notch, as when assuming its usual role of a wafting limousine the 600h is quiet and absorbs bumps with sophisticated ease.
Family car appeal
There's no question that this LS could easily double as a family car if space is a requirement, the only question is whether you'd want to use it. The cabin's opulent nature isn't exactly child-friendly, and the modest boot would struggle with both shopping a couple of pushchairs.
First car appeal
Realistically, the 600h is too expensive, big and powerful for a novice driver. In practice, the LS isn't a difficult car to drive, once you've got used to its size and performance.
Quality and image
Among Lexus fans, the brand is held in extremely high regard. Seen as the antithesis of the brash, thrusting brands such as Audi and BMW, Lexus is perceived to stand for maturity and dependability. Regular customer surveys also prove that Lexus and its dealers have got it right: aftersales and service quality is routinely praised higher than other luxury brands.
Accessibility
In regular wheelbase form the LS poses no problems for front and rear seat occupants. Doors open wide and headroom is generous. Opting for the long wheelbase 'L' variant gives you an extra 120mm in the wheelbase, which means rear seat passengers get even more room. At the rear, the car's boot opens and closes electrically, meaning you don't have to struggle.
Stereo and ICE (In car entertainment)
It would be easier to list what the car's entertainment system doesn't do, as the flagship hybrid LS receives the full-house Mark Levinson treatment. This branded audio package is a feature of all top Lexus models. Essentially, you get a DVD disc changer plus an independent player for the rear and flip-down screen, 19 speakers, touch screen display including sat-nav and Bluetooth telephone connection and a voice control function. It all works fantastically well, with the touch screen interface proving immediately intuitive. Remote controls on the steering wheel cover the basics.
Colours and trim
Like with any Lexus LS, the 600h looks best in lighter exterior colours, as these do a better job of flattering the car's large expanses of sheet metal. And for such a big car, even white looks good. On the inside, it's the usual Lexus treatment: lots of glossy but convincing wood trim, sumptuous leather upholstery, and tasteful chrome detailing.
Parking
Although a big car, the LS comes with a colour reversing camera - the output is displayed on the sat-nav screen. It's not easy to trust it at first, but with practice the view does become useful. Of the act of parking itself, the car's steering is very light at low speed, and the gearbox and throttle are both very smooth in their respective actions. The view fore and aft is also good, which promotes confidence when in tight spaces.
Spare wheel
Full size spare fitted as standard.
Range information
Petrol engine options: 4.6-litre (375bhp) V8 unit; 5.0-litre (389bhp) V8 with Hybrid Synergy Drive rated at 221bhp - combined power rating of 439bhp. Transmission is an eight-speed automatic transmission as standard and eight-step continuously variable transmission (CVT) for the 600h. Trim levels: LS460, 460 SE and 460 SE-L plus 600h and 600h L. Long wheelbase option reserved for the 600h variant.
Alternative cars
Mercedes-Benz S-Class As a diesel it's frugal in conventional terms, but can't match the 600h's performance
BMW 7 Series Techno-heavy Seven is an acquired taste, and it comes close to the Lexus on green issues
Jaguar XJ Good value luxury saloon comes with a frugal diesel. Is cheaper but not as luxurious as the LS
Audi A8 Comparable to the LS in terms of driving dynamics, otherwise a conventional alternative