November 2015
Lexus GS F
Deeper front bumper marks out GS F from standard car
November 2015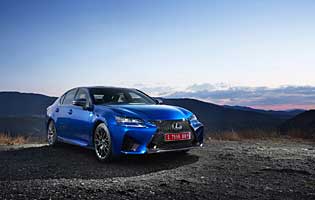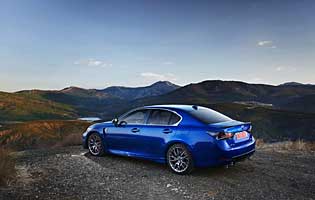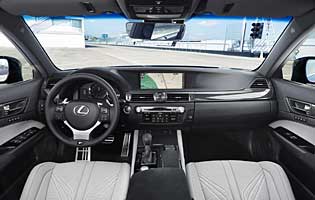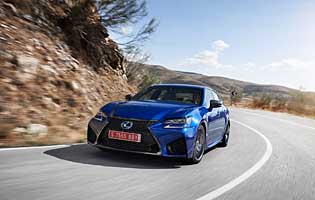 Overall rating

Likes:
Discreet but sporty exterior is appealing
Responsive and engaging V8 engine
Impressive handling and body control for a car of this size
Usual high standard of Lexus quality
Gripes:
Automatic transmission is smooth but can be sluggish to respond at times
Multitude of settings require some acclimatisation
Less performance and efficiency than key rivals
Performance sub-brand lacks recognition of rival products
Premium brand Lexus is in the middle of significant changes, aiming to build its reputation in Europe with a new visual style and exciting products. As a part of this it has introduced a high performance variant of the medium saloon GS model for the first time, creating the GS F and a rival to German performance saloons.
The GS plays an important role in the current Lexus range as it provides competition for the brand in the crucial medium sector, as well as one of the key cars promoting its hybrid powertrain technology. However the brand is looking to shed some of its conservatism with more exciting models and a stronger design theme.
Lexus introduced its performance 'F' brand in 2009 with the IS F and followed this up with the LFA and RC F. Now the GS F is the fourth F model to join the range, and as with its counterparts it ignores the current trend for turbocharged efficiency and instead uses a large capacity naturally aspirated V8 engine, in this case shared with the RC F coupe.
Many of the mechanical enhancements are also shared with the RC F, including the eight-speed automatic transmission which is revised for this application, as well as the electronically-controlled differential which includes torque vectoring. The GS F also offers four driving modes, each of which affect steering, suspension, powertrain and the behaviour of the ESP system.
Visually the GS F is easy to distinguish from the standard car on account of the unique 20-inch alloy wheels, bigger bumpers with larger air intakes, discreet side skirts and a small rear spoiler finished in carbon fibre. There are more enhancements on the inside too with standard sports seats and unique instruments, as well as a extra leather and Alcantara.
Our verdict on the Lexus GS F
The Lexus GS F fulfils the key criteria for a premium sports saloon. It's fast, effortless, fun to drive but also relaxing, spacious and refined. By not joining in with the power war taking place between its rivals the GS F is not as outright fast but the engagement of its naturally aspirated engine will make a worthwhile trade-off for some buyers.
Costs
The downside of sticking with a naturally aspirated engine compared to turbocharged rivals is higher fuel consumption and emissions levels, which makes the GS F a more expensive option. Servicing and insurance costs are likely to be at the high end of the scale too.
Space and practicality
Although the GS F is not designed to be overly practical it does make good use of its footprint. Up front the space on offer is good, although driver and passenger are a little enclosed by the wide transmission tunnel. The same goes for the rear, with space for two adults in complete comfort although three can be accommodated with ease. Boot space is also impressive.
Controls and display
The GS F has a 12.3-inch display screen as standard which gives clear information to the driver, while the main instruments are also clear and attractively designed. The main control system is Lexus's unique mouse-like controller, which can take a little getting used to but generally works well.
Comfort
Sports seats as standard give driver and front passenger plenty of scope for getting comfortable, while noise levels are kept very low due to the impressive sound insulation. Despite the bigger wheels and tyres the ride comfort is generally very good and road noise is kept in check. Overall the GS F provides an impressive level of comfort, particularly for a high performance machine.
Car security
All GS models come with a twin-sensor alarm and immobiliser, double-locking doors all round and VIN-etched windows as standard. For a car this expensive adding a vehicle tracking device would be a worthwhile investment.
Car safety
A standard GS F offers a good level of safety but the GS F goes beyond this thanks to its increased grip from larger tyres and bigger brakes. Also the GS F has additional chassis strengthening which is primarily designed to improve handling but will also have benefits in respect of crash performance.
Driver appeal
The key appeal of the GS F's driving experience is its ability to provide both comfortable, relaxing transport and fun depending on the mood of the driver. In normal conditions the automatic gearbox, electronically adjustable suspension and responsive V8 engine make it barely different to a standard GS in terms of ease of driving. Conversely with the car in its more aggressive settings it delivers rapid performance and very capable handling. For a car of its size it is impressively agile, stable and responsive, with the naturally aspirated engine being a particular highlight.
Family car appeal
As a family car the GS F has a great deal going for it, with useful interior space, a good boot and a sturdily-built interior. However a standard GS would make for a less thirsty family car, nor can the GS F accept three child seats across the rear.
First car appeal
The GS F is too fast and too expensive for a novice driver, while any newly-qualified driver lucky enough to afford one may then struggle to get suitable insurance for a car such as this.
Quality and image
Lexus has built its reputation on producing high quality cars and the GS F continues in this vein. Inside and out the finish is excellent with high quality materials used throughout. One point to note is that the GS F adds its own interior elements such as carbon fibre trim and Alcantara, some of which could be integrated into the rest of the cabin in a better fashion. Lexus has a good reputation for built on its quality and reliability, although its performance brand F does lag behind a little in terms of recognition.
Accessibility
Climbing aboard the GS F is the work of a moment, with large doors front and rear. Unlike many sports cars the GS F's saloon bodystyle means the roof is at a sensible height so passengers do not have to duck too far in order to get inside. The same goes for the boot, which can be operated remotely and opens high and wide to reveal a generous load area.
Stereo and ICE (In car entertainment)
As standard the GS F comes with an impressive audio system including satellite navigation, DAB radio and Bluetooth for audio streaming and hands-free phone connection. Sound quality is excellent, although there is also an upgraded Mark Levinson system which increases the number of speakers and ups the sound quality still further, although boot space is slightly reduced in order to accommodate the bigger amplifier.
Colours and trim
Finished in the signature blue the GS F is shown in its best light; discreet muscle with its bigger wheels and tougher appearance, but still subtle enough to blend into traffic. Brighter shades, particularly white, will probably not suit its exterior. Inside there is just a smattering of colour flashes and aluminium amongst the dark trim, although the dash top is covered in Alcantara which some may find of questionable taste.
Parking
The GS F is a big car but not so big that parking becomes a challenge. As standard the GS F comes with both parking sensors front and rear plus a reversing camera, all of which makes getting it parked as easy as possible.
Spare wheel
Emergency tyre repair kit supplied as standard, space saver spare wheel optional extra.
Range information
Petrol engine options - 2.5-litre hybrid (220bhp); 3.5-litre hybrid (340bhp); 5.0-litre (471bhp). No diesel options. Transmission options: CVT on all models except GS F which has eight-speed automatic. Trim levels: Executive, Luxury, F SPORT, Premier, F.
Alternative cars
BMW M5 Fast, efficient and well-specified, the M5 is also a little clinical
Mercedes-AMG E 63 Discreet yet outrageously powerful, impressive dual role ability
Audi RS6 Estate-only Audi is brutally fast and hard to miss
Maserati Quattroporte Elegant and attractive sporting saloon has desirable badge but big price tag to match