December 2013
Lexus GS 300h F Sport
More aggressive styling details mark the F Sport out
December 2013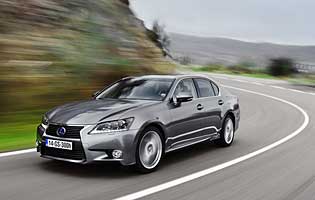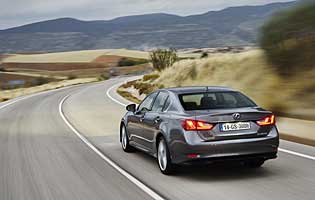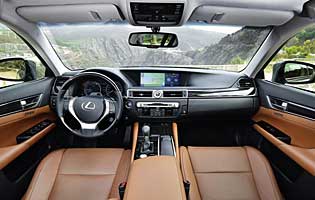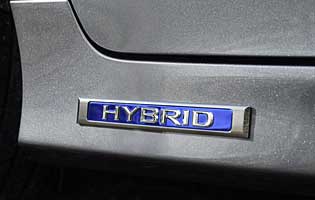 Overall rating

Likes:
Smooth driving experience from hybrid petrol-electric drivetrain
Direct steering has enough weight and feedback to feel natural
Huge list of luxurious standard features
Comfortable ride quality even on large wheels
Gripes:
Electric-only running only possible for relatively short bursts
Continually Variable Transmission creates excess noise under acceleration
Doesn't feel as fast as its performance figures suggest
Currently still lacks the mass badge appeal of its German rivals
Lexus can claim to be the modern pioneer of the electric hybrid car. Fully-enclosed hybrids, like this addition to the GS range, occupy territory that Toyota Motor Corporation, which owns Lexus, has been familiar with for decades. As such the expectations are rightly high for each new version that appears, but there's something different about the GS 300h's approach.
The GS 300h approaches the hybrid market in a different way to the existing GS range hybrid. The 450h is the flagship product, with a silky-smooth V6 engine and a focus on both power and luxury; the refinement and comfort benefits of the part-electric drivetrain. The GS 300h targets the opposite end of the scale, aiming at cost-focused business users who might well choose to jump at the relative luxury of a Lexus hybrid when compared to diesel aternatives.
There are also tax advantages that the GS 300h can utilise, making it significantly cheaper in that respect over a three-year period. For the UK, special trim level combinations have been chosen to maximise value for money and cost-effectiveness, which, when combined with the inevitable and undeniable luxury of a properly engineered Lexus hybrid system, makes a potent combination for those more used to clattery diesels.
Potential buyers will not think the 300h is in any way a cost-cutting exercise, though, because the standard equipment list reads more like that of a range-topper. In its quest to steal more sales from what it sees as the default German choices, Lexus has aced the exact area where its rivals often skimp, providing lots of luxury features that are in many cases expensive options on the competition, as well as a lifetime guarantee on the hybrid batteries.
This model marks a significant step forward from the model it replaces in the UK, the GS 250. In fact, the 250 may never have been sold in this country at all if the hybrid system had been ready for commercial deployment at the time the car first came to these shores. The 300h is vastly more efficient, normally quieter around town and benefits from greater torque, not to mention the potential to run on electricity only for short distances.
Our verdict on the Lexus GS 300h F Sport
The GS 300h is an extremely convincing option from a financial standpoint, especially for business users who will not suffer the inevitable depreciation of a new privately-owned car. The fact that in tandem with this Lexus has been able to maintain its famed smoothness, refinement and reliability is deeply impressive. In F Sport trim it's not without talent from behind the wheel, either, so as a complete package the GS 300h is arguably the best GS ever made.
Costs
Lexus holds a real trump card in the GS 300h's running costs. It avoids the benefit in kind tax penalties suffered by diesels and records extremely low emissions in basic SE guise. This model isn't quite so cost-effective, but still offers as good or better running costs compared to even its diesel-electric hybrid rivals. Fuel economy should stay relatively constantly high if used properly, no matter what the driving environment, but it does make the 300h sensitive to driving style.
Space and practicality
The hybrid technology has to go somewhere, and the GS is rear-wheel drive anyway, so boot space is restricted in comparison to similarly-sized front-wheel drive hatchbacks. Compared to its direct competition, though, including several first-generation hybrid models from rival companies, the luggage space sacrifice is no greater. The cabin has plenty of storage spaces for loose change, paperwork or documents.
Controls and display
The part-digital instrument cluster is a fine example of how to do it. Depending on which drive mode the car is in, the left-hand dial changes from a live efficiency gauge to a clear white-on-black rev counter. It's sharply done and the pixels are well hidden. The 12.3-inch widescreen display in the dashboard is equally handy, being able to display two separate sets of information at once, like sat-nav mapping and efficiency data. The joystick-style controller takes some getting used to, though.
Comfort
All four main seats are comfortable places to sit, with the front pair benefitting from multi-way electrical adjustment and excellent back support. Being thickly padded and covered with soft, luxurious leather they convey a real sense of refinement and luxury. These are actually the sportier seats reserved for the F Sport, with the Luxury and Premier models using an even more cosseting design.
Car security
The GS's alarm will sound if any of the sensors detect movement or attack, whether internal or external. A cutting-edge immobiliser makes it near-impossible to steal the car without either lifting it onto a truck or stealing the proper key first. The VIN number is visible, and there is also VIN etching on the windows. The two-stage central locking allows users to simply lock the doors, or lock them with deadlocks to prevent them being opened from the inside.
Car safety
An incredible 10 airbags grace the interior of the GS by default, regardless of specification. In addition there is almost every electronic active safety aid that Lexus could think of, covering everything from tyre pressure monitors to blind spot monitors and Rear Cross Traffic Alert, which checks for crossing traffic when reversing from parking spaces or out of driveways. The GS is extremely well equipped with safety systems.
Driver appeal
Lexus buyers derive their driving enjoyment from refinement, technology and a sense of quality. The GS 300h impresses on all counts, even if its four-cylinder petrol engine doesn't feel or sound as creamy smooth as the GS 450h's V6. In town the electric motor cuts in regularly, saving fuel, keeping progress quiet and reminding the driver they're driving something genuinely advanced. At speed the F Sport model displays impressively direct steering with a degree of feedback, too.
Family car appeal
Families will find this an extremely capable, relaxing and efficient family car, even if it does give something away in terms of boot space to the GS 250 it replaces. Plenty of rear legroom means even families with adult children will find it spacious enough, and Isofix child seat mounts at the outer rear seats mean that youngsters can be secured safely. The down-side to this car is that its premium leathers and trim inserts feel vulnerable to grabbing and scratching hands, as well as spillages.
First car appeal
Lexus has become known for its appeal to older drivers who prioritise reliability and refinement. That said, the F Sport trim level has been introduced to bring younger eyes towards the brand by way of sharper styling details and a more involved driving experience. But by younger, Lexus means business users in their 30s, and there really is no case for the GS 300h as a first car. It's simply too big, too powerful and too expensive to be appropriate for first-time buyers. Obtaining insurance would be impossible, too.
Quality and image
Lexus' dominance of British reliability and ownership satisfaction surveys is clear evidence that, once money has changed hands, the company looks after its customers. The GS has historically been very reliable and its owners can't rate it highly enough for the things that really matter to them. Hands-on evidence from inside the GS 300h is that none of that quality has been lost, with firmly-mounted trim and premium materials - expected from a trim grade that adds thousands to the base model's price.
Accessibility
Four generously-sized doors allow easy access to each of the seats, and helpfully for the rear passengers the roof line stays high through the important points of the rear access channel, reducing the chance of hitting heads on the way in or out. The abundance of rear legroom also helps, giving people a large area for their feet, and specifically to step into. The front seat, however, as part of its electric adjustment, does retreat rearwards when the key is removed from the car, reducing legroom for anyone left in the seat behind.
Stereo and ICE (In car entertainment)
The stereo has an interesting platform through which to work. A huge display screen shows media information readouts very clearly, and the actual controls are a mix of buttons and a unique 'joystick' that controls a mouse pointer, like on a computer. It can make some stereo functions a little more awkward than they should be to use, but the numerous speakers spread throughout the cabin make up for it with excellent sound. Bluetooth, USB and auxiliary input compatibility are all supported in addition to CDs and DAB radio.
Colours and trim
As befits a car of this standing and its target audience, the colour choice is extremely predictable. There are two blacks, a white, a silver and a dark grey, plus red and blue. This F Sport model, with its larger wheels, looks good in dark grey, and while white is relatively flattering it somehow looks a little undignified. The interior trim is a mix, with a rather bland dashboard facing sumptuous, soft leather seats. The overall impression is of a very Japanese interior, reflecting its precision and neatness.
Parking
This grade of GS has front and rear parking sensors, having the effect of shrinking its dimensions and giving more confidence to the driver. Ultimately this is a medium-sized executive car and won't fit into every space, but the parking sensors and reversing camera do go a long way to allaying fears of low-speed scrapes. There is no automatic parking function, but large door mirrors help to give a good view to either side and the GS is not as difficult to park as some people may fear.
Spare wheel
Space saver spare wheel fitted as standard.
Range information
Petrol engine options - 2.5-litre hybrid (220bhp); 3.5-litre (335bhp). Transmission options: CVT automatic gearbox. Trim levels: Luxury, F Sport, Premier.
Alternative cars
Mercedes-Benz E-Class Diesel-electric hybrid is extremely efficient, but less smooth and refined
BMW 5 Series ActiveHybrid petrol-electric system is a performance aid that also boosts efficiency
Audi A6 Popular diesel models are good, but cost more in company car tax and can't match the GS's refinement
Jaguar XF Stylish and well equipped, but reportedly unreliable and noisy by comparison