April 2005
Lexus GS 300 SE-L
Lexus design direction is pleasing to the eye
April 2005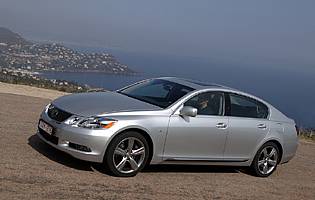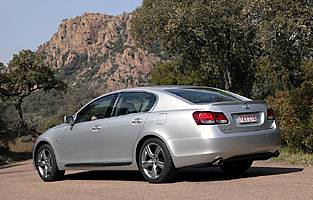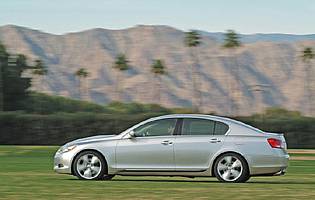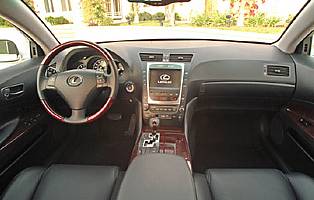 Overall rating

Likes:
Understated exterior design is a quiet classic
Equipment levels unmatched in this sector
Dealer network widely regarded as best bar none
More distinctive than usual executive suspects
Gripes:
Cabin comfortable but conventional
Drive-by-wire brakes lack feel and feedback
Steering seems rather too light
Appeal limited by petrol-only range
Despite being a huge hit in America, Lexus's GS model has never quite taken off here the way the Toyota-owned company's smaller IS model has. But the latest generation of GS ups the ante considerably, providing executive buyers with a genuinely compelling alternative to the BMW 5 Series, Audi A6 and Mercedes-Benz E-Class. Only the ongoing lack of diesel powerplants will continue to hold sales figures in check.
The first car to fully express Lexus's 'L Finesse' design approach, the GS immediately strikes you as a very modern vehicle. Compared to the exaggerated styling gestures of BMW and Audi's offerings in this sector, the GS seems understated but sharp, sleek and classic. It should age exceptionally gracefully, a key Lexus trait that is rarely commented upon.
Inside things are marginally less impressive, if only because layout, design and ambiance are so definitively 'upper executive' that there is little that surprises. Nevertheless, Lexus's renowned build quality and attention to detail remains hugely impressive. Panels fit perfectly, switches operate faultlessly time after time and the generous provision of equipment marries with the overall design superbly.
It's also worth remembering that this is a rear-wheel-drive vehicle, so offers a good deal of driving pleasure as well. The GS never feels as agile or balanced as a 5 Series or as grippy as an A6, preferring instead to stay smooth and silent even on poor roads at high speeds. V8-engined GS430 models make full use of their massive power output, but V6-engined cars are only marginally slower and feel more at home in restrictive traffic conditions.
On a like-for-like basis, the GS makes sense, plain and simple. As well as undercutting rivals' prices, the GS matches them for space and comfort and comes with much more equipment as standard. Specifying a competitor to the same level usually involves spending hundreds or even thousands of pounds, which should be factored into any buying decision. If only there was a capable diesel - though the introduction of a petrol/electric hybrid model badged GS450h is planned.
Our verdict on the Lexus GS 300 SE-L
In a rational world, the Lexus GS would sell in greater volumes than it does at present. Executive buyers remain hugely badge-conscious though and naturally gravitate towards premium German marques. Those with a more free-thinking nature will appreciate the GS as an equally capable, better value alternative.
Costs
Servicing is frequent with a 'Health and Safety Check' required every 10,000 miles with major servicing required at 20,000 mile intervals. But bear in mind that complex vehicles such as these deserve to be treated properly and Lexus regularly tops polls as the most reliable manufacturer of all. The lack of a diesel powerplant and relatively high carbon dioxide emissions will hurt business users, but this is still a lot of very classy car for the money.
Space and practicality
Numerous storage areas are dotted around the cabin and even if they don't seem hugely innovative they are useful for keeping receipts, files and so on. The boot offers a healthy 430 litres of carrying capacity. Cup/bottle holders seem curiously ineffective.
Controls and display
If there is any criticism of the GS it is that the instrumentation lacks the eye-pleasing capabilities of an Audi or Jaguar. Wooden elements are unconvincing perhaps because of the thick layers of lacquer applied to them. Without lights in operation, dials look dull. Cabin lighting is cleverly sequenced but the overall effect still feels inferior to an Audi or an expensive Volvo even though fit and finish is as close to perfect as it's possible to get.
Comfort
Wind noise in particular is notable for its almost complete absence from the cabin. Similarly engine noise is effectively suppressed. Some might even prefer a little more engine noise, as it only becomes noticeable at higher revs. Front seats are adjustable eight different ways and SE models and above come with built-in ventilation functions.
Car security
The Smart Entry system does make life easier once you have become accustomed to it and also removes the need for a conventional manual ignition system. Security features include an alarm, immobiliser and double door locking, all of which help contribute to the GS's competitive insurance ratings. Independent tests have rated Lexus security systems among the best on numerous occasions.
Car safety
Exceptional safety comes as standard with ABS with Electronic Brakeforce Distribution (EBD), Brake Assist (BA), Traction Control (TRC) and Vehicle Stability Control (VSC). Passive safety systems include 10 airbags, including knee airbags for driver and front seat passenger and front and rear curtain shield airbags. All models except the entry level GS300 also feature rear passenger side airbags. Front and outer rear passenger seatbelts have pretensioners and force limiters and there are Isofix attachments. The GS430 model is the first to deploy Lexus's Pre-Crash Safety System. It's an option on the GS300 SE-L and worth the extra outlay.
Driver appeal
Favouring smoothness over sharpness, the GS is a consummate motorway mile-muncher but not really a driver's tool. The sheer power of the GS430 makes it seem more exciting, but if you are sensible enough to choose a Lexus in the first place, it's unlikely you will be silly enough to drive a large executive car as if it is a roadster. The gearbox can be shifted by the driver, but the full automatic mode is so well sorted out, it is rarely worth the extra effort.
Family car appeal
Put simply, the GS is too nice for families. The company's RX300 SUV is a better bet at a similar price with more room and family-friendly features. The saloon shape and air of quiet refinement mean that this is really for mature adults only. Kids might come in handy to demonstrate some of the more advanced interfaces to you, though.
First car appeal
If you're in a position to buy a GS as a first car, you really are a lucky bunny. But there are many, many more appropriate cars out there. Climbing straight into a vehicle with well over 200bhp on tap is not only inadvisable for safety reasons, but for insurance reasons, too.
Quality and image
Despite taking a brief nosedive when it revealed that Alan Partridge is a big fan of 'Lexi', Lexus's reputation remains rock solid. Though perceived as less exciting than other premium marques, it outdoes all of them in reliability ratings and levels of customer satisfaction. Lexus buyers tend to stick with the company. The GS's good looks should help to raise that reputation by a couple more points.
Accessibility
Layout is of the conventional saloon type, so there are few surprises. The GS can be pressed into service as a limousine at a pinch. The wide bottoms of the rear doors make climbing into the back straightforward despite the coupe-like roofline, which also fails to have much effect on headroom. Realistically this is only a four-seater. Rear-wheel drive means that a sizeable transmission tunnel runs the length of the vehicle and intrudes into the cabin.
Stereo and ICE (In car entertainment)
The standard 10-speaker sound system with in-dash six-disc CD player is more than enough for most users. A longstanding arrangement with the well-regarded Mark Levinson audio company means that at SE-L level and above receive an even more advanced 350 watt 14-speaker hi-fi system. At SE grade and above, an effective satellite navigation system comes as standard.
Colours and trim
Car makers routinely refer to their 'generous' specification but in the case of the GS it is fully justified. Even entry-level GS300 includes Smart Key entry and push-button start-up system, speed-sensitive electric power steering, cruise control, sequenced interior lighting with LED technology, leather-trimmed multi-function steering wheel, advanced automatic dual-zone air conditioning, eight-way electrically adjustable front seats, tyre pressure warning system, Adaptive Front-lighting System, 17-inch alloy wheels, Bluetooth connectivity and an eight-inch touch-screen display. There are ten external colours to choose from.
Parking
Despite a fairly large rear overhang, the light steering and surprisingly good all-round visibility makes parking fairly easy - provided you can find a suitably-sized bay for this large vehicle. Some grades have the Lexus Parking Assist system, which uses a rear-view camera linked to the central display screen to provide extra guidance while reversing. Interestingly, the system's sensors operate in line with the car's steering angle.
Spare wheel
A steel space saver spare wheel is supplied as standard.
Range information
Two engine options - 3.0-litre (245bhp) petrol and 4.3-litre (279bhp) petrol. Both feature an electronically-controlled close-ratio six-speed automatic transmission featuring sequential shift mode. No conventional manual is offered. Four model grades for the UK - GS300, GS300 SE, GS300 SE-L and GS430 (V8 only).
Alternative cars
BMW 5 Series Drive enthuses those not put off by styling
Audi A6 Large but nimble thanks to all-wheel-drive
Jaguar S-Type Later models tempting with twin turbodiesel
Mercedes-Benz E-Class Badge helps sell dynamically disappointing car