April 2011
Lexus CT 200h SE-L
Familiar Lexus nose leads into sculpted bonnet
April 2011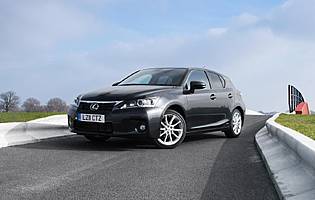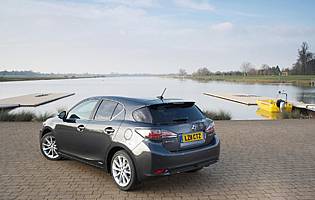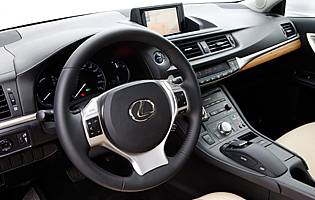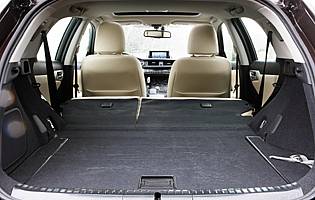 Overall rating

Likes:
Impressive economy and emissions performance
High quality cabin
High level of standard specification
Good all-round driving experience
Gripes:
Exterior design is a little clumsy in places
Sporty drivers may be disappointed
Single engine and gearbox option
Sensitive to colour choice
With the largest range of hybrid models of any manufacturer, it was only a matter of time before Lexus extended the desirable technology down into smaller segments of the market. The CT200h not only brings the hybrid drive system to a wider audience but also opens up the Lexus brand to compact premium buyers.
Lexus has arguably come late to the compact premium segment, as it is an area of the market that its rivals have been succeeding in for a number of years. However, it has beaten those same rivals by being the first hybrid in the segment. As ecological issues are grabbing the headlines, its hybrid-powered 4x4 has been wheeled into the marketplace. There's more to its introduction than fashion however.
The Lexus brand has always offered high-tech innovations in whichever size vehicle it has been applied to, so its complex petrol-electric combination is more about logical product development than jumping on a bandwagon. Although rival manufacturers have hybrid models on sale, Lexus enjoys more than a decade of experience which is reassuring to the buyer and arguably gives a technological advantage.
The true innovation is under the skin however, where a system similar to that found in the hybrid Toyota Prius is employed. In this installation, a four-cylinder petrol engine is combined with an electric motor to drive the front wheels. This makes it not only the first two-wheel drive Lexus hybrid but also the only car Lexus makes with front-wheel drive.
Just as with other Lexus hybrids, the CT200h has a constantly-managed drive system that can operate on purely electric power, petrol only or a combination of both. This is managed through an automatic gearbox, while the driver also has a choice of three operation modes which vary the throttle response and engine performance to suit.
Our verdict on the Lexus CT 200h SE-L
The CT200h ploughs a distinct furrow in that it aims to achieve very high emissions and economy performance with less emphasis on a sporting driving experience. The efficiency of the powertrain yields excellent results, yet the driving experience is still good, if not as fulfilling as some of the competition.
Costs
Although the initial purchase price is not to be sniffed at, the running costs are likely to be spectacularly low for a car in this segment. As well as an absence of vehicle excise duty and congestion charging fees, the impressive fuel economy will no doubt save many hundreds of pounds with increased mileage.
Space and practicality
With compact hatchback dimensions the CT200h delivers a more than respectable amount of cabin space, with front and rear passengers able to relax with room to spare. Oddment storage is also impressive with useful storage areas dotted throughout the cabin.
Controls and display
As expected the CT200h has an exemplary control layout, with the mouse-like control device to operate the major systems making life very easy. The central display also keeps the driver fully informed as to the performance of the hybrid system.
Comfort
Even on the largest alloy wheel size the CT200h rides with reassured comfort, soaking away the worst road imperfections. Noise levels are very low indeed, and although the engine is more vocal when extended, most of the time there is very little to disturb passengers.
Car security
Remote locking, an alarm and an immobiliser are all fitted as standard across the range to give a good level of security. Lexus models also have a good reputation for overall high standards of intrusion prevention, and the CT200h is likely to continue in this vein.
Car safety
Lexus has gone to great lengths to ensure that the CT200h has a stiff and therefore safe structure, as well as the usual complement of airbags and safety systems. The Vehicle Dynamic Control system on all Lexus models is one of the most capable systems on the market, and also adjusts depending on the driving mode selected.
Driver appeal
It is easy to imagine that with a focus on economy and emissions performance that the driving experience of CT200h is relatively mundane, but even a short drive reveals this not to be the case. Like any Lexus it is undemanding to drive with accurate steering and responsive controls. Driven in Eco mode the throttle requires a firm push to deliver brisk acceleration, but in Normal or Power modes the performance is linear and more than adequate despite the modest performance figures.
Family car appeal
For a car of its size the CT200h can perform most of the duties required of a family car. The high quality audio system should keep most children entertained and the ability to operate in silence in traffic helps to lower stress level.
First car appeal
The CT200h is relatively expensive for a first car, although it is a desirable premium hatch and is very undemanding to drive and would therefore have some appeal to new drivers.
Quality and image
With a reputation built on high quality, the smallest Lexus maintains this with an excellent standard of fit and finish throughout. Although there are some minor plastics which would not be seen on more expensive models, the occupants are left with a good sense of wellbeing.
Accessibility
With five doors as standard the driver and passengers can easily climb aboard. Those in the rear have to negotiate a slight slope to the roofline but this would only affect the very tallest of rear passengers. Access to the boot is excellent too, with a wide tailgate.
Stereo and ICE (In car entertainment)
The long-running relationship with Mark Levinson means all variants of the CT200h come with an impressive audio system including multiple speakers and high quality digital processing. The CT200h also benefits from a new digital amplifier that uses much less power than before, all with the aim of maximising efficiency.
Colours and trim
As with any Lexus there are a good variety of trim options, and brighter shades help to avoid an overly-dark outlook. The exterior is more sensitive to colour choice - dark colours can leave it looking a little anonymous, while brighter shades help to give it greater presence.
Parking
With standard parking sensors and a full guidance system on higher specification versions, parking the CT200h is relatively straightforward. Rear visibility is slightly compromised by the shallow rear window, but otherwise the Lexus is undemanding in this respect.
Spare wheel
Emergency tyre repair kit as standard.
Range information
Petrol engine options - 1.8-litre (105bhp). Transmission options: CVT automatic as standard. Trim levels: SE, SE-I, SE-L
Alternative cars
BMW 118d Sporty drive and strong economy, relatively small inside
Audi A3 TDI Classy cabin and refined, decent practicality
Mercedes-Benz B- Class Very practical, strong economy but average driving experience
Volkswagen Golf Bluemotion Strong all-rounder with impressive economy