Range Rover Evoque Convertible review
Roof-down driving is brilliant fun in summer
March 2016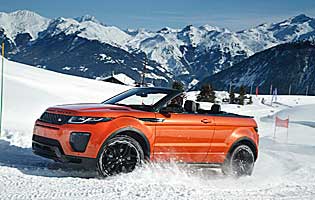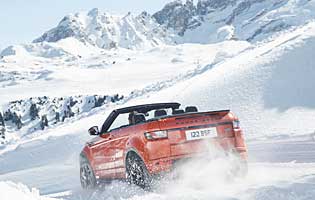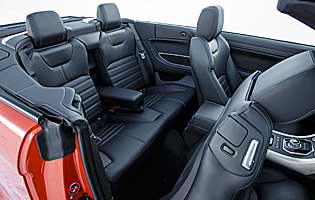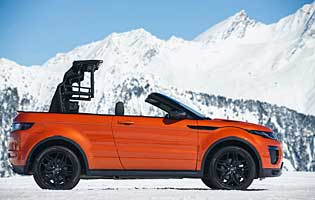 Overall rating

Likes:
Roof-down driving is brilliant fun in summer
The 4x4 system feels unstoppable off-road
Engines and handling are more than adequate
Interior is well-equipped and comfortable
Gripes:
Only four seats and a compromised boot
Non-4x4 convertibles can be bought for much less
Noisy diesel engine takes the edge off the convertible experience
Exterior design takes some getting used to
A convertible was always part of the Evoque's future. From the very first concept sketches, Land Rover was committed to bringing back some sort of open-top motoring - a throwback, in a way, to the canvas roof of decades past. Company bosses hope that buyers choosing an Evoque will seriously consider picking the convertible.

The Evoque has been a huge success for Land Rover. Half a million sales in five years silenced the model's critics, who sneered at its tub-like proportions and supposedly ostentatious design language. While Land Rover is better-known for its Defender and 'proper' Range Rover products, innovation in other market segments is essential for the brand.

And a premium convertible SUV is very much an innovation. Land Rover has identified our current fascination with SUVs as a key opportunity to launch the Evoque Convertible - the kind of car that hasn't ever been mass-produced. With an asking price of around GBP50,000, an utterly brilliant 4x4 system, and a fabric roof, this really is something new.

Externally, the Evoque Convertible looks very similar to its hard-top counterpart. The roofline is virtually the same, giving the car that same hunched silhouette. It's on the inside that the changes are most noticeable - namely the removal of one seat in the rear, making this a four-seater. Boot space has been compromised by the roof mechanism, too.

The unsung highlight of the Evoque has always been its four-wheel-drive capability. The Convertible has a seriously impressive amount of electronically-aided traction when driving off road, making it one of the most convincing 4x4s currently on sale. Despite its looks, this is a capable utility vehicle when it needs to be.


Our verdict on the Range Rover Evoque Convertible
The Range Rover Evoque Convertible is an excellent car. Mechanically, it impresses through rigidity and off-road tenacity. The styling is more divisive, but no other car offers the flexibility afforded by the Evoque Convertible - supreme off-road ability, coupled to roof-down summer fun.