November 2014
Kia Soul EV
The most immediately obvious visual change is the grille area
November 2014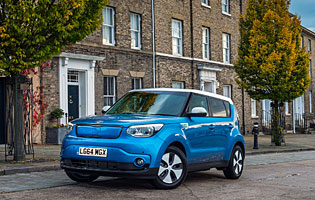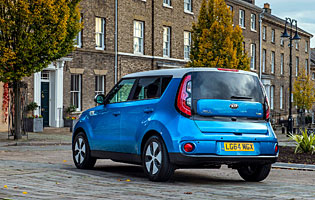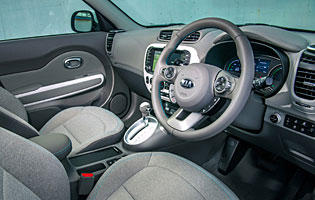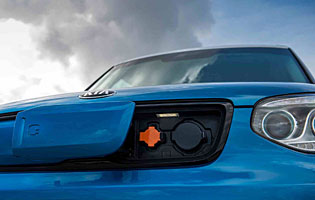 Overall rating

Likes:
Smooth and near-silent electric motor offers punchy performance
Wide electrical compatibility gives maximum recharging options
Clear and detailed readouts simplify the electric power cycle
Comfortable seats offer enough legroom for four adults
Gripes:
Still a relatively small car for the price
Ultimately limited overall range
Boot under-floor compartment no longer available
Extra weight of batteries necessitates slightly firmer ride
Kia has worked with a battery specialist in Korea to develop batteries with an especially large energy density, which allows them to hold more potential range per kilogram of weight. With internal tests proving their reliability and effectiveness, Kia has chosen to launch an all-electric Soul across the globe, with Europe expected to play a key role.
Kia has joined a rapidly increasing number of manufacturers joining the electric race, and the Soul was judged to have the right combination of youthful appeal and technological merit to be the standard bearer. It is also the right size of vehicle for the new, smaller battery cells, with minimal changes needed from the layout of a petrol or diesel Soul.
The batteries are housed in a special flat arrangement that sits almost level with the car's chassis. There is no intrusion into the boot space, and the only change is that the rear footwell floors have been raised by 8cm. The seats have been raised to compensate, and fortunately the Soul's roof line is high enough to accommodate the shift.
Battery technology can only be produced down to a certain price at present, and the Soul EV finds itself among an eclectic mix of rivals, all of whom have gathered at a similar price point. While the Mercedes-Benz B-Class Electric Drive presents a similarly purposed rival, there are also the Volkswagen e-Golf and BMW i3 to consider.
Changes made to the Soul EV to fit its different powertrain include new dial displays, with electric-specific readouts, special eco-friendly interior materials and the sacrifice of the under-floor boot storage found on higher-grade petrol and diesel Souls to provide a tray to store two electric charging cables; for slow and fast charging.
Our verdict on the Kia Soul EV
The Soul EV is a marvellous city car, with more than enough capability both in terms of range and in terms of comfort to cover distances on main roads too. Unlike in the BMW i3, the environmentally conscious interior materials do not compromise the solid look, and the near-silent running of the motor brings its own premium qualities. For many people, the EV could be the best Soul of all.
Costs
The unusually high capacity of the batteries in the electric Soul mean that costs per charge are slightly higher than for some other electric cars - although it can go further per charge, which will be more important to many potential buyers. It is the most expensive Soul to buy, by a comfortable margin, but only costs a few pounds to run for 100 miles based on the price of an overnight charge at home. The seven-year warranty is unique for an EV.
Space and practicality
While the loss of the 31-litre under-floor storage bay under the boot floor may seem like a small loss, it does mean that small items can't be kept out of sight or in a smaller area to stop them rolling or sliding around. The cabin itself has several useful spaces for everyday bits and bobs, and the door pockets are a good size for drinks bottles and paperwork.
Controls and display
Electric car-specific dial readouts are presented in masterful fashion here, with lots of information on show but simplicity in abundance. Drivers can keep tabs on their energy usage and more via the central, colourful interface screen and the smaller unit between the speedometer and the power meter. The graphics and instructions for the sat-nav system are the best anywhere on the market.
Comfort
Overall comfort is reduced slightly by the firmer ride made necessary by the extra weight of the batteries, but the car still deals with sunken manhole covers and potholes with real class, removing the harsh edges from the worst of the road's imperfections. In terms of legroom rear passengers may notice the raised floor pushing their knees upwards, which does affect comfort and quickly becomes unsuitable for older people.
Car security
While this version of the Soul has no fuel filler cap, it does feature a hinged door where the grille normally is, to cover the charging connections. This door locks with the global central locking system, but if left open when the doors are locked, for example when charging, then it does not activate any alarm systems. A Thatcham category 2 alarm helps secure the perimeter of the car.
Car safety
The key concern for many people in terms of electric car safety is the integrity of the batteries, but electric Soul buyers should not worry. The standard car won a five-star rating in the Euro NCAP crash tests, and the batteries have been tested to stringent safety standards before being signed off for production. Airbags and active safety systems are numerous and well-configured to ensure stability.
Driver appeal
As with other electric cars, the Soul EV's appeal comes from how quiet and smooth it is at all speeds, but also how strong its acceleration is once past 20mph. Torque is initially restricted to help protect the drivetrain, but acceleration is significant at moving urban speeds. Driver-selectable modes to help recover more energy help to increase the sense of involvement, and driving the electric Soul quickly becomes an enjoyable challenge of range-maximisation.
Family car appeal
With a convincing theoretical range of 132 miles, the Soul EV has more than enough spare capacity to absorb the daily grind, including taking kids to and from where they need to be. The higher rear floor does impinge on legroom for older children, but smaller sons and daughters will enjoy their higher perches. Standard child seat mounts are present and correct.
First car appeal
The Soul might appeal as a first car thanks to its raised driving position, which inspires confidence, and its funky, youthful styling. Prices range from the very affordable to a level more than double the entry price, though, so its real-world first car appeal will depend on trim level. Insurance will be modest for the EV, but probably beyond the reach of younger buyers looking for affordability.
Quality and image
Making the upholstery from recycled, eco-friendly materials could result in a cheap-feeling interior, especially in a lighter grey finish than British buyers typically favour. It suits the car's personality, though, and in the main the Soul EV feels just about unique enough for its price. Kia's seven-year warranty applies to the electric Soul, which will reassure buyers that it is built to last.
Accessibility
Raising the rear seats for this electric version arguably makes it even easier for rear passengers to hop in and out, although passengers' heads may come closer to the roof line. Front seat occupants will have no objections, with the Soul pitched at a good height to make entry and exit as comfortable as possible.
Stereo and ICE (In car entertainment)
The Soul EV comes with six speakers as standard, connected to a stereo system that features DAB radio, USB and AUX input ports and Bluetooth wireless connectivity. There are steering wheel-mounted audio controls, and all media functions can be displayed on the eight-inch touch-screen interface. There is no CD player, but the front door speakers feature 'mood lighting', which pulses between various light colours as music plays. It can be turned off if desired.
Colours and trim
Kia has taken the bold step not to offer the Soul EV in white at its launch - a colour that seems ubiquitous among other electric cars. Instead, a vivid electric blue looks stunning for the brave, and a classy silver will satisfy the more retiring. The interior is a mid-grey, which in the UK has often been a turn-off, but the seat upholstery made from recycled material is an unexpected highlight.
Parking
As a flagship model the Soul EV comes complete with a reversing camera, a visual feed from which appears on the main colour screen. There are also front and rear parking sensors and it isn't particularly large in the first place, so making contact with another object while parking this car should be very difficult. However, the electronic aids will be welcome to people who may not like the way outward visibility is restricted around the rear of the car.
Spare wheel
Emergency tyre repair kit supplied as standard.
Range information
Petrol engine options - 1.6-litre (130bhp). Diesel engine options - 1.6-litre (126bhp). Electric option - 81kW motor. Transmission options: six-speed manual gearbox, plus auto gearbox (diesel only). Trim levels: Start, Connect, Connect Plus, Mixx, Maxx, EV.
Alternative cars
BMW i3 Outrageous looks but clever technology in a left-field package
Volkswagen e-Golf Excellent in almost every way, the e-Golf is the best everyday Golf
Mercedes-Benz B-Class Electric Drive Tesla-developed drivetrain is superb, but MPV styling will divide opinion
Nissan Leaf Cheaper, but lower option boasts a high-quality driving experience