May 2014
Kia Soul 1.6 CRDi Connect Plus
Bright colours are the best choices for the Soul's boxy shape
May 2014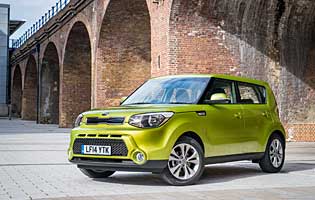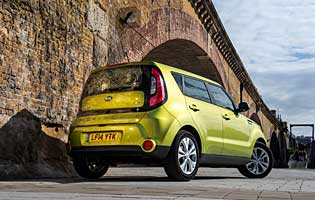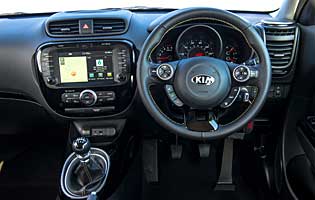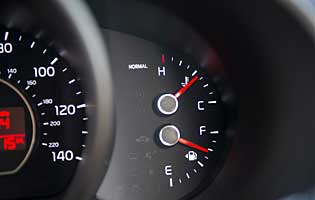 Overall rating

Likes:
Solid build quality inside and out
Infotainment interface is an excellent centrepiece for the interior technology
Both engine options are responsive and strong around town
Cheaper versions represent commendable value for money
Gripes:
Not as frugal or road tax-friendly as some European rivals
Looks large enough to have a bigger boot than it does
Low-speed ride quality is overly firm over potholes and cat's eyes
Range gets surprisingly expensive for the size of the car
Looking at pictures of the new Soul you might be hard-pressed to tell it apart from the old one. Despite the obvious similarities it's an all-new model with a new chassis and even more technology, and with a greater level of maturity than ever before the Soul has really taken the fight to its compact high-riding rivals.
The Soul falls into a class of cars that are each very much distinct from one another but that ultimately do much the same job and are targeted at much the same people. Arguably, the Soul's class is more defined by the breadth of people's personal taste than any other, making striking looks as essential as wheels and tyres.
Kia has decided to stick with the same winning formula that it used for the first Soul's styling, so the flat roof line and boxy silhouette remain. What's new is a major upshift in interior quality, new technology from several size classes above, and a new arrangement of trim levels designed to offer great value for money.
One of the key selling points for the Soul has always been the amount of on-board technology that was available for a reasonable cost, and the 2014 model continues in much the same vein. Having taken some design inspiration from the Track'ster concept, the new car is also sharper and tighter, despite its similar appearance at first glance.
The new Soul plays to the strengths of its predecessor, enlarging on its best qualities and giving buyers in an increasingly crowded sector an even more convincing selection of reasons to buy one. As its rivals have received updates and become more multi-talented, so has the Soul, which is now a more rounded everyday tool.
Our verdict on the Kia Soul 1.6 CRDi Connect Plus
Like the car it replaces, this is an unthreateningly quirky and manageable package with lots on board to shout about. It's not without flaws, most notably in the low-speed ride quality, but overall the Soul is a car that people can be very proud to own. Strong quality of detailing in the form of contrasting trim stitching and colour-changing interior lighting help make it fun, if gimmicky, to live with.
Costs
In terms of bare running costs the Soul struggles to match up to the best of its rivals, with higher fuel consumption and emissions linked to higher road tax bills than can be found elsewhere. It also gets very expensive at the top of the range, but at the lower end it represents excellent value for money for what is a well-built car with a long warranty.
Space and practicality
The Soul is bigger than its predecessor, but its boot still isn't quite as large as it could be. There's more than enough space for weekly shops for a young family, but when it comes to larger items or collections of big objects the Soul might fall short. On the other hand the rear passenger legroom is incredibly impressive. Adults can enjoy far more space in the back of the Soul than could normally be expected of a car of this class.
Controls and display
The younger buyers that Kia is targeting with the Soul are likely to be the sort of people who engage with big screens and high-resolution graphics, and so the car's main central screen is among the best in the business. It's extremely large for this class of car as well as being clear, bright and blessed with colourful readouts. The controls are laid out logically for the most part, with key features and functions falling to hand quickly.
Comfort
The only major thorn in the 2014 Soul's side is its low-speed ride quality, which isn't good enough. It drops into bumps with an unexpected thump that can jar the driver's hands and body, and ideally Kia would recalibrate the damping as soon as it possibly can. It's a shame because the seats are well shaped and comfortable, and the breadth of adjustment on offer makes the ideal driving position easy to find for all but the tallest people.
Car security
Among the Soul's security features are a visible VIN number, an engine immobiliser and door deadlocks that prevent the doors being opened from the inside in the event of a window being smashed. All models with alloy wheels also benefit from locking wheel nuts to prevent theft. Speed-sensitive door locking activates when a journey starts, to help prevent car-jacking along the way.
Car safety
To fall into line with the latest industry standards Kia has updated the Soul with a much stiffer body and passenger safety cell, forcing the crumple zones to take more of the impact's energy while deforming less around the occupants. Front, side and curtain airbags are fitted as standard, as well as a suite of electronic active safety systems help to keep the car stable in difficult scenarios.
Driver appeal
At speed the Soul flows nicely across the undulating British road network, the suspension absorbing bumps and keeping the car nice and stable. There is no feel or feedback through the steering, but the weighting is sufficient to offer enough of an imagined sense of control to allow spirited cornering if the driver chooses. The engines are far from sonorous, though, and the Soul's most pleasing performances come in town, where the punchy and responsive powerplants do their best work.
Family car appeal
There is space enough to easily fit child seats inside the Soul, partly thanks to the high roof line that helps parents avoid banging their heads. On this model, though, the plush leather materials could be vulnerable to scratching hands and kicking feet. The boot could be a sticking point, too, where larger pushchairs may not leave enough room for other baby essentials or bags of toys for when visiting family.
First car appeal
There are good reasons why the Soul might appeal to a first-time car buyer, not least among which is the statement styling and bright colour palette. It's loaded with youth-friendly technology that younger people are likely to engage with at a glance, and it's easy to drive around the city. The raised driving position, compact dimensions and parking aids, at least on this model, help to make it an immediately confidence-inspiring car. It's not the cheapest to buy or run, though.
Quality and image
Build and materials quality has taken a sharp upturn compared to the previous Soul; an impression that is bolstered by the part-leather seats and contrasting stitching across the leather contact points. Fit and finish of this car is impressive, and Kia holds its own in reliability surveys to back up its premium long-term aspirations. It can't match the likes of Honda and Toyota for outright reliability, but its seven-year warranty remains as persuasive as ever.
Accessibility
The rear door aperture is wider than many people might expect, which helps allow even adults to get in and out without significant fuss. There is a slight curvature at the bottom of the B-pillar that could interfere with feet on their way out of the car, but on the whole it's not a big problem. The boot lid needs a good tug to close, but getting luggage through into the boot is simple thanks to a flat load lip.
Stereo and ICE (In car entertainment)
Two stereos are available, with this Connect Plus model benefitting from the more powerful of the two. It's a good unit with a comprehensive range of connection options, from Bluetooth to wired inputs. To liven the environment up at night, there is colour-changing ambient lighting that can display one constant colour or cycle between the options. It's a gimmick, but it does impart a livelier, younger feel into the cabin.
Colours and trim
The Soul's shape is naturally well-suited to bold colours, and the most striking is a metallic acid green that perfectly accentuates the car's straight lines and full profile. A spectrum of available colours covers the sensible as well, so there is something for everyone. The interior trim of this model boasts contrasting stitching that's coordinated with the external paint colour, giving the interior a serious visual punch. It's a solidly-built and attractively laid-out interior.
Parking
Small rear windows mean that rear visibility isn't what it could be, and slightly flared wheel arches can deceive some drivers as to the true width of the car. However, a reversing camera is a very useful addition that gives a helpful boost to the rear field of view, and parking sensors give an audible assist when you're not looking directly at the camera screen. In truth the Soul is not very large and can slot into all but the smallest spaces
Spare wheel
Space-saver spare wheel supplied as standard.
Range information
Petrol engine options - 1.6-litre (130bhp). Diesel engine options - 1.6-litre (126bhp). Transmission options: six-speed manual gearbox, plus six-speed auto (diesel engine only). Trim levels: Start, Connect, Connect Plus, Mixx, Maxx.
Alternative cars
Peugeot 2008 Feline styling and a good balance of design quirks and everyday functionality
Toyota Urban Cruiser A strange name hides a bulky but capable small car with smooth engines
Fiat Panda Italian styling and plenty of scope for customisation, but lower overall quality
Vauxhall Meriva Peerlessly intelligent seating and doors layout for added practicality