September 2004
Kia Picanto 1.1 SE
Cheeky-looking Picanto is not just a pretty face
September 2004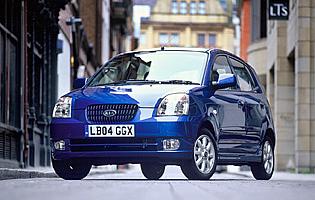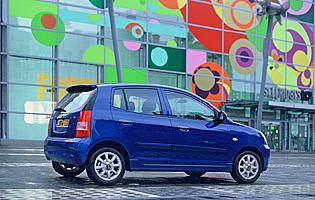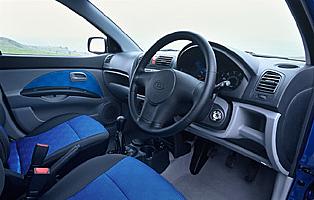 Overall rating

Likes:
Zesty interior colour scheme
Superbly calibrated steering
Five doors on all models
Outstanding fuel economy
Gripes:
Front grille tries perhaps a little too hard to please
Unlikely to hold onto its value well
Becomes noisy at motorway speeds
Only 4bhp difference between engines, so why bother?
There is no shortage of competent city cars on the market, but Kia's Picanto is one of the very best. It's not just cheap, it's a cracking all round motor and fun to boot.
Everyone knows that Kia has a reputation as a value-for-money manufacturer. Its products have traditionally not been of the very highest quality but have been keenly priced. The excellent Sorento off-roader edged closer to parity with the mainstream makers, but the Picanto goes much further - it is actually better than most of its rivals.
It even looks good. Forget about dreary, characterless Korean saloons of the past. The Picanto has a cheeky face, compact dimensions and comes in a selection of vibrant colours that makes it immediately appealing. The fun approach continues inside, with coloured inserts to the upholstery which are reminiscent of Citroen's C2. Best of all, this riot of colour is not being used to distract the driver from poor build quality or a crashy ride - the Picanto is at least as well screwed together as its rivals and is a lot of fun to drive.
Five doors come as standard, a feature that Kia uses to great effect as it targets a primarily female audience. The idea is that your Sex And The City style friends can all pile in for shopping trips. It's perfectly true, but male motorists shouldn't be put off either. Despite a modest 1.1-litre engine, the Kia has pin-sharp steering and can be tossed around corners like an old-school hot hatch. Plenty of kit comes as standard even on the cheapest Picanto.
Pricing is the final item in the Picanto's larder. It's cheap to run and mechanically simple enough that it should be reliable, which just makes the cheap-as-chips purchase price even more remarkable.
Our verdict on the Kia Picanto 1.1 SE
The Picanto maintains Kia's value-laden traditions but adds so much more besides. Anyone looking for cheap, fun, practical motoring should take one for a spin as a matter of priority.
Costs
Many diesel engines would be proud of the fuel economy the petrol engine achieves, while carbon dioxide emissions are extremely low, making the Picanto a very viable choice for progressive business users, particularly as its happy, eager demeanour promotes a very positive image. Insurance costs will be very low.
Space and practicality
Cabin space is bettered only by the Panda in this class of car. The boot is small but regularly shaped and seems to have been designed with shopping very definitely in mind, as it seems ideal for piling up bulging bags. Tipping the rear seats forward is easily done and does not require any muscle at all. A decent loadspace is created, though the small engine struggles to cope with heavy loads. Smaller storage areas are numerous around the cabin.
Controls and display
Instrumentation is kept to a minimum and is clearly designed to be 'idiot proof'. In this vein, a blue light illuminates between the speedometer and rev counter at startup to remind the driver to take it easy until the engine has warmed up. A simple but effective innovation. All controls are cleverly slanted towards the driver to be easier to operate - so in at least one respect, the Picanto is the match of a BMW 5 Series!
Comfort
This is a small car but is far from cramped. It is quite high compared to its length and width - without looking anything like a lumpy MPV - so headroom is generous all round. Considering the engines are three-cylinder affairs, they are fairly quiet all the way up to the national speed limit. On the motorway they become significantly more noticeable.
Car security
Only the GS lacks an alarm. All models feature an engine immobiliser and security window etching. Picantos are unlikely to be on many thieves' wish lists - they look too friendly and feminine. Owners should be careful not to leave their bags of bargains on display in the back seats, though - especially when a load area cover and load light are provided.
Car safety
For such a cheap car, the Picanto has respectable safety credentials. All models have ABS with EBD, driver and passenger airbags, childproof rear door locks, adjustable head restraints, an Isofix child seat mounting and three point seatbelts all round. It's also worth noting the Picanto's excellent stopping power - in German tests it performed on a par with Volkswagen's Golf, a mechanically complex car costing twice as much.
Driver appeal
It comes as something of a surprise that the handling characteristics of the Picanto are 'meaner' than its chummy looks would suggest. Far from being soft and imprecise, there's some seriously sharp steering, admirable stability, a neat little manual gearbox and great manoeuvrability. Only the lackadaisical acceleration spoils things. Anyone who's driven an original Mini, Renault 5 or Citroen Saxo will have some idea of the sort of low-rent thrills the Picanto offers.
Family car appeal
Too small to be a main family car, the Picanto nevertheless would make an ideal second car for a housemaker. Nipping in and out of the school run melee will be far easier in a Picanto than in a lumbering 4x4 and kids are sure to enjoy the bright colours. The upholstery seems tougher than the norm and better able to endure the strains of family usage.
First car appeal
As one of the cheapest, brightest and most enjoyable small cars in the showrooms, the Picanto should be among the first rank of choices for novice drivers looking to buy new. Kias come with a strong warranty so should prove trouble-free and easy to sell on after a few years. Highly recommended.
Quality and image
The Kia badge isn't likely to become a rival to BMW any time soon, but the Picanto is so likeable, and with other attractive models such as the Sportage available, the Korean company is definitely on the up. The Picanto is more of an oddball than mass models like the Peugeot 206 or Toyota Yaris and should prove particularly attractive to female buyers who can treat it as a brilliant bargain like a pair of Manolo Blahniks bought at TK Maxx.
Accessibility
Five good-sized doors afford trouble-free access to the cabin. The boot is assisted by an effective strut and lifts very easily without feeling flimsy. The driver's seat could perhaps do with more adjustment, but in general the Picanto scores highly for accessibility.
Stereo and ICE (In car entertainment)
Even the GS comes with a CD player with MP3 player - a marketing masterstroke that is sure to attract bright young things and girls about town who like to sing along to their favourite tunes. Admittedly, the sound is a little tinny and the buttons are fiddly, but many rivals are still trying to fob customers off with an obsolete cassette player.
Colours and trim
Five different body colours are available - all of them bold, while three different interior hues can be mated to them. Considering the price, the amount of kit Kia has thrown at the Picanto seems incredibly generous. Even the GS model has central locking, body coloured bumpers, front electric windows and tinted glass. Both other models have air conditioning, alarm, rear electric windows, leather steering and passenger storage tray. If possible, stretch to SE spec to gain alloy wheels and the attractive two-tone interior over the more drab grey of other grades.
Parking
Parking the Picanto is simplicity itself. Visibility is great in all directions while the light steering and short wheelbase make squeezing into tight spots a doddle. Another advantage that should not be underestimated is the Picanto's simple, rounded shape which makes judging distances straightforward.
Spare wheel
A space saver spare wheel is provided.
Range information
The Picanto is available as both a four-seater and a five-seater, with a choice of two petrol engines; 1.0 litre (60bhp) and 1.1 litre (64bhp). Models are badged as entry-level 1.0 GS, mid-range 1.1 LX and top-line 1.1 SE (four seater). LX models can be specified with a five-speed automatic transmission instead of the standard five-speed manual.
Alternative cars
Daihatsu Charade Just as much fun, less spacious
Fiat Panda Lacks character but great diesel engine offered
Ford Ka Starting to show its age
Citroen C2 Performance variants offer something different