July 2004
Kia Cerato 2.0-litre LX
Kia's Cerato has more than a passing resemblance to the Toyota Corolla
July 2004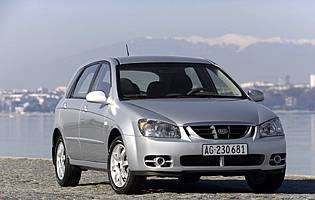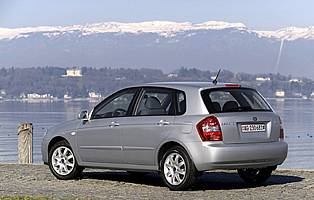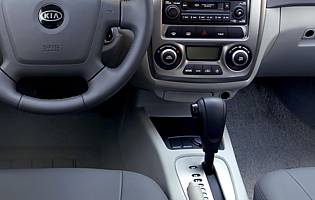 Overall rating

Likes:
Willing engine provides good acceleration for overtaking
Handling is surprisingly nimble and assured for a car at this price
Fresh, modern exterior styling is attractive and contemporary
Plenty of cubbyholes and pockets in cabin provide lots of storage
Gripes:
Budget materials used on interior spoil the ambience
Despite good handling, the steering feels vague and unconnected
Manual gearbox feels notchy and resistant making up/down changes tricky
Instrument binnacle display is basic and lacks imagination
Kia's decision to enter the fiercely competitive hatchback market segment shouldn't be taken lightly. When you try to mix it with the big boys, such as the Volkswagen Golf and Vauxhall Astra, any shortcomings and failings are laid painfully bare. Does the Cerato match up? Can its value for money and decent build quality match the reputation and image of the more familiar European brands?
Korean manufacturer Kia is very much a little man with big man ideas. Its goal is to be a top 10 manufacturer on the world stage by 2010. A tall order, but with its line-up of new, fresh-faced models it may just be possible for this Far Eastern minnow to start swimming with the big boys.
Carving out a distinct and desirable image for yourself in the world of motor manufacturers is never easy - just ask Mazda. It is, however, impossible to overstate the importance of doing so. Take Skoda as an example: the Czech firm produces extremely well made and affordable cars, but for most people there is still a stigma attached to the brand. Kia has to decide on how it wants people to view its badge and direct everything it does towards that end.
Apparently the 'cheap and cheerful' approach isn't one under consideration, despite the fact that people like affordability and cheerfulness. The Cerato offers top of the range European hatchback levels of specification for bottom of the range prices. Surely that is something to shout about?
While certain elements of the car's styling and interior finish allude to budgetary constraints, the Cerato on the whole looks modern and reasonably stylish. Buyers on a budget needn't be overly worried about what the neighbours will think, as Kia's latest C-segment car is an attractive effort.
Our verdict on the Kia Cerato 2.0-litre LX
Cerato handles well and represents great value for money. For any mainstream manufacturer this wouldn't be news, but for Kia it's worthy of holding the front page. Granted, there are gaps in the Cerato's image, however these are small compared to the gains made by Kia to get this far. The Caerato might never compete head-on with the likes of the Focus or Astra, but it's definitely worthy of serious examination.
Costs
A relatively low asking price and cheap repair costs are two strings to the Kia' bow. The decent fuel economy available across the range will also help keep trips to the pumps to a minimum. Insurance shouldn't be a problem either, even for the younger driver, as the Cerato is neither particularly powerful nor especially high up the joyrider's 'to steal' list.
Space and practicality
Boot space is good in the hatchback and understandably less so in the saloon, but in either model one will have plenty of space for shopping and the like. Several nifty cubbyholes and pockets dotted about the cabin offer occupants plenty of space in which to stow their sunglasses and bottles. Foldable rear seats increase potential boot space dramatically; in fact, capacity is almost trebled when the aft seats are tumbled forward.
Controls and display
The Cerato's instrument binnacle features possibly the blandest display ever made. It tells you how fast you're going, how many revs you're using and how much fuel you've got - that's it. There's no flair, no style and most certainly no panache. The green LCD clock at the top of the dash looks a bit dated as well. Stereo and climate controls are much better tough, with a couple of large rotational dials and chunky buttons taking care of things. The green LCD clock at the top of the dash looks a bit dated as well
Comfort
The Cerato is a bit taller than its main rivals, so headroom is not in short supply. There's room for your legs as well and the 'Fullmaflex' backrests on the front two seats are comfortable and supportive. Noise, vibration and harshness (NVH) levels have been improved by the Korean firm, but the engines often undo all the firm's good work when they are made to work hard.
Car security
Remote control central locking coupled with an alarm should be more than enough to ensure that your Cerato is still where you parked it in the morning. Budget hatchbacks aren't exactly the top priority for car thieves, so unless you are particularly unlucky nothing untoward should befall your Kia.
Car safety
Levels of safety equipment are impressive for a car of this price. The Cerato gains ABS, traction control, a trio of three-point belts in the back, ISOFIX child seat anchors, intelligent front, side and curtain airbags, active head restraints and fuel cut-off safety switch as standard. There's no EBD or de-coupling brake pedal mechanism, but the Cerato should be a fairly safe bet.
Driver appeal
While it may not automatically spring to mind as a 'driver's car', the Cerato punches way above its weight in the handling stakes. Bumps and lumps are communicated to the driver loud and clear, but for a car of this price to handle nearly as well as some of its far more expensive European competitors is a real achievement. The engines don't perform nearly as well as the chassis and suspension, though. All of the powerplants are loud and uncivilised with the level of performance not compensating for the aural abuse.
Family car appeal
While it isn't out of the question for the Cerato to act as a family car (particularly in saloon form), there are far more practical people movers in the Kia line-up. The Carens and Sedona are a much better bet as far as transporting the family is concerned. That said, Cerato customers can expect to find two ISOFIX anchors in the back for all their child seat needs and a fairly spacious cabin will mean that the little angels won't be gouging each other's eyes out after five minutes.
First car appeal
The Cerato would make an excellent car for the first time buyer, perhaps not because it oozes street cred or style, but because it certainly won't break the bank, and a three-year unlimited mileage warranty can offer extra reassurance. There is plenty of room in the back for sports kit and mates, while a CD player and air conditioning as standard will mean you can show off a bit.
Quality and image
Kia is slowly developing a reputation for decent build quality and reliability. Sister company Hyundai offers buyers a five-year warranty in the UK, so don't be too surprised if Kia start to do likewise at some point. Mechanicals may be noisy but they are likely to be well made and robust. Image, however, is an area where Kia really struggles, in that it doesn't have one. Image conscious types aren't likely to buy a Kia, leaving the budget-minded to reap the benefits of cheap, reliable motoring. However, the companies desire to entice young, trendy folk into its vehicle's cabins isn't likely to happen any time soon.
Accessibility
The steering wheel adjusts for rake only, which isn't entirely unheard of in a car at this end of the price spectrum. The forward seats are of the six-way adjustable variety and it should be possible for most people to find a comfortable driving position. The rear door openings are slightly narrow, so the large of foot may get a bit tangled up. Otherwise gaining access and exiting the Cerato's cabin is a dignified affair.
Stereo and ICE (In car entertainment)
A JVC/MP3 stereo comes as standard in Cerato models, with the six speaker system remaining on the options list. The sound quality is good, if not quite hi-fi and the controls are easy to fathom and use. There are no handy steering wheel-mounted controls, though.
Colours and trim
Only available in four colours (ice blue, imperial blue, cherry red and silver) the Cerato doesn't exactly come in an amazing array of hues. That said, it does look particularly nice in imperial blue with the nice set of standard alloy wheels. Unsurprisingly, much of the trim and plastic used in the cabin feels slightly cheap, but the two-tone dashboard is a lot lighter and less oppressive than in some other C-segment cars.
Parking
Large glass panels and a fairly understated waistline afford the driver good levels of all-round visibility making parking easy. Light power steering and modest 15-inch alloy wheels aid tight manoeuvring still further. Parking sensors at the back would have been nice though, even just as an option.
Spare wheel
Full size spare under boot floor comes as standard.
Range information
Five-door hatchback and four-door saloon both available. Engines comprise petrol units of 1.6-litres (103bhp) and 2.0-litres (141bhp) and diesel units of 1.5-litres (101bhp) and 2.0-litres (111bhp). Five-speed manual gearbox comes as standard across the range with a four-speed automatic box available on the 1.6-litre only. Trim level indicators are GS (base), LX (mid-range) and SE (flagship).
Alternative cars
Hyundai Accent Five-year warranty on fellow Korean hatchback makes it worthy of consideration
Toyota Corolla Motoring's everyman has sold 28 million units worldwide. Enough said
Vauxhall Astra Astra is good looking and good value
Mazda 3 Japanese firm's hatchback is attractive from without, if not within