May 2007
Jeep Wrangler Unlimited 2.8 CRD Sahara
Familiar Wrangler styling is backed up by modern day creature comforts
May 2007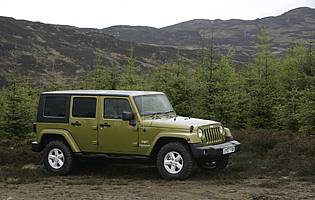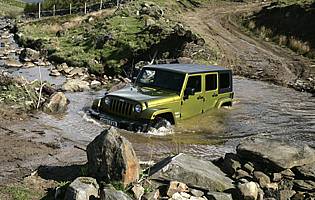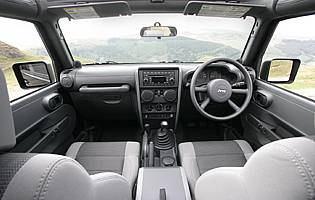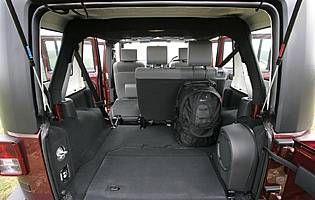 Overall rating

Likes:
Traditional Wrangler styling has been retained
Removable roof panels are an added bonus
Refined and powerful diesel engine option
Surprisingly civilised on road and, as expected, excellent off road
Gripes:
Steering is a little vague and lacks feedback when driving on the road
Four-wheel drive gear selector lacks precision and feels clunky
'Hard core' off-roading special Rubicon variant is petrol only
Wrangler's bluff exterior generates a little more wind noise than a regular SUV
The Jeep Wrangler is as much a part of American culture as apple pie. Unlike the famous dish, the Wrangler was starting to get left behind for more refined and better value 4x4s. This generation fixes all the faults - or quirks - and pushes Jeep's famous off-roader into affordable SUV territory. Thankfully without compromising its off-roading ability.
There's no mistaking a Jeep Wrangler. The straight lines and chunky styling has become synonymous with the American off-roader that's been around longer than almost any other motoring icon. But it's not all been plain sailing. As rivals have caught up in the ability department and the rise in popularity of the 'soft-roader' has seen people move away to other market sectors, the Wrangler has been a car looking for a mainstream purpose.
In a bid to become a more rounded car with a much broader appeal, the Wrangler has itself been softened in key areas: cabin comfort, refinement and on-road performance. It's all positive though, as these are the exact areas that count when attempting to win the favour of the buyer.
What we've got is a car that, in four-door Unlimited guise, could easily be a something for the active family. Jeep's four-wheel drive expertise is a known quantity - and a very good one at that - but the Wrangler's ability to double as a family conveyance is a pleasant surprise.
Boasting removable roof panels, it's also a fun vehicle. Jeep is keen to promote the Wrangler Unlimited as a serious alternative to the current range of lifestyle SUVs from the likes of Hyundai, Nissan and Kia and the concept does stand up to scrutiny. Furthermore, thanks to a Cherokee-style interior, the interior ambience is very car-like.
Our verdict on the Jeep Wrangler Unlimited 2.8 CRD Sahara
Like with popular films, it's always a worry when a manufacturer remakes an icon - it doesn't always work out for the best. In this case, the latest generation Wrangler is, when taken in context, a star performer. The distinctive styling has been sympathetically updated, while refinement, comfort and equipment levels have been improved beyond all recognition. For Europe the diesel option is the only realistic choice, and this along with the car's superior off-roading ability prove a combination difficult to beat.
Costs
On paper the Wrangler range appear to offer excellent value for money. There aren't many car of this calibre offering full-on four-wheel drive capability and a generous amount of creature comforts and refinement for the asking price. You are limited when it comes to optional extras, though. With diesel being the option of choice, running costs will be sensible for a large SUV, although its CO2 rating will put it in one of the higher cost brackets now and in the future.
Space and practicality
While a big car on the outside, inside the Wrangler Unlimited is nothing outstanding. That said, this five-seat car should prove more than fine for a growing family. Oddment space is good, and access to the rear seats is acceptable - the doors could open a little wider though. Head, leg and elbowroom throughout the cabin is generous by way of compensation. At the rear, the tailgate opens to reveal a flat load bay, while the rear seats will fold to increase the space available. All in all, the Wrangler Unlimited is very much the ruff-tough family holdall its appearance hints at.
Controls and display
It's all standard Jeep equipment in the Wrangler's cabin, right down the instruments and column stalks. They all work well, but it would be nice to see something different for what is a pretty special vehicle. At least the audio unit is mounted nice and high in the central fascia, while the steering, brakes and manual gearshift are easy to use. Not so the four-wheel drive shift lever, which feels stiff and imprecise - knowing whether you're in four-wheel drive High or Low isn't always obvious without checking the instrument panel.
Comfort
Predictably there are the odd jarring moments when riding in the Wrangler, but the longer wheelbase Unlimited variant does a better than average job of suppressing vicious urban bumps. Realistically, the car is set up to deal with larger obstacles but its behaviour is on a par with other mid range SUVs. Cabin comfort is high, with noise levels always at sensible levels. Front seat occupants are treated to some very supportive seats, although the driver isn't supplied with a clutch footrest.
Car security
Remote central locking is standard on the Wrangler along with the usual anti-theft systems, plus there's a locking filler cap and locking nuts for the desirable alloy wheels. Given the Wrangler's distinctive appearance, some sort of visible deterrent such as a brightly coloured steering lock would be a sound and modest investment.
Car safety
For the first time in the Wrangler you get a full complement of airbags, plus anti-lock brakes and ESP - both tricky features to implement on a full-blown off-roader. Of course, the four-wheel drive system also does its bit in slippery conditions to keep you on track.
Driver appeal
Previous generation Wranglers weren't exactly the most civilised of beasts on the road, but this variant is a revelation. Behaving more like a decent 'soft-roader' on the road, there's no hint as to the car's serious off-roading potential. Predictably the diesel engine option is the key choice; it pulls strong from low revs and is refined at speed. Steering is a little vague but the result is less kickback when off-roading and thus greater refinement. And off-road the Wrangler feels almost invincible. Like Land Rover's Defender it relies mainly on good old-fashioned technology to get the job done: long travel suspension, a torquey diesel motor and switchable, low-range transmission. The good news is that the whole package works like a dream.
Family car appeal
As a rugged alternative to the usual SUV contenders, the Wrangler Unlimited succeeds. For the go-anyway family, this Jeep will be the perfect companion. There's enough room for a growing family in the back and the car's boot is a good size. It's no MPV in terms of offering flexible seating but it'll prove more durable than a hatchback-based people carrier in the long run.
First car appeal
Novice drivers will understandably feel intimidated by the Wrangler's size. It's not the easiest car to park and manoeuvre at first, which could also cause a few problems. However, all the controls are light and easy to use, which means such initial problems will be soon forgotten. Not easy to forget will be the running costs: insurance and fuel being the main money drains.
Quality and image
In the serious off-roader market the Wrangler ranks up there alongside Land Rover's Defender. But just like the PC verses Apple debate, fans are fiercely divided over which one is best and both enjoy a loyal following. Previous Wrangler's haven't been noted for their refinement and interior quality, however this generation has changed that with its car-like creature comforts and interior design.
Accessibility
Boasting above average ground clearance, the Wrangler demands that you step up and into its cabin - even if you're reasonably agile this should pose few problems. Once inside, the front seats offer plenty of adjustment. In the back, the rear doors of the Unlimited variant open to a reasonable angle to aid access and egress while the tailgate swings out sideways, meaning parking nose into a space is better for access reasons.
Stereo and ICE (In car entertainment)
Standard fit is a perfectly useable radio and single CD combination. The main unit is located high in the fascia and is easy to use, although the display can be hard to rear in direct sunlight. Steering wheel mounted controls are a welcome inclusion.
Colours and trim
Both dark and light exteriors work well, although the latter is especially good at highlighting the Wrangler's many interesting design elements. Inside, the cabin is best equipped in dark fabrics, if only hide the inevitable dirty marks. However, with the light coloured roof lining the cabin does possess an airy and spacious ambience.
Parking
Thanks to the lofty driving position, forward visibility is good in the Wrangler Unlimited. The car's light, heavily assisted steering also helps, as do the generously sized rear view mirrors. Rear visibility is a little hampered by the spare wheel, plus the rear seat head rests. Luckily the tailgate is a straight-up-and-down affair, making judging the space available slightly easier.
Spare wheel
Full size spare fitted as standard.
Range information
Petrol engine - 3.8-litre V6 (196bhp). Diesel engine - 2.8-litre (174bhp). Transmission options: six-speed manual gearbox standard for diesel with option of five-speed auto. Petrol variant gets four-speed auto as standard. Trim levels: Sport, Saraha, Rubicon. Latter is reserved for petrol variant.
Alternative cars
Land Rover Defender Revised but still unrefined in this company. Off-roading talents beyond reproach
Hyundai Santa Fe Road-biased Hyundai can seat up to seven. Well built and equipped but no match off road
Nissan Patrol Patrol is refined and well built, but getting on a bit and not terribly polished on road
Mitsubishi Shogun Good value, spacious and good off road. On road performance lags behind rival European offerings