April 2005
Jeep Cherokee 2.8-litre CRD Limited
Chunky looks separate the Cherokee from the soft-roader fraternity
April 2005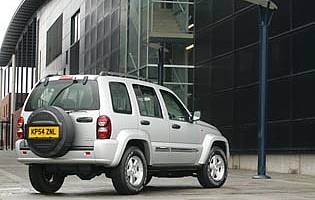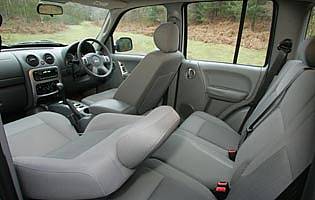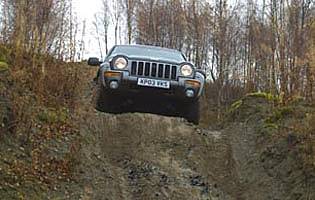 Overall rating

Likes:
Looks and badge offer enough street cred for the image conscious
Elevated driving position inspires confidence
Practical interior is spacious and family-friendly
Off-road ability is an attractive trait and proves the car's real worth
Gripes:
Not the most sophisticated of vehicles on the road
Interior is heavily dependent on shiny, hard black plastic
Fuel consumption of the petrol variants will stretch even the most elastic of budgets
2.4 petrol power petrol unit not the best choice for demanding duties
Off-roading for most people means buying an SUV (sports utility vehicle). SUV in turn means elevated driving position, big wheels and not much else. Most of these 'soft-roaders' never go any further off-road than mounting the pavement. However, there are still a few machines available that have been designed with mud-plugging in mind, such as the Jeep Cherokee.
Jeep is one of the brand names, like Hoover and Sellotape, which has entered the English language as a catchall phrase rather than a specific product title. Essentially the US equivalent of the Land Rover, the General Purpose Vehicle or GP or Jeep (as the name evolved) has been around in one form or another for over half a century.
Today there is fierce competition for the title of 'roughest and readiest mud-plugger in town' with the Cherokee slugging it out with the likes of Mitsubishi, Land Rover, Nissan and Toyota - all of them coveted by everyone from farmers to school run mothers.
Even at this end of the market such vehicles can display some utilitarian and agricultural traits in their design and driving characteristics. This isn't a problem for those looking to head off road or to keep the kiddies safe on the way to the supermarket, but in terms of aesthetic pleasure they can leave a lot to be desired.
Diesel versions of these 4x4 are marginally cheaper to run than their petrol equivalents but you'll still need a fairly large bank balance to keep them in fuel.
Our verdict on the Jeep Cherokee 2.8-litre CRD Limited
The Cherokee cuts a dash down the high street but can feel unwieldy to drive around town. Likely to be great off-road but not too good on it, the Cherokee is a compromised vehicle. It does, however, offer more than a modicum of style and kerb appeal, which is probably one of the reasons why this particular 4x4 can still command a loyal following despite being a little rough around the edges.
Costs
The Cherokee can be costly to run and given that it only returns 20mpg around town, it won't exactly be cheap to fuel either. Only the 2.8-litre CRD is Euro IV compliant, which won't help company buyers of the other two models when it comes to taxation.
Space and practicality
While the Jeep gives the impression that it's a reasonably large vehicle from the outside, the cabin doesn't come over as especially spacious. Granted it will be more than adequate for most people, it's in the rear where you'll feel the pinch as legroom could be better for adults. The Jeep's boot compensates with its wide load lip and independently opening rear screen.
Controls and display
The Cherokee isn't a complicated vehicle, and so it comes as no surprise to see that the car's fascia is sensibly laid out and easy to navigate. Both the heating and audio controls are slap-bang in the middle of the fascia and are intuitive. The main dials are clear and concise but the column stalks take a few minutes to master as Jeep's convention is subtly different to some of its rivals.
Comfort
The Cherokee's cabin is not the plushest of environments but the seats are supportive and, relatively speaking, wind and engine noise is not that bad. The ride is another matter, as it can get a little choppy around town, thanks in part to the simple nature of the Jeep's suspension set-up. If you spend even a small amount of time off-road you're unlikely to complain, as you can't have a smooth ride and decent mud-plugging performance in one package. At least, not at this price.
Car security
Central remote locking, a Thatcham Category One alarm and immobiliser and visible vehicle identification numbers should keep the Jeep safe. These are the types of high-end vehicles that are often stolen to order so some form of protection is definitely required.
Car safety
ABS, driver and passenger airbags, side impact protection and a high level rear brake light complete what is a far from generous safety kit list. In a vehicle of this price one expects more than two airbags as standard these days and at least three brake safety related acronyms. Limited trimmed models do get side airbags, but everyone deserves good levels of safety kit, not just those with the most money.
Driver appeal
The Cherokee is not a car that responds well to being driven like a family hatchback - there's too much pitch and roll for starters. The safest bet is to chill out and take it easy, as the car doesn't like to be rushed when on Tarmac. The steering can be a little vague, the ride a little choppy and the diesel motor in particular prefers just to chug along at its own pace. It's a different story when off-road as this Jeep scrabbles up slippery slopes with ease, while the diesel variant feels almost unstoppable thanks to its considerable reserves of torque.
Family car appeal
As a fashionable alternative to a compact people carrier the Cherokee is not a bad solution. It doesn't boast the same level of seating flexibility, but it does come with an added slice of kerb appeal. Children will have no problem getting comfortable in the back, although adults might not be so forgiving. The only bind is the car's rear door, which opens out and not upwards - a potential disadvantage in cramped car parks.
First car appeal
Not only is the Cherokee expensive to run and insure, but it is also rather difficult to navigate around town if you're new to driving. Spatial awareness is something that only comes with experience and novice drivers will struggle to come to terms with the Cherokee's dimensions.
Quality and image
Image isn't a problem for the Cherokee, as the Jeep badge carries with it no small amount of street cred and style. It's no BMW X5 or Land Rover Discovery, but it is far more desirable than any of its Japanese competitors. Build quality shouldn't be a problem. Most of Daimler Chrysler's products are robust and reliable and the Jeep line-up is no different. That said, the materials used aren't always first rate. But if your Cherokee is going to work hard for a living you'll be grateful for the bash-proof plastics.
Accessibility
You'll have to be reasonably agile to own a Cherokee - or any 4x4 for that matter - because the step up into the cabin is significant. If that won't cause you any problems then it'll be plain sailing as it's much the same at the back if you want to load and unload anything. While the car's load lip is higher than average and great for unloading, it could cause you to curse when loading something heavy. The only snag concerns the barn door of a tailgate, which could cause problems as it opens out - not up.
Stereo and ICE (In car entertainment)
The standard set-up is a decent radio and combined single CD player. Located centrally in the fascia it's easy to operate - once you've mastered the functions of the many black buttons. Steering wheel-mounted controls grace all bar the base model Cherokee, while sat-nav and a six-disc CD autochanger can be specified on the flagship Limited model.
Colours and trim
Bright colours suit the Cherokee best as these better reflect the car's active, family orientated personality. Opt for a dark hue and it's easy to mistake the car for a workaholic commercial vehicle. Don't expect Grand Cherokee levels of luxury on the inside, though; the Cherokee boasts a more utilitarian trim package than some of its rivals and is probably all the better for it if you have a growing family or plan to put the car to work for a living.
Parking
It's reasonably big and the spare wheel part obscures your vision, so it isn't easy to reverse park. Parking sensors would be a godsend, but fail to make an appearance on the optional extras list. Experienced drivers should manage but those with less experience will be grateful of the plastic bumpers, as scrapes and dings are unavoidable.
Spare wheel
Full-sized replacement wheel attached to rear door
Range information
Three engine options - 2.4-litre (145bhp) petrol; 2.8-litre (161bhp) diesel and 3.7-litre (201bhp) petrol. 2.4-litre gets a six-speed manual; 2.8-litre gets either six-speed manual or five-speed automatic and 3.7-litre gets a four-speed automatic. Trim designators are Sport (base), Renegade and Limited.
Alternative cars
Mitsubishi Shogun First of the Japanese rivals has proven track record
Land Rover Freelander Classy Brit is more civilised and refined and diesels are highly sought after
Toyota RAV4 Good around town and not too shabby off road, either
Nissan X-Trail Anything the Toyota can do.