Jaguar XF 2.0d 180 AWD Auto
Handles brilliantly
December 2016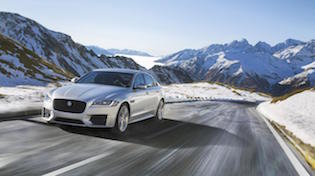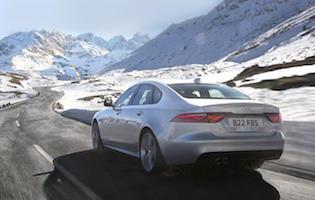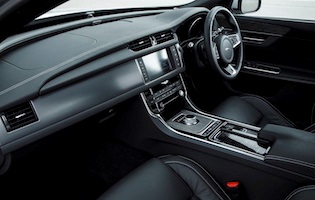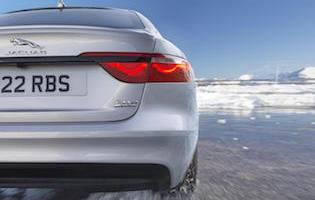 Overall rating

Likes:
Looks great
Four-wheel drive offers incredible grip
Handles brilliantly
New infotainment system is a vast improvement
Gripes:
The cabin has the odd tacky piece of plastic
Basic manual seats are uncomfortable on long trips
Not as refined as a Jaguar should be
No petrol variants other than go-faster supercharged V6
The XF is one of Jaguar's most popular models ever, and this latest version has built on that with even more frugal engines, an updated design and improved driving dynamics. Now, for the first time, it's offered with four-wheel drive, but does it make sense to pay more for extra grip?
On the outside, the XF takes many of the styling cues introduced on the smaller XE and adds to them with a few of its own model-specific touches, such as the stripe of chrome trim across the boot lid. The result is attractive, but there is a little too much metalwork and too little design in places.
Inside, it's much the same story, with the XE's steering wheel and centre console meeting the old XF's wide swathe of aluminium trim and revolving air vents. The new InControl touchscreen, however, has lightened things, offering a vibrant, easy-to-use interface.
Under the skin, though, it's all new. The old XF sat on a modified version of the S-Type's platform, but this one uses aluminium to make the car lighter and more agile, as well as more fuel-efficient. The suspension, too, has been updated to an F1-style set-up that promises more involving driving dynamics.
Four engines are offered, ranging from the 161bhp 2.0-litre diesel to a rip-roaring 335bhp 3.0-litre V6 petrol nabbed from the F-Type. If you want the four-wheel-drive found on our test car, though, you'll have to go for the 2.0-litre 178bhp diesel unit. It's reasonably punchy, but not as refined as perhaps a Jaguar ought to be.
Our verdict on the Jaguar XF 2.0d 180 AWD Auto
The XF may have lost sight of what makes a Jaguar special, but there's no questioning its capability. It's more of a driver's car than the E-Class or the Volvo S90, and it's very nearly as stylish. Just a few refinement and quality issues prevent it from reaching the top of the class.
---
Costs
Prices for the XF start at £32,300 for the basic 2.0-litre diesel, but four-wheel-drive variants start at £36,350. For that, you get a 2.0-litre diesel engine capable of returning 57.7mpg, leather seats and satellite navigation, as well as rear parking sensors and two-zone climate control. If you go bonkers with the options, though, you can end up spending well over £50,000.
Space and practicality
Space in the new XF is marginally better than in the previous generation, with a slight improvement in rear headroom making it a more practical four-seat tourer. The lack of a Sportbrake estate version means the saloon is the only bodystyle currently available, but that's not to say it isn't capacious. The boot measures in at , and it's more than roomy enough to carry a family-of-four's weekend luggage.
Controls and display
The XF's digital dials are clear and pleasingly clutter-free, and there's the option of a head-up display to bring all the vital stuff onto the windscreen. To drive, the XF is very conventional, with all the controls and switches where you'd expect them to be. The only slightly odd part is the rotary gear lever for the automatic transmission. Once you're used to it, it's fine, and the way it rises from the centre console will always be a little bit cool.
Comfort
There is, unfortunately, a trade-off for the XF's poise. The race-derived suspension is great for keeping the car flat through corners, but it doesn't soak up the bumps quite as happily as, say, a Mercedes-Benz E-Class, although considering the handling prowess, it's not bad. The seats make an awful lot of difference, though, with the basic manually adjustable perches offering less support than the more expensive electrically adjusted chairs.
Car security
A premium car is often popular with thieves, but the XF seems less of a target than some of its German rivals. It has keyless entry, too, which has come under scrutiny in the past few years after a spate of 'hacking'. In truth, though, the chances of this are slim, and you can always fit the car with a tracker if you're concerned.
Car safety
The XF received a five-star Euro NCAP crash test score, achieving high marks in all areas. It particularly impressed in terms of adult occupant protection, scoring 92 per cent. It also scored well in terms of safety assistance systems, returning an 83 per cent mark.
Driver appeal
The XF is undoubtedly poised, and its all-aluminium construction means it feels lighter than the bulk of its bodywork would suggest. Through the bends it's very impressive, and the four-wheel-drive system as seen on our 2.0-litre diesel test car only increases the already epic levels of grip. It makes it more capable in adverse weather, too, preventing any of the anxiety that normally builds when you've got a torquey diesel engine sending power to the rear and it's snowing.
Family car appeal
With plenty of space on offer and decent build quality, the XF seems perfect for family life. It's rated highly by Euro NCAP, too, so you know it will keep your family safe. It does have issues, though, such as the lack of an estate option that means the boot is an awkward shape for bulky items and the boot aperture is smaller than would be ideal.
First car appeal
With its size, range of punchy engines and premium price tag, the XF isn't going to be the next big thing among the country's youth. Insurance and running costs will all be high, and though its looks and image will render it desirable, few will be able to afford such a machine. If your youngster is setting out in one, though, you can rest assured that the on-board tech available will keep them as safe as possible.
Quality and image
Jaguar could be accused of dropping the ball slightly when it comes to its interiors. The snug, solid cabin of the old XF is sadly gone, replaced with a less characterful sea of glossy plastics and chrome-effect trimmings. Build quality, though, is generally decent, even if a few naff materials on the steering wheel make it feel cheaper than its £32,000 price tag. The outside, too, has lost some of its charm, but it's still a jaw-dropping thing – provided you don't go for the base model with its miniature alloys.
Accessibility
Getting into and out of the XF is a simple expedient. The doors are a good size and they're well positioned, while the seats sit high enough to stop you having to haul yourself out. With high-spec cars benefiting from an automatic boot lid and keyless entry provided across the range, it's difficult to have any complaints.
Stereo and ICE (In car entertainment)
One of the biggest problems with the old XF was its clunky infotainment system. That's been canned now, though, making way for the InControl system, which is much cleaner and easier to use. It has pinch-and-swipe functionality, much like a smartphone, and the menus are easy to navigate even while on the move. There are issues, such as the slightly odd zoom on the navigation map, but these are minor.
Colours and trim
Unusually for a big saloon car, the XF is offered in a wide range of colours, from a deep green that harks back to the classic British racing colours to the sumptuous metallic red seen on much of the promotional material for the XE. Of course, if you'd rather, you can have the sombre, monotone shades that have become staples of the luxury car market – black, grey, silver and white – but for those who want something a little different, the XF provides great alternatives.
Parking
Big cars such as the XF aren't always simple things to manoeuvre, and the latest iteration of Jaguar's executive saloon is no exception. Its sheer size means it will sometimes be poking out of parking bays and some gaps will just be too tight for it. It does make the best of its bulk, though, with decent visibility and plenty of toys to help you. Parking sensors are offered even on lowly models, and there's a reversing camera on slightly less modest versions.
Spare wheel
Emergency tyre repair kit supplied as standard.
Range information
Petrol engine options: 3.0-litre supercharged V6 S (335bhp). Diesel engine options: 2.0-litre 163 (161bhp); 2.0-litre 180 (178bhp), 3.0-litre V6 S (296bhp). Transmission options: six-speed manual; eight-speed automatic. Trim levels: Prestige, R-Sport, Portfolio, S.
---
Alternative cars
Mercedes-Benz E-Class More comfortable than the Jag and smarter inside, but not as good to drive.
Audi A6 The Audi is starting to show its age in this competent company.
Volvo S90 Big Volvo is a left-field choice, but it's stylish, frugal and comfy.
BMW 5 Series Forthcoming BMW is a sensation, offering style and poise.