April 2012
Hyundai Veloster 1.6 GDI Sport
Veloster's striking appearance is a radical departure for Hyundai
April 2012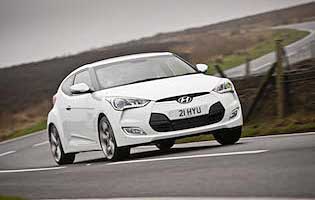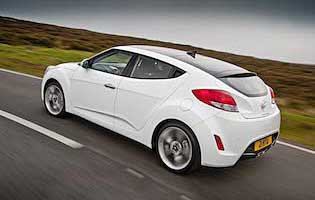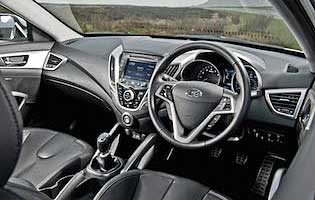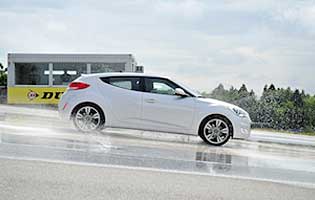 Overall rating

Likes:
Exterior styling is striking
Generous levels of standard equipment
Unusual door count and layout is bold
Affordable price tag and promise of sporty character
Gripes:
Cabin quality could be a touch better at this price
Coupe profile does hamper rear headroom
Odd door layout more novelty than practical feature
Front-drive layout can't match more driver-focused rivals
It's understandable for a brand with little history in the performance market to want to make an impact with a new model. Hyundai might still be better known for its value for money approach, but with the Veloster it wants to challenge your perception of what makes a sports coupe desirable.
The Veloster isn't Hyundai's first attempt at an affordable sports coupe, as the aptly named Coupe in various iterations has helped to raise the Korean firm's profile. The Coupe might have looked the part but it was outclassed by the established competition. On the other hand, the Veloster aims to offer a more rounded experience
Although its x.x-litre petrol motor won't set the world alight, Hyundai is serious about giving the Veloster enough grunt to at least hint at some sporting potential. Truly keen and dedicated drivers will likely still look elsewhere, although the Veloster does have another trick up its sleeve to attract interest.
You can't have failed to notice the look of the Veloster, and it's this added visual dimension that's set to turn most heads. The Veloster might be a coupe but it also sports an extra rear door in the style of Mini's Clubman estate model. Factor in the rakish looks of Hyundai's compact coupe and, for some, it's aesthetic values will easily trump its on-road potential.
In parallel with the Hyundai's relatively youthful existence, the Veloster shows that some work remains in the ride and handling departments if the firm is to seriously worry its European rivals. Relatively benign when driven sensibly, a few rough edges appear such as indirect steering feel, lack of consistent grip and suspension control when the car is pushed hard. Still, Hyundai has plenty of time to improve on an otherwise solid platform.
Our verdict on the Hyundai Veloster 1.6 GDI Sport
Hyundai has made a smart move with its most series sports coupe to date, as it's primary focus has been one the car's visual appeal. There's no question that it's a striking design, but it also results in a few minor practical compromises. That third door is one, and there's room for improvement in the driving department, too.
Costs
No longer the budget brand of old, Hyundai is keen to be seen as a credible rival for the likes of Ford, and Vauxhall. As such, its cars are priced accordingly although they do come generously equipped. The Veloster is no different, although you'll have to factor in fuel consumption as the car can be a thirsty beast if pushed hard. At least Hyundai's multi-year warranty is one of the best in the business.
Space and practicality
With no complaints to speak of for front seat occupants, spare a thought for those in the back. The Veloster's sloping roof ensures headroom is modest, while the door-on-one-side layout doesn't help much as it's a little small. Still, oddment storage space is decent and the rear load space copes well with shopping or modest amount of luggage.
Controls and display
With the Veloster's cabin layout and switchgear similar to that of other Hyundai models, this familiar approach is welcome as the car maker gets more right than wrong. Chunky controls and sensibly placed switchgear should make for happy drivers, although the car's steering could do with more feedback when you're pressing on.
Comfort
The Veloster's underpinnings offer reasonable levels of comfort and handling, making this more suited for brisk motoring rather than all-out performance. Most road surfaces are dealt with well and, unless you're pushing the engine hard, cabin noise is minimal. The car's supportive seats and ample space for front seat occupants are also welcome.
Car security
The usual combination of remote locking and immobilizer are present here, which is the least you can expect on a car at this price point. The rear load area is covered to deter prying eyes and there's enough covered storage space in the cabin for added piece of mind.
Car safety
Hyundai gets the basics right with enough airbags to keep occupants protected in the vent of a crash, while the electronic stability system does a good job of keeping the car in line if you run out of talent or are caught out by a low grip surface.
Driver appeal
In non-turbo guise as sampled here, the Veloster demonstrates a brisk turn of speed and a relatively composed ride under normal conditions. The engine can be vocal when pushed hard and the steering lacks the precise feel and direction of its European rivals. Predictably the Veloster lacks the polish of the established competition, but this front-drive coupe shows willing and is ample fun at seven tenths of its potential.
Family car appeal
Despite the presence of a decent size boot the Veloster's cabin isn't set up to be family friendly. At a push it might work as a second car in the family but you'll struggle if it was your sole means of transport.
First car appeal
Although the Veloster isn't an out and out hot performer, it can be brisk in the right hands and is possibly not the best choice for a first time driver. Factor in the less than ideal rearwards visibility and a novice might struggle with the car.
Quality and image
Hyundai as a brand has come a long way in a few short years. Its generous warranty package and investment in producing reliable, dependable and desirable cars has paid off. For a firm not known for producing sports cars, the Veloster is a decent effort with a noticeable bias towards appearance and novelty value thanks to its unusual layout.
Accessibility
Front seat occupants fare well thanks to the car's good size doors, although you will end up lowering yourself down into the car's sports seats, not simply sliding across. The sole rear door is a neat touch but, in reality, is of limited use when there's only a modest amount of rear seat space. Still, the car's tailgate rear hatch allows for easy access to the load area.
Stereo and ICE (In car entertainment)
The standard fit unit does a good job and proves intuitive at first glance. All the expected connectivity options are present, while the navigation option is easy to programme and follow.
Colours and trim
Despite the car's bold looks it looks good in a variety of dark and light colours. The cabin's snug cabin benefits from the presence of light trim accents to counter the otherwise sombre ambience due to the considerable amount of dark materials on show.
Parking
While the presence of rear parking sensors is welcome, the Veloster's shape ensures that rear three-quarter vision isn't that great. There's considerable assistance from the steering at low speeds, but the car's wide flanks and modest rear vision means you need to be careful when parking.
Spare wheel
A space saver spare wheel is fitted as standard.
Range information
Petrol engine options - 1.6-litre (138bhp, 184bhp). Transmission options: six-speed manual gearbox, six-speed dual clutch (DCT) transmission. Trim level: base, Blue Drive, Sport, SE, Turbo, Turbo SE.
Alternative cars
Volkswagen Scirocco Popular and high quality coupe is a decent all-rounder
Peugeot RCZ Bold looks matched by decent dynamics at a sensible price
Vauxhall Astra GTC Three-door coupe-like Astra is fun to drive and easy to live with
Mini Coupe Snug cabin and enjoyable driving experience counter the potentially costly asking price