November 2005
Hyundai Sonata 2.4 CDX Auto
New styling is understated and well-proportioned
November 2005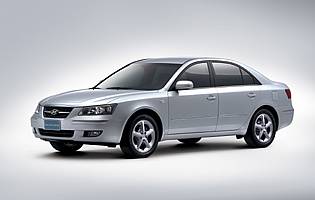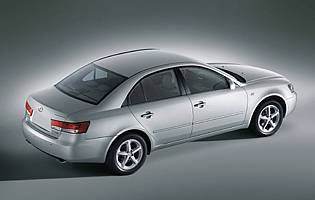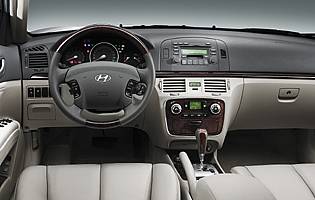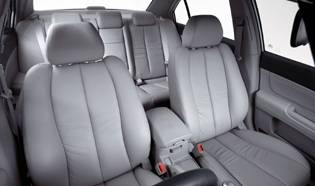 Overall rating

Likes:
Generous accommodation for passengers and luggage
Good value for money
Smooth automatic gearbox
Respectable performance from 2.4 petrol engine
Gripes:
Interior design is uninspiring
Engine is noisy under hard acceleration
Ride and handling are only average
Seats are too flat to offer genuine support
With a well established range of cars with good value money as a key strength, Hyundai has introduced an all-new Sonata into the large saloon car market. With a modern design including a new engine, interior and exterior styling, Hyundai plans to take on more established rivals with competitive pricing and good dynamics.
First impressions of the new Sonata are good, chiefly due to the exterior design. Far more modern and fresh than the previous generation, it has a clean exterior in a traditional saloon car shape. It is not, however, as instantly recognisable as some of its rivals, as the grille and headlights are uniform and understated in appearance. That will not matter to many though, and the promise of comfort and space is more important than a bold styling statement.
Under the bonnet the Sonata uses an all-new 2.4-litre petrol engine, giving it a useful capacity advantage over its 2.0-litre rivals. It is equipped with features such as variable valve timing for improved torque and a balancer shaft for increased smoothness. In normal use the petrol unit provides easy progress, with good torque from low revs and quiet running at motorway speeds. Only when accelerating hard does it betray its four-cylinder origins, sounding quite coarse when at high revs. When fitted with the four-speed automatic transmission, the engine can operate in a relaxed fashion thanks to smooth gearchanges.
Inside the Sonata comes complete with almost all items as standard thanks to a single trim level. Leather upholstery, air conditioning, cruise control and an MP3-enabled stereo are all standard, with only the option of double sized touch screen system available at extra cost. Automatic transmission is the other major cost option
Most impressive is the amount of space on offer inside the Sonata. Buyers who often use all of the available seats will have few complaints from their passengers, with generous room for adults front and back. There is also sufficient boot space to cope with a full load of passengers.
Our verdict on the Hyundai Sonata 2.4 CDX Auto
The Sonata provides effective and comfortable transport at a reasonable price, and should also prove to be reliable and cost-effective to fuel and maintain. Factors such as the styling and interior layout will come down to personal preference, and while it cannot match the best in class for dynamics, the overall package is strong enough to tempt buyers away from more conventional choices.
Costs
The low initial purchase price is a big factor in the Sonata's running costs, as is the pleasingly low insurance rating. With a five-year unlimited mileage warranty as standard, the Sonata also reduces the likelihood of unwanted bills in its early life. Only the relatively poor fuel economy counts against it.
Space and practicality
Thanks to its generous proportions, the Sonata provides excellent space for passengers and luggage. Head and legroom are more than adequate for front and rear seat passengers, while the boot is large and a good shape for carrying a wide range of loads. Inside there are several cup holders and storage compartments, making the most of the interior space.
Controls and display
The layout of the Sonata is refreshingly simple, thanks to three easy to use dials to control the air conditioning, and buttons on the steering wheel for the cruise control. All the buttons and switches fall easily to hand, while the instruments are clearly labelled.
Comfort
As a car designed to transport passengers in comfort, the Sonata is on a par with many of its rivals. The suspension is set up to filter out road imperfections, and it does this with success. Only larger bumps transmit any significant shocks into the cabin. The only demerit against the Sonata's comfort credentials is the front seats. Despite being finished in leather, the base of is flat and cannot be tilted, which may mean discomfort for some drivers.
Car security
As well as standard remote central locking and an alarm system, the Sonata is fitted with a second door skin, designed to shield the door locks from attack via the window cavity.
Car safety
Hyundai has put a lot of effort into ensuring high safety standards for the Sonata. The bodyshell has been optimised for crash strength, while six airbags and all-round seat belt pretensioners are fitted as standard. Active head restraints also help to prevent whiplash in the event of a rear impact.
Driver appeal
With an emphasis on comfort rather than performance, the Sonata does a decent job of looking after its passengers. Noise levels are subdued, with good insulation from wind and road noise. The engine also runs quietly at a constant speed, though when acceleration is demanded and the gearbox kicks down, the four-cylinder unit does sound quite harsh at high revs. Otherwise the engine and automatic gearbox combination works well, with smooth shifting through the four gears. The steering, although power assisted is surprisingly heavy, due to a strong self-centring action. This requires a firm hand when negotiating bends, and requires some acclimatisation. Driven at speed the Sonata displays a benign nature and respectable grip, but it is in its best light when driven with restraint.
Family car appeal
Families can be easily accommodated in the Sonata, and with the addition of a split/fold rear seat it should be able to cope with the demands of most families. There is enough room in the rear to seat three adults, and three Isofix mounting points mean it can cope with a trio of children, too.
First car appeal
With relatively large overall dimensions and a sizeable engine, the Sonata is unlikely to make a good choice for a first time driver, although with an automatic gearbox, ease of driving and good visibility, it would fail to intimidate even a nervous novice.
Quality and image
Hyundai has made huge strides in terms of quality over the last few years, and the Sonata is testament to those improvements. The overall feel of the cabin is good - the leather feels and looks good and the controls are pleasant to use. The doors slam with a solid 'thunk', adding to the quality feel. The overall impression is diminished however by some cheaper plastics used in the cabin, but overall it is close to its rivals in terms of quality. Image is an issue for the Sonata, as the Hyundai badge is saddled with a budget feel. The exterior design is much improved, and buyers should be able to look beyond the badge and judge the car on its merits.
Accessibility
Generous door openings front and rear make gaining access to the Sonata easy, as does the amount of legroom and space in the footwells for passengers entering the vehicle. The boot is large and has a wide opening, assisted by a remote release mounted on the driver's door.
Stereo and ICE (In car entertainment)
Standard fitment in the Sonata is a CD and radio tuner with MP3 compatibility. It provides good sound quality and relative ease of use, although its standard DIN size means some of the controls are marked with small writing, making it hard to read. Some of the minor buttons are also small. An optional touch-screen double DIN sized system is also available.
Colours and trim
The Sonata is fitted as standard with a full leather interior in light grey, which is of good quality and is pleasant to look at and to touch. Elsewhere in the cabin there are a mix of plastics and fabrics of varying quality, some of which are good and some of a lesser quality that detracts from the overall feel. The centre console is finished in a faux carbon fibre, which seems out of place
Parking
With an upright driving position, no unusual blindspots and automatic transmission, parking the Sonata is easy. The door mirrors also aid parking close to the kerb. Only the inability to see the end of the boot can make reversing a little tricky.
Spare wheel
Full size spare wheel mounted underneath boot floor.
Range information
One engine option - 2.4-litre petrol (160bhp) mated to a five-speed manual gearbox or a four-speed automatic. One trim level - CDX.
Alternative cars
Peugeot 407 Smart looks and good dynamics, good value also
Skoda Superb Comfortable and spacious saloon; powerful but coarse engine
Volkswagen Passat Attractive and competent, also good to drive
Vauxhall Vectra Newly refreshed with improved looks and chassis