July 2006
Hyundai Santa FE 2.2 CRTD CDX+ 5 Seat
Streamlined Santa Fe now looks more like a premium SUV
July 2006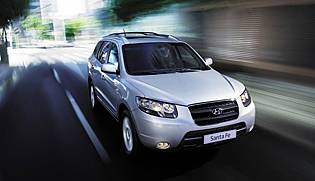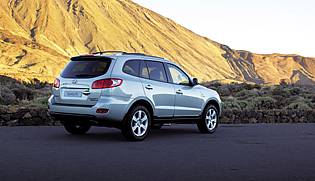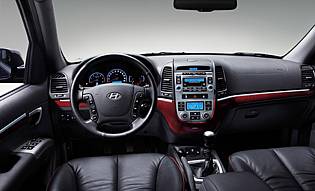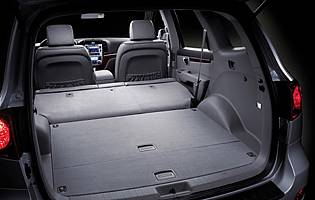 Overall rating

Likes:
Generous levels of standard equipment
Cabin appears well built and durable
Five-year warranty a serious deal-maker
On-road performance is impressive for a car this big
Gripes:
The cabin's wood trim isn't entirely convincing
Hyundai's image is still a stumbling block for some badge snobs
Petrol engine is a thirsty extravagance
Despite the car's plush ride, small urban bumps can unsettle it
The name might sound familiar, but the car certainly doesn't look familiar. Hyundai's Santa Fe has been a cornerstone of the company's medium-size sports utility vehicle (SUV) offensive. However, as rival cars have grown in size in recent years, so the Santa Fe has grown - in both size and stature.
When some cars change so radically as to be unrecognisable, so do their names. Not so Hyundai's Santa Fe, although it is nothing like its predecessor it has retained the familiar name. Bigger, boasting more equipment and greater levels of performance and refinement, Hyundai's mid-size SUV now competes head-on with the likes of Toyota's Rav4.
The Santa Fe's smooth lines and imposing nose are a world apart from the old car's dowdy appearance. Also changed is the Hyundai's size - it's much bigger. Available in both a five and seven-seat layout, the latter is clearly aimed at attracting buyers after a cheaper alternative to Land Rover's Discovery 3 and the traditional people carrier market.
The family orientated theme continues with the option of a DVD player and flip-down screen for back seat passengers, generous amounts of cabin space and a decent size boot - with the third row of seats folded.
On the road, the Santa Fe is nothing like the 4x4s of old; it handles well and delivers a decent ride despite its tall stance and high ground clearance. And with Hyundai keen to make serious inroads into the European marketplace, the car's diesel engine offering makes the most financial sense.
Our verdict on the Hyundai Santa FE 2.2 CRTD CDX+ 5 Seat
In isolation, the car is equipped to a level that belies its modest price point, while overall performance is equal to that of its rivals. The European market-friendly combination of a diesel engine and auto gearbox completes the package. Add Hyundai's trademark five-year warranty and it's difficult to see a downside to the car.
Costs
Given the amount of standard equipment offered plus Hyundai's five-year warranty, the Santa Fe is good value for money. Factor in the diesel engine's economy - the petrol V6 is a little too thirsty - and the car makes a lot of sense. With reliability high, visits to the dealership should be infrequent. Only the car's modest reseal values - it can't compete with premium European models - holds it back.
Space and practicality
A big car even by modern SUV standards, the Santa Fe's cabin is big enough for a growing family and its boot is large enough to hold all the trappings of family life. Predictably the seven seat version is more versatile if you carry people a lot of the time, but opting for five seats means you get a good compromise between occupants and load space. Up front, the cabin boasts a number of storage areas, and there's enough space so that even a full compliment of adults feel comfortable.
Controls and display
There are no fancy gimmicks in the Santa Fe - everything is clear, intuitive and ergonomic. The main dials prove legible day and night, while the fascia plays host to all the major controls; ventilation and audio switchgear are within easy reach of both front seat occupants. The steering wheel is on the large side but manageable, while using the car's foot brake soon becomes second nature.
Comfort
Wide, comfortable seats and plenty of cabin space help make long journeys pass quickly in the Santa Fe. Factor in low noise levels and a generous amount of standard equipment, and it's easy to feel comfortable inside the big Hyundai. The car's ride could be a little more compliant over urban road imperfections, but the overall experience is a good one.
Car security
Sports utility vehicles have become popular in recent years - and not always for the right reasons. It's good to see a comprehensive anti-theft package fitted to the Santa Fe, but you'd do well to add a visible deterrent such as a steering lock to put off the opportunist thief - and hide you valuables under the car's sturdy boot cover.
Car safety
All you need in the way of safety kit is fitted to the Santa Fe. Airbags all-round plus the now familiar array of electronic helpers such as ABS and stability controls are on board. Remember that the car also comes with four-wheel drive which, even if you don't go off road, is handy to have when roads are wet or you decide to tow a caravan or trailer.
Driver appeal
You won't be buying a Santa Fe to charge down your favourite B road. But while the big Hyundai might not deliver the sharpest of responses, it copes admirably with everyday tasks. Ride comfort is good, although small, sharp bumps can cause a few judders in the cabin. Engine performance doesn't warrant complaint though, as the diesel motor in particular is refined, reasonably powerful and economical if not worked too hard. The petrol V6 is, predictably, a thirsty unit, although the trade off is improved refinement at low speeds.
Family car appeal
If you've outgrown a regular estate car or compact MPV and want something a little different, the Santa Fe could be the one. It's rugged and durable enough to cope with the demands of a busy family, while it's refined enough to be a substitute for a conventional car. It's also spacious enough - in five or seven seat trim - to deal with people carrying duties and it's affordable to run, thanks in part to a five-year warranty.
First car appeal
Its price might be attractive to a well-off first time buyer, but the Santa Fe is probably a little on the big side for most novices. Parking could prove a challenge and the fact that the Hyundai doesn't handle like a regular supermini could put some people off.
Quality and image
For so long perceived as a maker of bargain basement material, in recent years Hyundai has upped both the quality and appeal of its products. The result is a range that makes sense not just financially. That said, the Santa Fe's modest prices and five year warranty are attractive, and trump every rival in the sector - especially the warranty.
Accessibility
Being a typical 4x4, there is a certain element of climbing up and into the Santa Fe's cabin. The distance isn't large, but anyone less agile than normal might find it a struggle. The car's tailgate opens nice and wide to reveal a flat load space, which makes it easy to load and unload heavy or bulky objects.
Stereo and ICE (In car entertainment)
As with the rest of the car, the audio unit is far from basic. The combined radio and CD player delivers a good quality sound, and is placed high up in the fascia to make operating the controls easy. Moving up the range, a CD changer and high-spec DVD player and roof mounted screen are available, which is unusual but welcome in a non-premium badged car.
Colours and trim
Bold colours do the Santa Fe no harm. In fact, they hint at a level of quality that's more appropriate to something costing much more. And it's worth remembering that a metallic hue stands a better chance of boosting the Hyundai's long term residual value. On the inside, light grey trim dominates, although the wood trim does break up the colour scheme even it's not really the real thing. Where fitted, the leather seats look good and are soft to the touch.
Parking
The Santa Fe is a big vehicle, but forward visibility is good and the car's steering is light at low speeds. The car's automatic gearbox - optional with the diesel engine - is jerk-free and easy to use. Rearward visibility isn't so great, if only because of the high window line and chunky rear pillars. The tailgate slopes straight down and the parking sensors help enormously, though.
Spare wheel
Full size wheel fitted as standard.
Range information
Two engine options - 2.2-litre (148bhp) diesel; 2.7-litre (186bhp) V6 petrol. Former fitted with five-speed manual gearbox. A five-speed auto is optional. Latter comes with four-speed auto. Trim levels: GSI, CDX, CDX+. Buyers can choose between a five and seven-seat layout.
Alternative cars
Suzuki Grand Vitara Equally good value and competent on road
Toyota RAV4 Steeper price reflects a move upmarket. Well built but styling is anonymous
Jeep Cherokee Popular American 4x4 is competitively priced and capable off-road. Cabin has a few rough edges, though
Kia Sorento From the same mould as the Santa Fe: affordable, durable, well equipped