Hyundai Ioniq Electric Premium SE
Strong levels of standard equipment with attractive styling
June 2017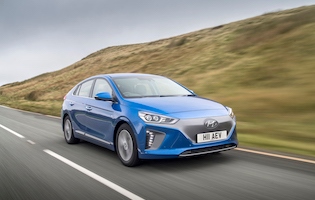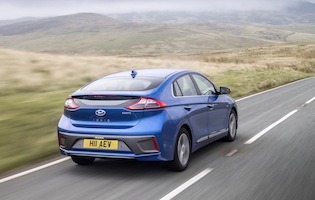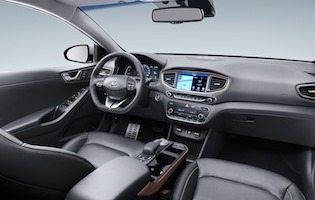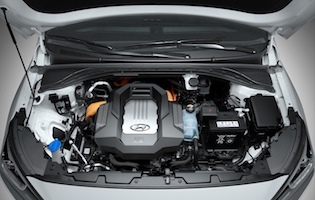 Overall rating

Likes:
Well-appointed interior
Strong levels of standard equipment
Attractive styling
Comfortable and refined
Gripes:
Range anxiety might put people off EV ownership
Vague steering
Not exactly a fun car to drive
Regenerative braking can take some getting used to
Hyundai offers its new Ioniq with three different powertrains – hybrid, plug-in hybrid and all-electric. We've put the all-electric variant to the test, to find out how it fares in the real world. The headline stats are fairly impressive – a claimed 174-mile range, while charge time stands at 4 hours and 25 minutes.
To our eyes at least, the Hyundai Ioniq Electric is a fairly handsome looking thing. Although the garish Blazing Yellow that was specified on our test vehicle was a bit of a shock, the other colours available really do the Ioniq justice. Although there are three different versions of the Ioniq available, there are a handful of styling cues that set the electric model aside.
The most noticeable of which is the front bumper, which replaces the traditional grille with a solid panel of contrasting material, that really helps to set off the car's paintwork. Other changes include a revised central console in the cabin, that replaces the traditional shifter with a number of buttons for selecting drive, reverse and park.
Speaking of the cabin, the Ioniq's is a rather nice place to be. While it isn't really what you'd call luxurious, there is a certainly a strong sense of build quality. The infotainment system is intuitive and easy to use, and all of the buttons on the dash and central console have a purposeful feel to them.
As far as practicality is concerned, the Ioniq has enough space for four adults to sit in comfort over longer journeys. Children will be able to sit three-abreast across the back seats thanks to an additional middle seat, meaning the Ioniq Electric should make for a very competent urban family runabout.
Our verdict on the Hyundai Ioniq Electric Premium SE
While the Hyundai Ioniq Electric might not appeal to those who have to regularly cover a great deal of miles, as a family runabout for getting about town, it works really well. There's plenty of low-speed pull from the electric engine, and the 174-mile range should be more than enough for trips within the city.
---
Costs
Thanks to the government electric vehicle grant, an Ioniq Electric will cost upwards of £24,995. When you consider the fact that you won't have to fork out for petrol, and you get a generous amount of equipment as standard, that price tag isn't so bad at all. Hyundai advertises the Ioniq Electric as having a range of 174 miles, and that the battery can be charge to 80 per cent in just 30 minutes. As the Ioniq Electric emits no CO2, it won't be liable for vehicle excise duty, either.
Space and practicality
Four adults will be able to fit in the Ioniq with no real trouble at all, thanks to a healthy amount of head- and leg-room in the rear seats. While there is a third middle seat, this is best left for children – three adults across the back seats would be a bit of a stretch as far as comfort is concerned. The Ioniq Electric also features a relatively spacious boot, with 350 litres of storage capacity on offer. With the rear seats folded down, this will increase to 1,410 litres.
Controls and display
As you might expect from a company such as Hyundai, the interior is laid out in a logical and ergonomical fashion. All of the major controls are within easy reach of the driver, meaning you won't have to spend time with your eyes off the road while on the move. The only slight irritation is the touchscreen infotainment system, which works well while you're not moving, but it can be tricky to navigate while driving.
Comfort
The Ioniq Electric is a pleasant car to spend time in. While range anxiety might prevent you from embarking on longer journeys, it would certainly be a comfortable place to complete one in. At motorway speeds, the cabin is quiet – tyre roar and wind noise are about the only things you can hear in absence of a traditional internal combustion engine. Our test vehicle was also fitted with heated and ventilated seats, which made the Ioniq Electric that much more comfortable, even if they did eat into charge levels.
Car security
Hyundai isn't a badge that is traditionally associated with highly-desirable, premium cars. As a result, the Ioniq Electric shouldn't attract too much attention when left parked up on the streets. As you might expect, it comes with all the standard safety features you might expect from a modern car, including central locking, and deadlocks.
Car safety
The Hyundai Ioniq fared incredibly well when it was crash-tested by Euro NCAP, achieving the full five-star rating. This includes an adult occupant protection rating of 91 per cent, while child occupant protection managed a rating of 80 per cent. Pedestrian protection was graded at 70 per cent, and the Ioniq scored 82 per cent for its safety assist features.
Driver appeal
The Hyundai Ioniq isn't exactly a car that you get excited to drive, but that's not to say that it isn't a competent vehicle out on the road. The electric motor provides a good amount of pull, and thanks to the instant torque, throttle response is impressive. The steering is well-weighted, and although it doesn't provide a huge amount of feedback, it allows you to place the car with confidence.
Family car appeal
Although the Ioniq Electric likely wouldn't work too well as a first time car, as a family vehicle it could work incredibly well. With its all-electric drive, it would be an ideal urban runabout, and with its practical five-seat layout and fairly spacious boot would be more than capable of meeting the requirements a busy family would level on it.
First car appeal
While the low running costs that come with owning an electric car might appeal to younger drivers after a first car, the reality is that the Ioniq Electric will likely be too expensive to buy for most. Even with the government grant for electric vehicles, the Ioniq electric still costs at least £24,495 – pricing out the majority of younger buyers.
Quality and image
The Hyundai Ioniq Electric is a fairly snappy-looking car. In the brighter colours that are available, it really looks quite smart from the outside, and the interior is also fairly impressive. As you would expect from the South Korean manufacturer, the Ioniq's cabin feels incredibly well put together, and top-grade models also benefit from leather upholstery on the seat fronts, which helps lift the cabin even further.
Accessibility
Thanks to its five-door layout, accessing the Ioniq is never going to be a difficult process. The door apertures are large and the doors themselves open wide, and the car doesn't sit so low that you have to lower yourself down a great distance when getting in to the car. The boot opening is also wide, and makes loading heavier items into the luggage compartment that much easier.
Stereo and ICE (In car entertainment)
The Ioniq Electric comes with Hyundai's upgraded Infinity sound system as standard, as well as an eight-inch touchscreen infotainment system that incorporates satellite navigation, DAB radio, Bluetooth connectivity, Android Auto and Apple CarPlay. The system is very well laid out and easy to use when stationary, although the touchscreen can be a bit of a pain to operate while on the move. There is also a wireless smartphone charging pad in the lower section of the dash.
Colours and trim
Surprisingly for Hyundai – a brand that usually comes across as fairly dull and reserved – the Ioniq Electric is available in a number of rather striking colours. Our test model came in Blazing Yellow, and while it might not be to everyone's taste, it certainly turns heads. There's also Phoenix Orange, black, white, silver and our favourite colour – Marina Blue. The Ioniq Electric is available in two trim levels – Premium and Premium SE.
Parking
The Ioniq Electric offers plenty of visibility out of the cabin, so even without the array of parking cameras and sensors, it wouldn't be a difficult car to manoeuvre into a parking space. However, to make the process even easier, Hyundai equip the Ioniq Electric with a rear parking camera and guidance system. Rear parking sensors are also included as standard.
Spare wheel
No spare wheel provided.
Range information
Electric motor (118bhp).
---
Alternative cars
Nissan Leaf A very competent EV, but also a very ugly one.
Renault Zoe Not as nice on the inside as the Hyundai.
BMW i3 A more premium and futuristic-looking offering in the EV market.
Tesla Model S The Tesla is far more expensive then the Ioniq, but it's also a proper luxury saloon.