April 2005
Hyundai Coupe 1.6 S
New headlights give the Coupe a more modern look
April 2005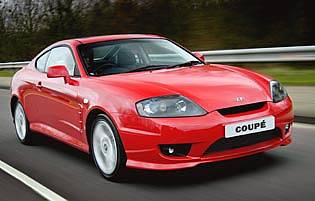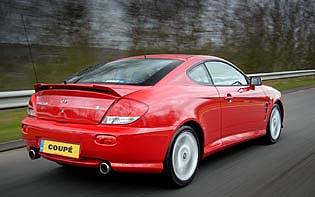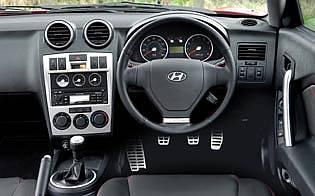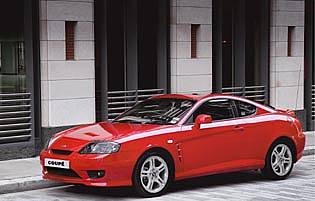 Overall rating

Likes:
Sporty coupe styling looks the part
Handling is accomplished and composed
Sports steering wheel adds to coupe feel
Standard specification generous for price
Gripes:
Budget feel of cabin is hard to ignore
Hyundai badge still lacks real credibility
Rear seats are far from practical
Aural intrusions into cabin can become tiresome
There's something about a coupe. Impractical, expensive to insure and ostentatious, yet we'd all give our right arms to own one. Korean firm Hyundai has its own take on the coupe theme, which still doesn't manage any real improvements in practicality, but does at least scale down the expense.
The normal market segments targeted by budget Far Eastern manufacturers involve hatchbacks, city cars and 4x4s. Only very occasionally do these firms leave their comfort zone and venture off into uncharted territory.
One such foray takes the form of the Hyundai Coupe. These swoopy, sporty vehicles are normally the preserve of European firms, as it is only they who have an understanding of the nuances and subtleties involved in creating a real driver's car. Or so we thought.
With its imaginatively entitled Coupe, Hyundai has shown us snotty Europeans that coupes needn't be seriously expensive. Admittedly, the Hyundai badge is still nowhere near as desirable as the four-ringed badge of Audi or Alfa Romeo's Milan city crest, but then again it's nowhere near as expensive.
Bottom of the range 2.0-litre Alfa GTV money will buy you an all-singing, all-dancing 2.7-litre V6 Coupe with all the trimmings, plus a five-year unlimited mileage warranty. With that kind of value for money, surely the era of the badge snob is on the wane.
Our verdict on the Hyundai Coupe 1.6 S
Although obviously built to a budget, the Hyundai still manages to capture much of the excitement and desirability one expects from a coupe. 1.6-litre versions are a little gutless, but 2.0 and 2.7-litre models are more potent.
Costs
In the most uncharacteristic fashion, the Hyundai Coupe is actually rather cheap to buy, run and insure. Group 8D for the 1.6-litre base model should keep this sporty-looking machine well within the grasp of most buyers. On the fuel front, even the 2.7-litre V6 version returns nearly 30mpg so trips to the pumps should be mercifully infrequent. A five-year unlimited mileage warranty is a fantastic move and puts all other manufacturers to shame.
Space and practicality
Forward passengers are able to stretch out and will in no way feel cramped or uncomfortable. The driver's seat even benefits form lumbar support as standard. Rearward occupants will feel slightly less well cared for with leg and headroom seriously restricted. Unless you're sitting behind a five-foot driver the chances are that you'll be wearing your knees as earrings. There are several cubbys dotted around the cabin and the glovebox is a good size.
Controls and display
It's all fairly basic in this department. Everything works as it should and is where you'd expect to find it, but that's about all one can say. The leather steering wheel and metal pedals look sporty and the central air vents are extremely Audi TT-esque.
Comfort
An adjustable steering column and malleable seats ensure that most will find a comfortable driving position. However, by their very nature coupes are less comfortable to sit in over long journeys than, say, an MPV or estate car. Noise, vibration and harshness levels could be better suppressed, but for a car in this price bracket aural intrusions are better than average.
Car security
Base models get an anti-theft alarm. All other versions benefit from an alarm with ultrasonic sensors. Central locking is standard fitment. These features should be enough to keep the Hyundai safe from grabbing hands.
Car safety
Hyundai certainly hasn't omitted much from the safety checklist. Dual front and side airbags, ABS with EBD, side impact bars, traction control (V6 only), adjustable front head restraints, seat belt pre-tensioners and a brace of three-point fastening rear seat belts complete what is a seriously impressive safety package for a car costing as little as this one.
Driver appeal
Smaller 1.6-litre models feel slightly asthmatic when pushed hard. The 2.0-litre is better and the 2.7-litre V6 is more than capable of putting a smile on your face, not least because of the price (can you think of a cheaper V6 on the market?) Handling is capable across the board if not quite sportscar-like. Uneven surfaces will jar the teeth a little, but not nearly as much as some European alternatives.
Family car appeal
Ever since the genre was invented, coupes have been of limited value to family buyers. The Hyundai Coupe isn't any worse than much of the competition, but the prospect of ferrying around a couple of kids in its cramped rear quarters is likely to fill parents with a sense of dread. The boot is fairly large for a car of this type and will easily hold a large supermarket shop.
First car appeal
Cheap insurance is the key here. Many first time buyers may be able to access the cash needed to purchase a coupe, but paying the annual insurance premium is a different matter entirely. However, with the Hyundai 2.7-litre V6 coming in at just group 14 (1.8-litre Audi TTs are group 18) the prospect of owning a reasonably quick, new coupe comes just that bit closer.
Quality and image
Only a company very sure of its products' reliability and durability would offer a five-year, unlimited mileage warranty. So are we to deduce that Hyundais are the most reliable cars in the UK? Perhaps not, but they are still very well screwed together. Image presents the Korean firm with a bit of a problem, though. Its 'a car first, a badge second' slogan simply reaffirms the beliefs of badge snobs across the country. But given the level of spec on offer for the money, it's their loss.
Accessibility
Rear seat access is an issue in any coupe. Forward tilting front seats have never been an adequate substitute for rear doors. More mature or less limber rear passangers will struggle to gain access. Although it represents a bit of a climb down, access to the front seats is far less complicated.
Stereo and ICE (In car entertainment)
The head unit looks to have come out of a 20-year-old Lada or something equally drab. The sound, however, isn't too bad and drowns out most of the road and wind noise. Six speakers come as standard, which is pretty generous for a car at this price. Buyers had better have a good sense of direction though, as satellite navigation doesn't even make it onto the options list.
Colours and trim
Red may not be the most understated of colours but the Coupe seems to suit it more than any other. This is because most of the examples you see on the road are coloured in, well, red. Darker, more subdued hues are offered but the interior stitching is red so it makes sense to coordinate. The interior is otherwise extremely black and begins to resemble a sauna in ambience when the sun shines.
Parking
No parking sensors offered, standard or otherwise. Unfortunately, being a coupe, the Hyundai could really have done with them, too. A long, curved bonnet and poor rearward visibility make for a few anxious moments when negotiating tight parking spaces. The steering is nice and light, however, as are the clutch and accelerator pedals.
Spare wheel
A space saver spare wheel is fitted as standard.
Range information
Three engine options - 1.6-litre (103bhp) petrol; 2.0-litre (141bhp) petrol and 2.7-litre V6 (165bhp) petrol. 1.6-litre and 2.0-litre fitted with five-speed manual gearbox. 2.7-litre V6 fitted with six-speed manual gearbox. A four-speed automatic is available as an option on 2.0-litre and 2.7-litre models. Trim designators are S and SE.
Alternative cars
Toyota Celica Japanese model boasts heritage and large following
Alfa GTV Alfa has looks and performance, but reliability issues persist
Mazda RX-8 Wankel-powered coupe leads field in terms of practicality
Audi TT Coupe German is expensive and far from uncommon on UK roads