August 2006
Hyundai Amica 1.1 CDX
Grown-up Amica is an enjoyable low-cost town car
August 2006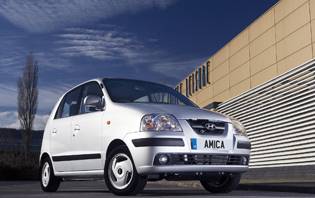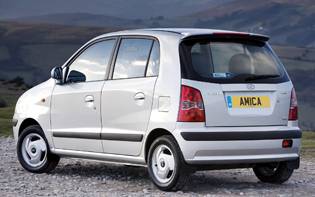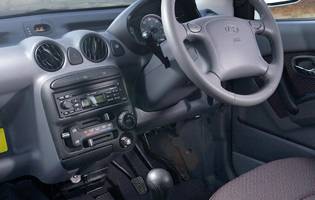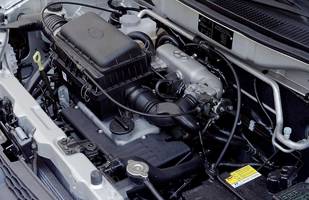 Overall rating

Likes:
Compact dimensions make parking easy
No-nonsense interior comes with all the controls you need and no more
Five-year warranty is a major deal-maker
Performance from 1.1 petrol engine is good and motorway cruising feels safe
Gripes:
Air conditioning makes a noticeable impact on performance
Rear legroom is modest for adult passengers
Urban road imperfections can make the ride a little choppy
Gearshift can feel vague when rushed
The trend for building ever-bigger cars is well established. But in the city car market it obviously defeats the object to upscale an urban runabout. It is unless you're starting from a really small base line like Hyundai and its Amica. It's all relative of course, but this generation Amica is bigger than its predecessor. It also looks better, feels more comfortable to ride in and has a little more power to help it along.
City cars haven't really been embraced by the masses - we've got superminis that behave more like family hatchbacks if we want just one car small car on our driveways. Only the traditional supermini is no longer small, which is why cars from the class below have started to become more attractive if a genuine low-cost urban runabout is sought.
Hyundai's Amica is a good example of what is on offer. Once a very small car, this generation is more of an all-rounder thanks to a modest growth spurt. It's still compact enough to scythe through clogged city streets and be squeezed into impossibly small parking spaces, though. But the major difference is the car's newfound all-rounder capabilities.
At a pinch, although not a very hard one, you can get four adults in the Amica. Legroom fore and aft is reasonable and so is headroom, while elbowroom is fine if you don't fidget too much. Boot space is also good for a car of this size. The car easily copes with a good few shopping bags, and will accommodate a few sports bags for a short break.
The one major downside to small car motoring - poor performance - is largely absent from the Amica. An increase in engine size from 1.0 to 1.1 litres has resulted in a welcome boost in straightline speed plus flexibility and motorway cruising ability. And it never feels like a buzz-box from the inside, which proves that small car refinement has come a long way in recent years.
Our verdict on the Hyundai Amica 1.1 CDX
It might be small, but the Amica is happy to take on long journeys in its stride. For something designed to feel at home in the city, that's the best compliment you can pay the little Hyundai. Aside from its modest amount of safety kit, this is a well-rounded car that's easy to drive, park and own. It looks jolly without appearing contrived and should cost very little to own. With the backing of Hyundai's industry-leading warranty, ownership is unlikely to problematic.
Costs
Boasting low asking prices, the Amica range is an inexpensive introduction to new car motoring. If driven sensibly, fuel economy will be good and there's always Hyundai's five-year warranty for extra peace of mind. It's unlikely that you'll need it though, as the company's reputation for building reliable, durable cars is a good one. And it goes without saying that insurance costs on a car like this will be modest and attractive for a newly qualified driver.
Space and practicality
It's wrong to expect too much from what is essentially a city car, but the Amica boasts a surprising amount of space. The car's boot is a good size and the load lip isn't a major concern. The rear seats will fold to increase the space available, while the cabin door bins are a useful size and oddment space is sufficient for the ubiquitous mobile phone, loose change and the odd drinks can.
Controls and display
The Amica doesn't come with any fancy equipment, which means the car's cabin and instruments boast a refreshing simplicity. The main dials are clear and easy to read, while the controls mounted high up on the fascia are close to hand and intuitive. The radio isn't difficult to operate, and the ventilation controls are of the old style rotary knob and slider type. The Amica's steering wheel could be a little smaller and the gearshift a bit more precise, but those are the only gripes with an otherwise well though out cabin.
Comfort
The car's narrow cabin - although not as narrow as the previous generation car - is deceptive. Two adults can sit side-by-side in reasonable comfort both for and aft. The car's seats are comfortable and supportive, and offer a decent amount of adjustment. Headroom is also good, and noise levels are modest when travelling at city speeds. Accelerating hard will cause the engine to become more intrusive, but it's not as if you need to crank up the stereo to avoid it. Wind noise is, on the other hand, always low - even on the motorway.
Car security
It would be wrong to expect too much in the security department, but central locking and an engine immobiliser are both standard on the Amica. The CDX model adds remote, keyfob operated central locking but that's about it. If you want more protection, a steering wheel lock would be an inexpensive but effective supplementary deterrent.
Car safety
There will always be concerns over the crash worthiness of small cars, and these aren't limited to the Amica. However, it's worth noting that the little Hyundai only comes with a driver's airbag. You do get anti-lock brakes and electronic brakeforce distribution on both the GSI and CDX variants, plus the likes of childproof locks on the rear doors.
Driver appeal
The Amica feels surprisingly stable during normal driving situations - especially when making quick direction changes in a busy city environment. It will lean noticeably if provoked, but you soon learn to keep your speed down to compensate. The Amica's short wheelbase doesn't impact greatly on ride comfort, as most urban bumps fail to unsettle the car. Just don't expect too much from the car's 1.1-litre engine, which is fine unless pushed hard - then it becomes noisy. But it is a willing unit and is happy to cruise at motorways speeds so long as you're comfortable planning ahead for uphill overtaking manoeuvres.
Family car appeal
Realistically the Amica is not suited to family duties. It will, however, happily double as a second car for the occasional school run if your children are small. Access to the rear is modest, so grappling with a child and child seat is an activity best done infrequently. That said, the car's boot is a good size for storing squashy bags and some shopping. It will probably struggle with some pushchairs unless you're prepared to fold the rear seats down, though.
First car appeal
The Amica almost cries out to be bought by a newly qualified driver. Low general running costs, good fuel economy, modest asking price, decent equipment levels and an easy to drive nature make it ideal if a brand new car is a must. It's plenty fast enough for town use and won't disgrace itself on the motorway, which is a good balance of abilities.
Quality and image
Badge snobs have never warmed to Hyundai, but buyers who put value for money and practicality before image have always found the marque's products rewarding. Of late, Hyundai's range has received a welcome quality and design revamp, which has seen more visually appealing and better trimmed cars come to market. These new attributes have combined well with the company's existing strength: building reliable, durable and value for money cars. And don't forget Hyundai's impressive five-year, transferable new car warranty, which is worth more than any fancy in-car entertainment system.
Accessibility
Despite the Amica's modest size, the car doesn't prove that hard to get in or out of. Front seat occupants, predictably, have the best experience. Doors open nice and wide, and the car's seats are mounted at a sensible height. Those in the back do better than you'd initially think. While the door aperture is on the small side, access is reasonable even for adults. Getting out can be a little tricky though, as legroom in the back isn't great. Children, on the other hand, will have no problem.
Stereo and ICE (In car entertainment)
For a car in this price bracket, there are no complaints over the standard fit audio unit. Although not the most feature-rich unit on the market, you do get a multi band radio and single CD player. Sound quality is good - so long as you remember to extend the external aerial. You don't get any remote control buttons for the stereo, but that doesn't matter as the unit is so close to hand.
Colours and trim
Bright colours suit the Amica best - it's a small, cheeky-looking car after all. Finish on the test vehicle was good, indicating that a low asking price doesn't have to mean below par quality. Inside, it's a little more conservative and you'll find a lot of grey plastic. It's all pretty functional, while the seat fabrics are biased more towards durability than outright style.
Parking
A small car even by current standards, the Amica is easy to park. The combination of its compact dimensions, good all-round visibility and light steering make slotting into tight spaces a doddle. Multi storey car parks are also easy to navigate thanks to the Amica's tight turning circle.
Spare wheel
Space saver fitted as standard.
Range information
One petrol engine option - 1.1-litre (62bhp) Five-speed manual gearbox is standard, with a four-speed auto optional on CDX variant. Trim levels: GSI and CDX.
Alternative cars
Daihatsu Charade Similar concept but feels less polished to drive than the Amica
Ford Ka Still going strong, the Ka is basic but never feels old
Citroen C1 Cut-price Citroen city car is fun to drive, spacious and inexpensive
Fiat Panda High-rise Fiat is spacious and refined. No driver's car, though