November 2008
Hummer H3 3.6 Luxury
A bullish exterior is part of the appeal
November 2008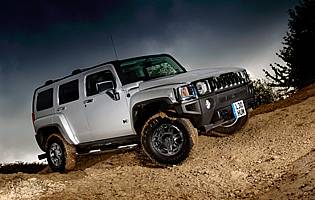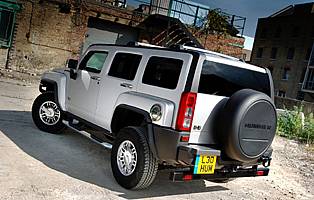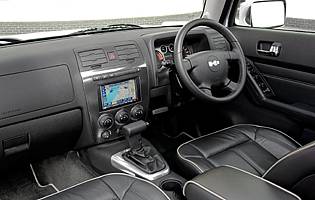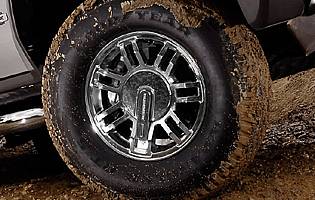 Overall rating

Likes:
Masses of road presence
Fantastic driving position
Genuine off-road ability
Spacious interior
Gripes:
Interior feels cheap
Vague driving dynamics on road
Thirsty petrol engine only
Cumbersome in urban environment
It may be scaled down in comparison to its bigger brothers, the original H1 and the H2, but the H3 is still a large vehicle by UK standards. Big, brash and deeply unapologetic it stands out like a sore thumb on UK roads, which is exactly what Hummer wants and a factor it hopes its customers will appreciate.
Hummer is a very US brand, with the manufacturer's behemoth vehicles topping the pile when it comes to Sports Utility Vehicles across the pond. Celebrity endorsement coupled with a reputation for sturdiness forged in war-zones has ensured they have appealed to the US SUV obsessed public in recent times. In Europe, the aggressively styled vehicles are still more of a curiosity than the norm, but the availability of right-hand drive models designed specifically for the European market means it is possible to drive a piece of American popular culture without having to import.
The H3 is the smallest vehicle in the Hummer stable. Where the H1 was essentially a military vehicle made road legal and the H2 a more urbanised production incarnation of the same vehicle, the H3 is a considerably smaller affair, but still borrows heavily from the others in terms of styling. In the UK, three versions are available, each offering a different selection of interior, exterior and drive-train options.
Despite its more compact dimensions the H3 is still an imposing vehicle thanks to its extreme ride height, aggressive bodywork and wide track. Like the H1 and H2, the Hummer is a thoroughbred off-roader, capable of performing impressive feats away from the beaten track. On the road it offers the same driving position and cushioned ride benefits that UK drivers have come to love in more conventional SUVs, only it does it with considerably more visual impact.
Powered by a 3.7-litre five-cylinder petrol engine the H3 offers a reasonable turn of speed despite considerable bulk. Four-wheel drive cuts in and out as required on the road, but can be locked for more treacherous conditions and a low ratio gear set selected for extreme off-roading. Less exciting to drive on-road than off, the H3 is never-the-less a uniquely styled and left-field choice for those who like to be noticed.
Our verdict on the Hummer H3 3.6 Luxury
The H3 is what it is - an American car shoehorned into the European market. Clearly it's a huge style icon and offers a considerable amount of equipment and impressive off-road ability for a reasonable amount of money. However, take away the curiosity factor and it's hard to see what the H3 offers over proven off-roaders from Europe and Japan that are available with more efficient diesel engines.
Costs
With its weight, large capacity petrol engine and four-wheel drive, the H3 is always going to be an expensive vehicle to run. Consumables such as tyres will be larger and more expensive to replace than with smaller vehicles, too.
Space and practicality
The H3 can be an immensely practical or immensely impractical vehicle depending on the environment in which you seek to use it. At a basic level, its voluminous, boxy body and go anywhere ability makes it a very useful tool. On the other hand, if you can't park it in town, its large boot will prove useless for Christmas shopping. Occupants will not be short of head or legroom, however.
Controls and display
Basic and functional, the H3's displays to a good job of relaying the vital information, albeit in a slightly clunky manner. Buttons for the transmission selection are conveniently positioned, the automatic selector is hard to miss and all of the knobs and switches adhere to UK norms. The steering on road is a little soft and vague, but the mammoth brakes are sharp and reassuring.
Comfort
The H3, particularly in leather bound Luxury specification, is an extremely comfortable vehicle. The huge tyres and raised suspension make for a cosseting ride and decent equipment levels, including heated front seats and climate control, separate it from back-to-basics off-roaders.
Car security
Considering its fortress styling, security is relatively limited to the standard Passlock security system. Remote central locking is standard and there's also a panic alarm incorporated into the key.
Car safety
Clearly, being ensconced in a vehicle this large comes with its own safety benefits, as does the four-wheel drive system on the Hummer which ensures maximum traction when it's needed. Traction control and ABS are standard as are dual stage front airbags. Interestingly, for the UK market, the H3 features an under-run bar at the rear for the protection of following vehicles.
Driver appeal
The Hummer H3's driving appeal lies in its off-road capabilities which are superb. On-road it is considerably less appealing for the driver, with vague controls, a cumbersome feel and sluggish performance considering the brute of an engine. All of those issues will be pushed to the back of the mind at the first hint of snow or flooding, where the H3 will prove its worth, but for everyday B-road commuting it's a poor choice. It is, however, an accomplished motorway cruiser.
Family car appeal
The H3 could certainly be considered a safe way to transport the children, however it is poorly suited to the school run unless it requires an off-road detour. The high fuel consumption of the large petrol engine may also put a strain on family budgets.
First car appeal
The H3 is not a vehicle well-suited to the inexperienced driver. If driven without a degree of skill it has the potential to do a great deal of damage.
Quality and image
The H3 is all about image. Whether it's an image you want to be associated with is highly subjective, but drivers who love to get noticed will find the H3 to be the perfect vehicle for such endeavours. Quality is also a contentious issue. While the model's ability to take a pounding off-road is not in question, the plastic interior and large panel gaps are. Before being too harsh a critic of the lack of craftsmanship, it is worth considering the model's relatively low purchase price and military heritage.
Accessibility
It's quite a climb up into the cabin but four large passenger doors make it reasonably simple. Despite its height, the cabin is not particularly tall, so gangly occupants will need to duck as they would with a car. The boot is easily accessed thanks to a wide opening rear door. Be careful when exiting however, as muddy sills can ruin leg wear.
Stereo and ICE (In car entertainment)
Even for the top-specification model standard equipment is limited to a single slot MP3 compatible CD player, although a seven speaker system including subwoofer and amp are included. A worthwhile upgrade is the sat-nav and six-disc changer system. Don't expect steering wheel-mounted controls, though.
Colours and trim
A choice of seven exterior colours is available for the H3, some of them remarkably subdued considering the nature of the vehicle. More vibrant colours are available though and all are embellished with chrome detailing in keeping with the model's showy nature. Leather is standard in the upper specification models and all exteriors benefit from off-roading protection beams and scuff plates.
Parking
Due to its bulky proportions the H3 is always going to be a troublesome car to find spaces for and to park. It does have two things in its favour, however; an excellent turning circle and a boxy shape. Regardless, timid reverse parkers should steer well clear.
Spare wheel
Full size spare as standard.
Range information
Petrol engine options - 3.6-litre (242bhp). Transmission options: five-speed manual gearbox, four-speed automatic gearbox with low ratio transfer and 4WD lock. Trim levels: SE, Adventure, Luxury.
Alternative cars
Land Rover Discovery Capable off roader, still contentious but more civilised
Volkswagen Touraeg Practical SUV, proven off-road
Dodge Nitro Similar US visual appeal without the off-road ability
Nissan Pathfinder Unapologetic SUV is offers substance over style