Honda Jazz SE Navi
Most practical interior of any small car
September 2015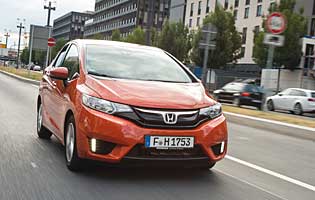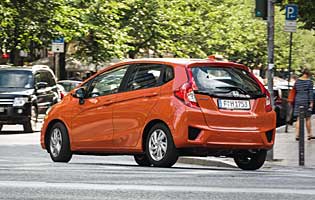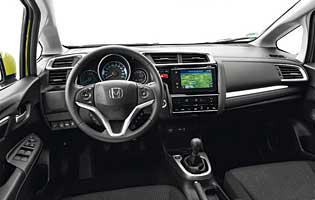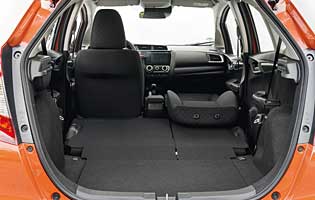 Overall rating

Likes:
The most practical interior of any small car
Large boot for the class beats those of some cars from the class up
Improved steering is now more direct
Extremely good ride quality despite small wheels
Gripes:
Muddled styling is overly complex and achieves little
Can seem comparatively expensive on paper
CVT automatic gearbox robs power and adds noise
Some desirable options retained for top model only
Honda's Jazz is a steady seller in the UK, as reliable for dealerships as it is for the people who own them. A fixture at the top of reliability surveys, its one shortfall has traditionally been its dowdy, conservative image. The all-new version is much more angular at first glance and is aiming to tempt a few younger buyers.
At almost 10cm longer than the previous version, mostly of which is for extra frontal crash safety, the Jazz is potentially a little less city-friendly than before. But other factors like a longer wheelbase and new safety systems offer more space and a reduced likelihood of a low-speed accident, which will count for a lot for the Jazz's target buyers.
It now comes with a single engine choice, but the new 1.3-litre choice is both more economical than the previous 1.2 and more powerful than the old 1.4. Honda has also made some changes to the steering in order to attract younger people who expect the more direct feel associated with many other mainstream superminis.
Maximised interior space remains a unique Jazz selling point. Flexible seating and a rear bench that can simply lift up and out of the way means that large objects can be slotted in behind the front seats while still leaving the boot free for normal loads. Bicycles, boxed widescreen televisions and surfboards are among the items that will fit.
The Jazz has been a somewhat standalone figure in the supermini segment, boasting a cleverness of design and a quietness of nature that has held a unique appeal for older people. These fundamentals haven't changed, but it remains a less obvious or fashionable choice than a Ford Fiesta, and it's also among the more expensive.
Our verdict on the Honda Jazz SE Navi
This is a car whose brilliant interior design and practicality appeals to the head, but the package holds little sway over the heart. Owners simply love the Jazz, though, and little is likely to change on that front. Whether the styling changes are enough to persuade the fickle younger audience to buy remains to be seen. The Jazz is superlatively practical and reliable among any and all of its competitors, and that is its key strength.
---
Costs
The Jazz may not be the cheapest supermini to buy but it does give firm reasons to have confidence in it, like its proven reliability record. Fuel costs should be reasonable, and potentially more consistent than for turbocharged cars, while insurance is cheaper than ever thanks to a vastly increased array of active safety equipment.
Space and practicality
With the 'Magic Seats' also seen in the Civic range, the Jazz's rear bench can simply lift up out of the way, leaving a cavernous space behind the front seats. The boot itself is larger than even some cars from the class size up, and there are very many storage solutions in the cabin, encompassing open and covered bins.
Controls and display
The main central screen is excellent; sharp, detailed and with good graphics. It's easy to navigate, but the navigation readout itself is poor. Imprecise junction depictions and vague, often misleading voice instructions do not inspire confidence. The buttons and dials feel robust, if in some cases a little light, and the heating and ventilation controls are self-explanatory.
Comfort
Unsurprisingly, the Jazz is designed with softer seats that feel perfect for shorter drives through own and country. At speed a little more support would be better, and if entering a corner quickly the lack of lateral bracing becomes evident, even if the car doesn't, perhaps, roll as much as the previous car did. Passengers will find more room than they expected in the rear, allowing them to enjoy the journey more.
Car security
An alarm and immobiliser are now standard fare for this class, but the Jazz also adds deadlocks, to prevent any thief opening the door from the inside even after smashing a window, and a parcel shelf to obscure the boot's contents from view. All but the top trim grade come with two 'jack knife' style keys to activate the remote central locking, while EX versions have keyless entry and start.
Car safety
A new feature for this generation of Jazz is City-Brake Active, which sounds a collision warning and then activates the brakes if a sub-20mph collision is imminent and the driver doesn't react. Elsewhere, the Advanced Driver Assist System suite of technologies forms a backbone, with forward collision warning, traffic sign recognition, speed limiter, lane departure warning and the option of automated main beam.
Driver appeal
It is impressive for a car riding on such small wheels to display ride quality as good as the Jazz's. With the engine set as a universal constant, the only choice is that of the gearbox, and the Jazz is much nicer to drive in manual form. In slow stop-start traffic the automatic is better, but with manual ratios the car makes better use of the engine's torque and gets up to speed noticeably quicker. A much faster steering ratio is still not fast but marks a vast improvement.
Family car appeal
Size is irrelevant when it comes to the Jazz. By configuring the seats in different ways, three children can be carried in car seats, and thanks to the adjustable seating positions and large boot, even the biggest baby apparatus can be brought back home from shops without breaking a sweat. ISOFIX child seat mounts are present at the outer two rear seat positions, and the front passenger airbag can be switched off for when transporting a rear-facing seat.
First car appeal
This would make a fantastic first car. It's simple but feels high-quality against a first-time buyer's expectations, is efficient and safe, won't break down and won't get an enthusiastic driver into trouble too easily. Insurance is cheap because few are involved in serious crashes, and there are bright colours to choose from.
Quality and image
Backed up by a three-year, 90,000-mile warranty, the Jazz adds peace of mind to its appeal. Few owners ever need to call upon the warranty for anything major, though, and the Jazz is placed consistently at the top of the supermini class in owner-led reliability surveys. The tangible materials quality is good rather than exceptional, sitting in the upper average area of the class.
Accessibility
The Jazz is a little lower than cars like the Ford B-Max and Vauxhall Meriva, and so some people with severely restricted mobility may find it sightly harder to get in and out of. However, the Jazz owner is, on average, older than for most comparable cars, so public confidence suggests otherwise. The boot is large and the tailgate is lighter than most.
Stereo and ICE (In car entertainment)
A CD player is standard on all models, along with Bluetooth for wireless connectivity. A large colour touch-sensitive screen is one of the best on the market and allows quick, easy navigation through menus and media files. There are two USB ports and even an HDMI socket for the really tech-savvy. Four speakers is a little below par, but there are basic audio controls mounted on the steering wheel.
Colours and trim
Honda has been unusually bold with its choices of paint colours for the Jazz. A strong blue, a striking yellow and a particularly unlikely orange are all in the mix. There are more sober options as well, for those unnerved by the brighter end of the palette. The interior trim is classy at first glance and withstands most examinations. It's clear in parts where costs have been saved, but the overall result is good.
Parking
Front and rear parking sensors are standard on all but the cheapest S model, helping drivers to manage the car's increased length more confidently. A rear-view camera becomes standard on the top EX grade. For all its practicality the Jazz is actually quite narrow, so it can be slotted into most spaces easily.
Spare wheel
Emergency tyre repair kit supplied as standard.
Range information
Petrol engine options – 1.3-litre (101bhp). Transmission options: six-speed manual gearbox and CVT automatic. Trim levels: S, SE, SE Navi, EX, EX Navi.
---
Alternative cars
Ford Fiesta Common and much-liked, but lacks any specific practical edge
Suzuki Swift Likeable and good to drive, well priced and easy on the eye
Vauxhall Meriva Practical rear-hinged doors are a useful feature
Hyundai i20 Brilliant supermini with good driving manners and high interior quality