Honda Jazz 1.4 Sport
Quality feel of fit and finish
January 2005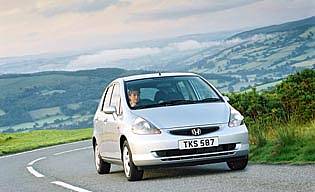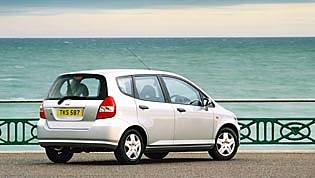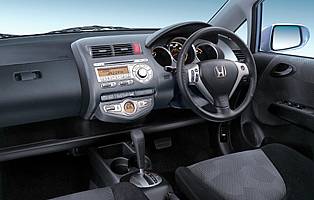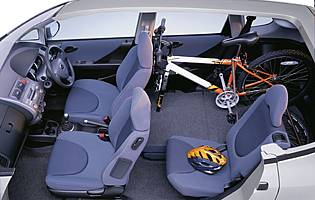 Overall rating

Likes:
Deceptively large interior adds to practicality
Quality feel of fit and finish belies humble asking price
Comfort levels on the move are unexpected for a car in this class
Nearly 50mpg combined should keep down the fuel bills
Gripes:
Ruffled rubber gearknob gaiter looks cheap and out of place
Side airbags not standard on base 1.2-litre model
Slightly susceptible to motorway crosswinds
Limited numbers and high demand mean dealer discounts are unlikely
Honda's class-leading supermini is ahead of the game in every way. From interior quality to driving characteristics, from residual values to reliability, the little Japanese supermini leaves the competition looking a little silly.
With our city streets becoming evermore congested and clogged it is little wonder that the supermini has really taken off in recent years. Most of the main manufacturers have an entry in this the B segment of the market, with some efforts being significantly better than others.
At the top of the small car pile we find the Honda Jazz doing battle with the likes of Volkswagen's Polo, the Skoda Fabia, Ford Fiesta and Renault Clio – stiff competition indeed. How does the Japanese offering stack-up against the European competition?
Rather well, actually. The Jazz is well made, spacious on the inside, refined, comfortable, affordable, cute, reliable and classy. Throw into the equation the fact that it has among the best residual values in its segment and it is plain to see why the motoring press goes gaga for the little Honda.
Whether it's your first car, the family's second car or just something for the commute into work, the Jazz oozes quality and performs admirably.
Our verdict on the Honda Jazz 1.4 Sport
Excellence and value for money personified. The Honda Jazz is a quality product through and through. The competition really struggles to keep up.
---
Costs
The Jazz isn't the cheapest car in the supermini segment, but it does have solid residuals. Honda makes a point of protecting its products' used values and Jazz owners will benefit from this foresight. Fuel economy is good (50mpg on the combined cycle) which should make trips to the pumps mercifully infrequent. Insurance should also be affordable, even for those under 25. Servicing and parts won't be as cheap as, say, a Hyundai Getz, but Hondas aren't prone to going wrong.
Space and practicality
You will genuinely be taken aback by how big this little car is on the inside. Sit in the front and you will be impressed with the space allocated to each passenger. Plonk yourself down in the back and a similar feeling of freedom comes over you. Open the boot and explore its cavernous depths and you will be left asking yourself how it is possible to carve out such a spacious interior from such a tiny shell.
Controls and display
All controls and dials are chunky and have a solid, connected feel to them. The layout of the stereo controls on the dash is straightforward and simple to fathom. The main instrument binnacle is backlit and comes on as soon as you blip the remote central locking (a nice touch, particularly at night).
Comfort
Noise, vibration and harshness levels are well suppressed for a car of this type. Even at motorway speeds the Jazz's interior remains a relaxing place to be. The seats are well bolstered and supportive and only those of well over six feet will struggle for a comfortable seating position in the back. The steering wheel adjusts for rake but not reach, which will impinge slightly upon the driving position of some motorists.
Car security
B-segment or supermini cars aren't usually required to feature alarms as insurance companies don't consider them to be at risk from the light of finger. The Jazz does, however, feature a good deal of security kit including a transponder immobiliser, deadlocks, visible Vehicle Identification Numbers (VIN), an integrated stereo and central locking.
Car safety
The Jazz is a four star Euro NCAP car. It also scored three stars for pedestrian safety. Dual front and side airbags are standard fitment across the range (1.2-litre models don't get side bags). ABS and EBD are also on hand to help keep occupants safe.
Driver appeal
The quoted 0-60mph time of 13.3 seconds sounds terribly pedestrian, but in actual fact the Jazz 1.4-litre i-DSi feels far quicker. There is also a pleasant note that emanates from beneath the bonnet when your right foot gets a little frisky. Zipping along narrow city streets is made all the more enjoyable thanks to the Honda's agile handling. The only time the Jazz feels slightly out of its depth is on blustery and exposed stretches of motorway, where it does its best impression of a windsock.
Family car appeal
Usually a supermini is neither spacious nor practical enough to deal with the rigours of transporting a young family. The Jazz, however, is endowed with enough space to accommodate two kids comfortably as well as their various bits and bobs. A good showing in the Euro NCAP crash tests will also put those with precious bundles to transport at ease.
First car appeal
An ordinary Jazz won't generate much street cred as you cruise around the supermarket car park on a Saturday night. In 'Sport' guise the funky body kit and alloy wheels featured on this top of the range model make it look like a shrunken Civic Type-R, which for boyracers is a good thing. On the cost and insurance front the little supermini also scores well. There's more than enough room for some sports kit and a couple of mates in the back too.
Quality and image
It is a largely accepted fact that Honda and Toyota are the two most reliable brands in motordom. Of these two Japanese firms Honda has the upper hand in terms of quality finish and first-class interiors. These cars are so well made that you would have to be exceptionally unlucky to buy one that did have serious problems. However, we Europeans still regard Japanese cars as passion-less white goods designed for getting people from A to B and invariably plump for something European with an evocative past or trendy badge. This is fine, if you wish to pay more for what is, more often than not, an inferior product.
Accessibility
An elevated ride height and large forward door apertures make for easy access to the front seats. The rear door openings are necessarily slightly smaller and as such will restrict access for the less limber passenger. However, children will manage to gain entry easily. Only those rear adults passengers over six feet tall will struggle for headroom.
Stereo and ICE (In car entertainment)
All models benefit from the fitment of a RDS stereo CD tuner. This system comes with four speakers in 1.4-litre models but only two in 1.2-litre versions. The sound quality is good if not quite hi-fi and only distorts at the eardrum-piercing end of the spectrum. Steering wheel-mounted audio controls are always a welcome find as are the chunky paddles for operating the seek function on the radio.
Colours and trim
All of the plastics used in the Jazz's interior are nicely finished and well appointed giving the cabin an air of quality. There are no rough edges or untidy seams to be found. Interior trim is only available in black, which can become a little oppressive. Sport trim adds a leather steering wheel that feels nice and, well, sporty. The Civic Type-R style body kit looks particularly fetching in 'Vivid Blue Pearl' and 'Milano Red'.
Parking
A generous amount of glass and a nicely elevated seating position make the Jazz a delight to park. Which is just as well seeing as parking sensors don't even make it onto the options list. The assisted steering is feather light and makes rotating through the 3.5 turns lock to lock a piece of cake.
Spare wheel
A space saver spare wheel is fitted as standard.
Range information
Two engine options – 1.2-litre i-DSi (76bhp) petrol and 1.4-litre i-DSi (81bhp) petrol. 1.2-litre comes with a five-speed manual transmission while 1.4-litre models can be fitted with either a five-speed manual or a CVT-7 semi-automatic 'box with steering wheel-mounted controls. Smaller model comes in base 'S' trim. 1.4-litre comes in 'SE' or 'Sport'.
---
Alternative cars
Skoda Fabia Czech model is excellent value and well made
Volkswagen Polo German struggles to justify price tag in this company
Renault Clio Stylish and contemporary, but cramped in the back
Ford Fiesta Blue Oval favourite is outclassed by the Jazz